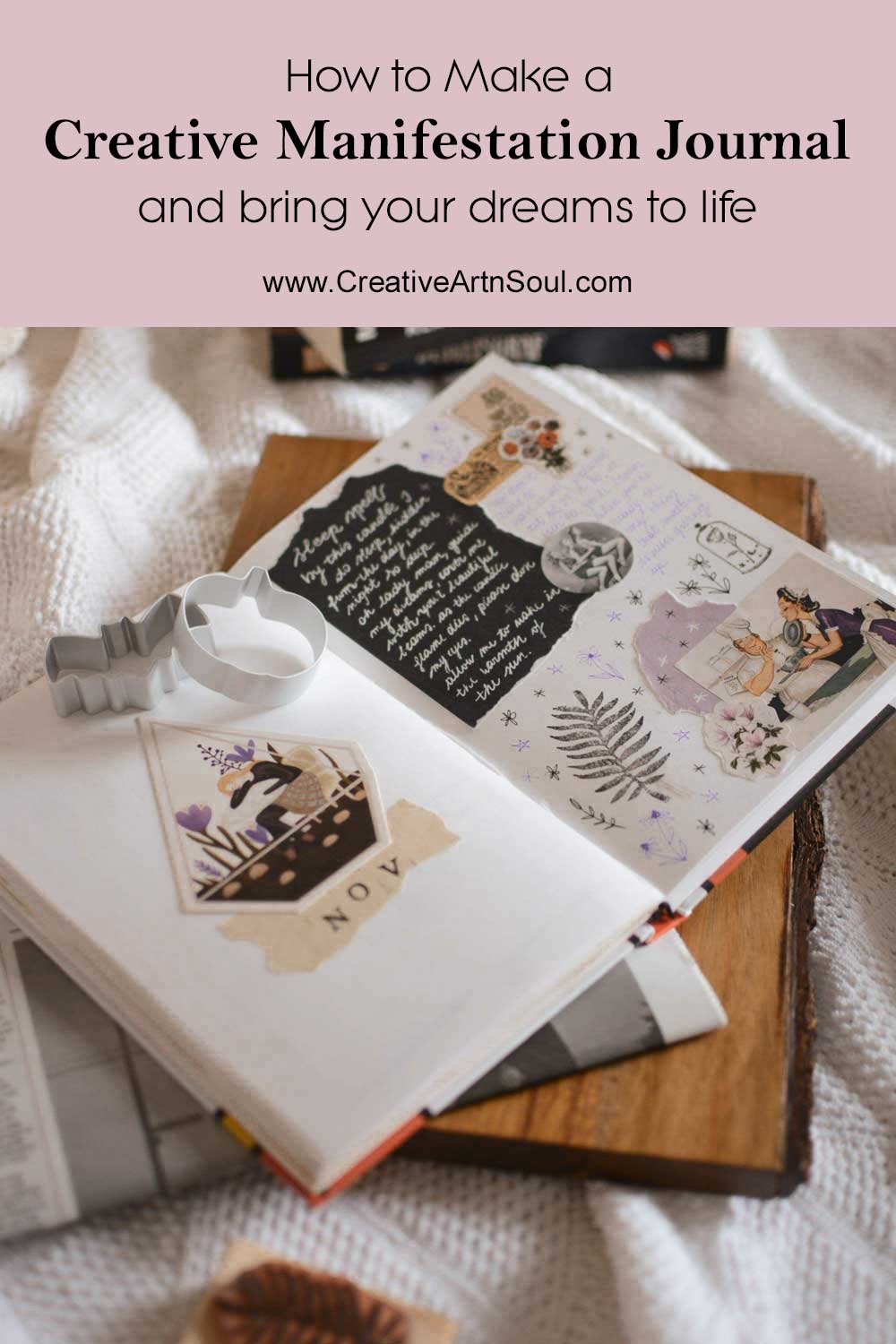 Learn how to make your own creative manifestation journal and use it as a place to dream big dreams and achieve your goals in a fun and creative way.
We all dream about things that we'd like to be, do or have, but sometimes those dreams can seem far away and out of reach. A dream however is just the imaginary vision of what you'd like to achieve and the secret to making those dreams come true is by setting goals and taking action. Where dreams open the doorway to possibility, goals act as the stepping stones to bring those dreams to life.
You are never too old to set a new goal
or to dream a new dream.
– C.S. Lewis –
Make Goal Setting Fun
Setting goals is a great way to get what you want in life. Goals keep us focused and allow us to measure our progress. They motivate us to keep going, even when times become challenging. Having goals provides you with a clear plan together with steps to achieve whatever it is that you want to achieve.
While goal-setting may sound mundane and even a little boring, if we approach the process from a place of fun and creativity everything changes. By combining goals and tasks which are elements grounded in practical reality, with visual journaling techniques that are creative and spontaneous, we can design a journal that becomes a fun and exciting roadmap to manifesting our dreams.
What is a Creative Manifestation Journal
A Creative Manifestation Journal holds a unique vision of what your personal dreams look like. Part junk journal, part planner, part contemplative journal – this journal provides a way for you to consciously create and bring your dreams to life.
The journal is used to gather and collate information, thoughts and ideas related to your goals and dreams and keep them all in one place. Keeping all your thoughts and ideas in one place not only makes it easy for you to stay organized it also sets you up for success, because every time you open the journal, all your dreams and plans are laid out – right there in front of you in vivid detail.
What you think, you become.
What you feel, you attract.
What you imagine, you create.
– Buddha –
You could of course buy a self-guided journal such as the 100-Day Guided Manifestation Journal or This Year I will, but I find that after a while the repetitiveness of these types of journals becomes boring and predictable, or eventually just starts to feel like hard work. When things stop being fun and easy, the power of manifestation is diluted. A Creative Manifestation Journal on the other hand never becomes boring or predictable; it's a work in progress and an ever-changing reflection of your unique vision.
Commit to the Process
I've been playing with manifestation journals for the last year or so, here and there as I have the time, but it's been such a fun process that this year I'm committing to a full year of it to see what happens. I'm going to set some short-term goals and some long-terms goals and then track them throughout the year. I'll share the journal pages that I create and the progress I make here on my blog so you can use it as a guide and inspiration for making your own journal, so be sure to sign up for the mailing list to be notified when new blog posts are published.
Realizing big dreams and achieving big goals is a process and it doesn't magically happen overnight. This is a daily journal so your time commitment should be at least a few minutes a day, or more if you have the time, for however long it takes to realize your dreams. The more you spend time with your journal, the more often you're reminded of what it's there for, and the better your chance of success becomes. The best thing about a Creative Manifestation Journal is that it's creative and fun to work with so it's a journal that you'll enjoy using every day.
One year from now when you look back,
you're going to be amazed at just how much you've achieved.
Supplies
Today begins the hunting and gathering process to collect the supplies you'll need to start your journal. If you do any type of paper crafting, you'll probably already have most of these items in your stash.
Once you've gathered your supplies, use a wooden tray which is what I use, or a lovely storage box to keep everything in one place. When you're ready to work on your journal, simply grab the tray or box and get started. With everything in one place you have no excuse for procrastinating because you can't find things.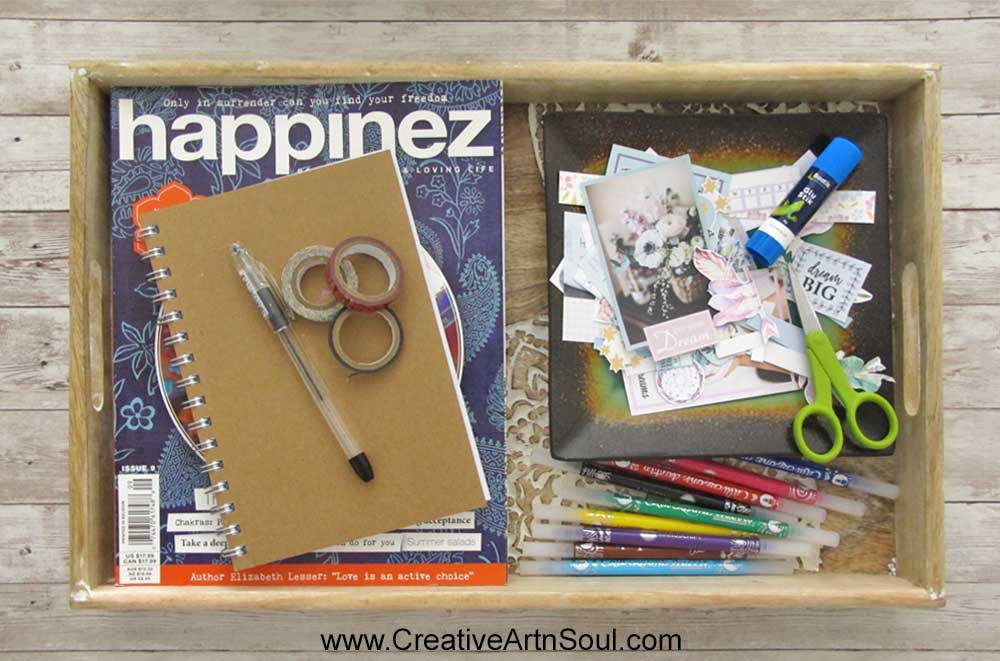 Coming Up Next
In the next blog post I share my process for goal setting and how to turn those big dreams into monthly and weekly goals, and then into small daily tasks. With this information you can get started with the first page of your creative manifestation journal.
In the meantime think about one or two big things you want to achieve this year. Don't choose too many otherwise it will become overwhelming. Maybe it's decluttering your house and/or life, maybe it's starting a new business. Whatever it is, you can do it! All you need is a plan and the willingness to take action.
Sign up for the mailing list to be notified when this new blog post is published.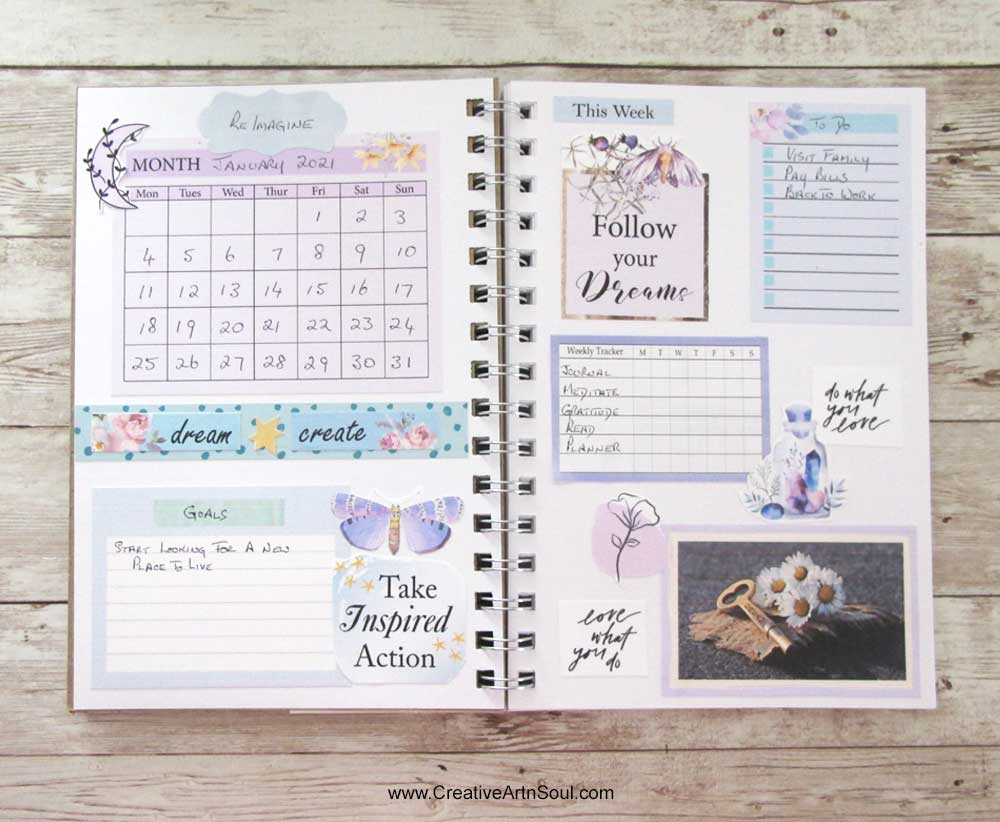 Supplies at a Glance
Save this pin to your favorite Pinterest board!