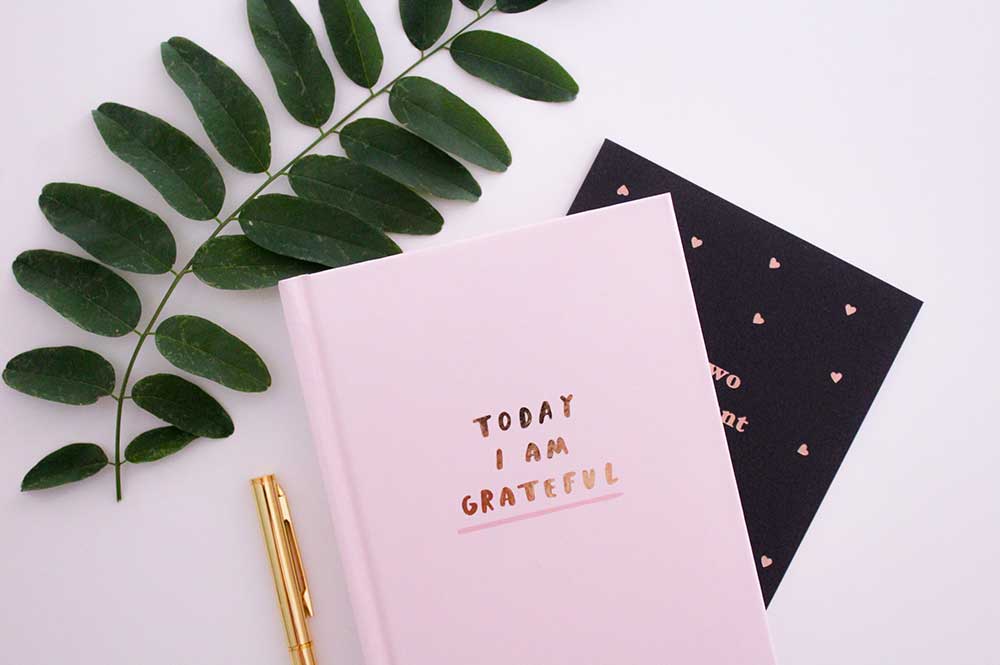 Use a gratitude journal to start your day with fresh energy and a positive attitude.
Research shows that expressing gratitude can improve not only your physical health, but your mental health also. Keeping a gratitude journal and recording the positive aspects of your day can also boost your wellbeing by taking the focus away from the negative aspects of your life.
It's all too easy to become disheartened or depressed when things go wrong, but when you choose to be thankful for the good things in life, it helps to create a more balanced outlook.
How to Journal Your Gratitude
Starting a gratitude journal is easy. Every day simply write one or two things that you are grateful for in a journal or notebook. The more detailed you can be while writing about the things that you're grateful for, the easier it is to connect with the emotion of gratitude. Emotions are a guiding light and our gratitude becomes much more effective to our wellbeing when we can actually feel it.
This deeper step into gratitude also makes it more intentional which gives you greater clarity about what is truly important in your life. So instead of just writing a list of things, write also about "why" you're grateful for them.
Even on days when you find it difficult to think of something to be grateful for, look at the small things that we might take for granted such as the air that we breathe, the sunshine, a good friend, or even a good book. There's always something.
Which Type of Gratitude Journal Should You Use
Gratitude journals come in different formats. These include handmade printable journals, commercial journals and notebooks, and even gratitude journal apps. The best type of gratitude journal to use is the one that works for you. Your journal should be easy and convenient to use, and it should not feel like hard work.
Handmade Printable Gratitude Journals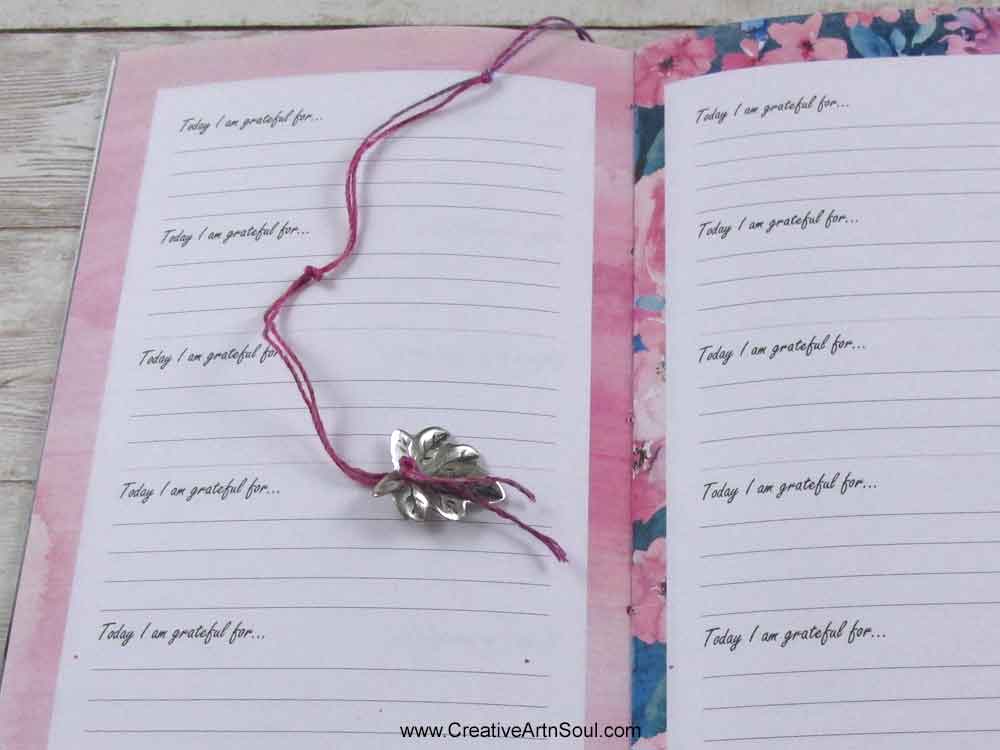 A printable journal is my favorite type of gratitude journal. I like the simplicity of this type of format because it's easy and I don't have to think too much about things. Plus, with printables you only have to download them once and then print them out as many times as you like.
I even wrote this tutorial showing you how easy it is to make your own printable gratitude journal.
If you want something a little more fancy, you can find printable gratitude journal sets that include decorative pages plus covers, here in my online printables store.
Commercial Gratitude Journals and Notebooks
An alternative to printable gratitude journals is commercial gratitude journals and notebooks. These types of journals have more pages than a printable journal, and often include a range of questions or prompts. If you'd like to go deeper with your gratitude journal practice, these are a good choice.
Gratitude: A Day and Night Reflection Journal
Each page of the 90-day journal includes space to record expressions of gratitude, personal affirmations, memories of positive interactions, and commentaries on the significance of it all. The journal is intended for those who want to foster deep reflection as well as for those who simply want to discover the effects of thankfulness. Having filled the journal with statements of gratitude, you will end up with a personal trove of wonderful reflections, which can be a source of positive inspiration at any time.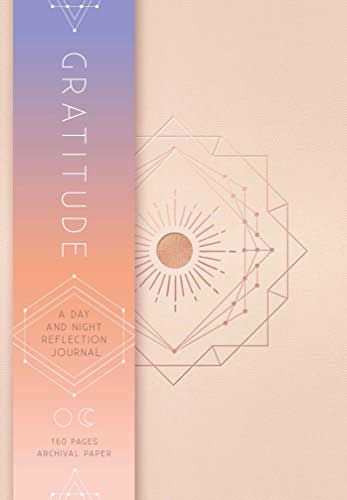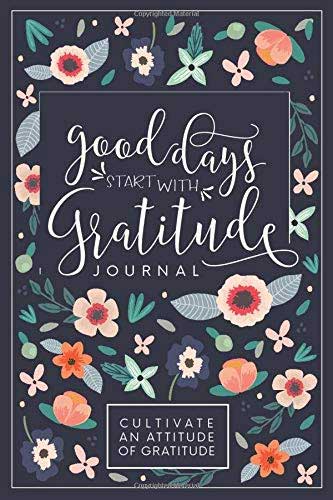 Good Days Start With Gratitude
Good Days Start With Gratitude is a 52 week guide to cultivate an attitude of gratitude! It is a self exploration journal designed to focus on being thankful for what we have, the big things in life, as well as the simple joys. Each well designed weekly spread contains an inspirational quote, space to write 3 things you are thankful for each day of the week, and a weekly checkpoint. If you start each day by writing down three things you are thankful for – a good cup of coffee, the smell of rain, starting a good book – you begin each day on the right note. Do it daily and make it a habit to focus on the blessings you have been given! Grab a copy for a friend and share the journey together!
The Five Minute Journal
Using the science of positive psychology to improve happiness, this undated daily layout offers a way to boost your happiness in 5 minutes a day with thoughtfully designed prompts that include gratitude, prioritizing your day, 3 amazing things, inspiring quotes, daily affirmation, end of day self reflection. The Five Minute Journal is broken up into two sections with a morning routine section and a night routine section. The journal's format provides inspiration and motivation throughout the day and can help to improve mental health.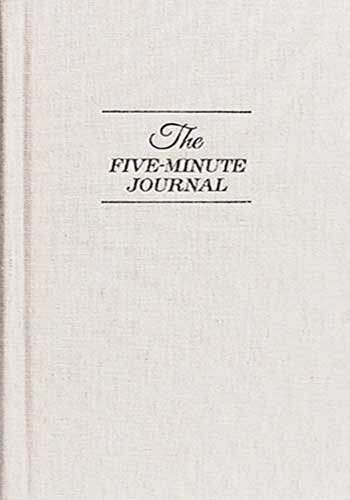 Gratitude Apps
Digital apps are convenient if you don't like to write by hand. Plus you can take them with you and log your gratitudes anywhere and at any time of the day or night. These types of apps usually come with a reminder so you don't miss a day. This is a great way to develop a regular gratitude habit.
Delightful Gratitude Journal
The Delightful app is an unlimited free private gratitude journal with backup, prompts, themes, and daily reminder. Use this gratitude journal app to record 3 good things from your day and learn to discover happiness in your day to day life. Your entries are all private and stored on your device.
Presently: A Gratitude Journal
Practice gratitude with this simple, free, and private gratitude journaling app. Presently lets you record daily entries of gratitude and reflect back on your past moments of gratitude. Find motivation through quotes and prompts and set daily reminders to continue your gratitude practice. Entries can be locked with fingerprint or face id.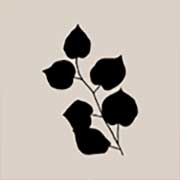 Gratitude Journal
This gratitude app allows you to write about what you are grateful for as well as positive affirmations and also includes a vision board so you can focus on your goals. You can set up to 3 reminders and notifications with prompts that you can use to think about new things to be thankful for. You can also add images to your journal entries. This is a really great app and while not totally free, it does offer a 7 day free trial.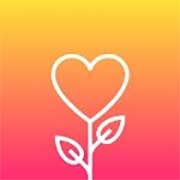 Save this pin to your favorite Pinterest board!