In this tutorial learn how to make a Planner Journal that will help you bring your creative visions to life.
To get started you'll need the Creative Vision Planner Journal Kit which you can find here in my online store. The Creative Vision Planner Journal is part planner, part journal. It's a place where you can dream your big dreams, and than take small consistent steps to bring them to life. It's where you get to blend your logical left brain with your creative right brain and learn that when they both work in synchronicity, amazing things can happen.
Supplies & Resources
You can find a full list of my favorite mixed media supplies here in the resources section.
Print and Assemble the Planner Journal
The planner journal is designed using fun colors and artwork. For printing the journal and the cover pages, the best type of paper to print on is 67lb/147gsm or 110lb/199gsm (or similar weight) white cardstock.
The pages are designed to be printed on US letter size paper 8.5″ x 11″, however you can also print them on A4 size paper 210mm x 297mm (8.25″ x 11.75″). Make sure the Page Scaling option is set to "Fit" or "Fit to Printable Area. You can set your printer to borderless printing if your printer supports this option. If you don't have a printer that uses borderless printing, there will be a white border around the outside edges that you will need to cut away.
The journal pages are collated so that you can easily print and fold to make the journal. You can print the pages using duplex printing if your printer has this option. Alternatively print the even pages first, reload the pages into the printer, then print the odd pages. The pages will then print out in order so that when you fold them they create an assembled journal. Once the pages are printed, print the cover.
Stack the pages in order with the cover on the outside and then secure using a long reach stapler, or sewing by hand. You can find details of how to do this here.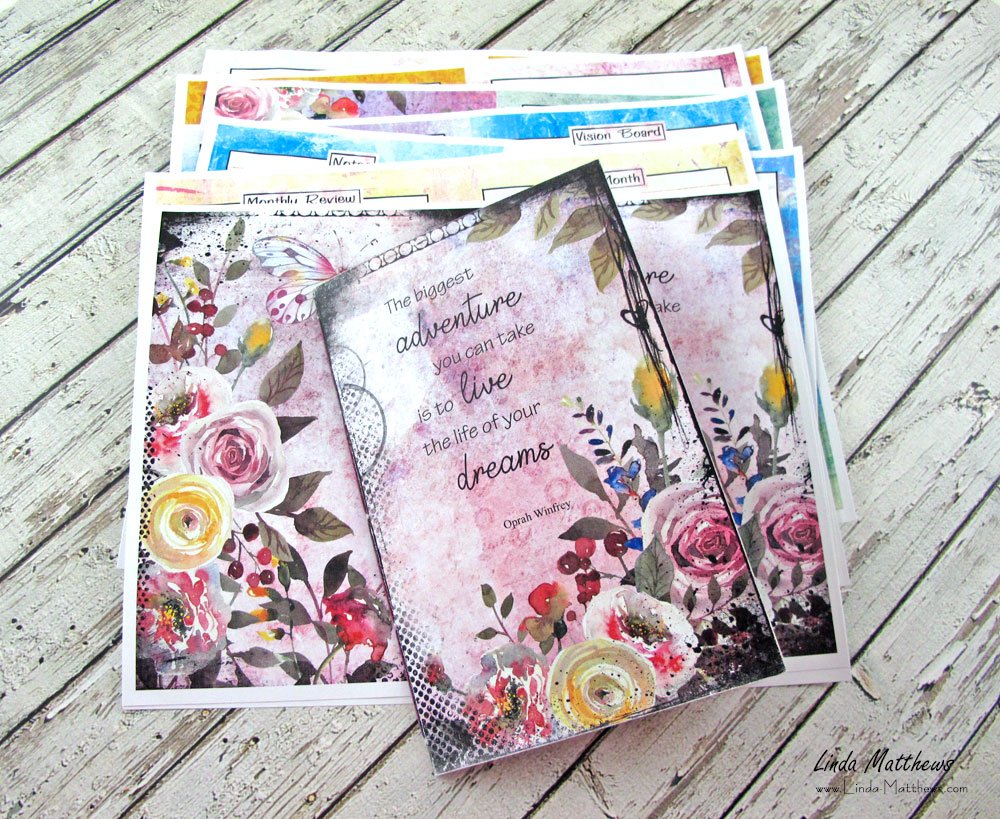 Print the stickers onto white sticker paper, and the pockets and labels onto cardstock.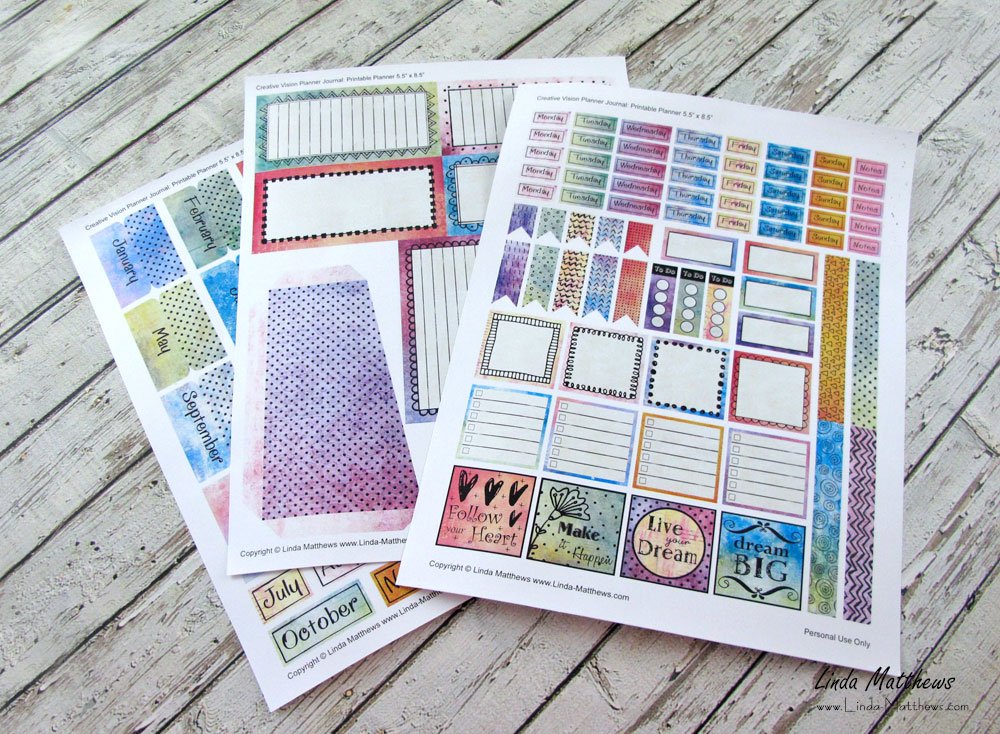 Using the Planner Journal
The Creative Vision Planner Journal is designed to help you bring your big plans and dreams to life. First get clear about what it is you want to achieve. Then each month decide on one or two small steps that will move you in the direction of your big dream. It's better to take small steps so you don't feel overwhelmed. Small steps are more easily achieved, and with each small step you accomplish you'll feel more confident in your ability to bring your big dream to life.
Each month print out a new planner. Cut out the pockets and glue to the inside of the front and back cover, and use them to hold notes and other papers that you collect during the month.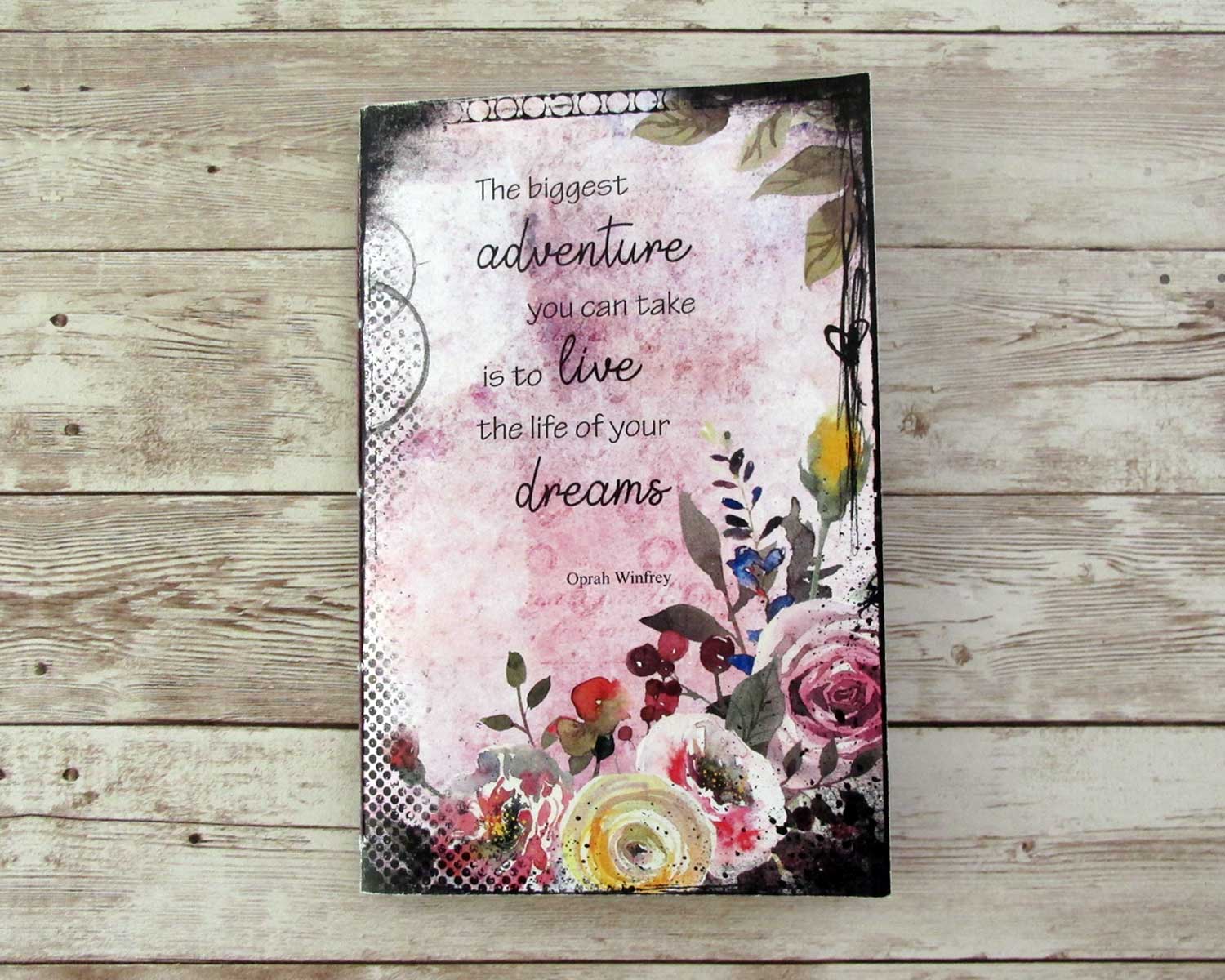 This Month
At the beginning of the month, write down everything that needs to get done during the month. Remember, only one or two things so you don't feel overwhelmed.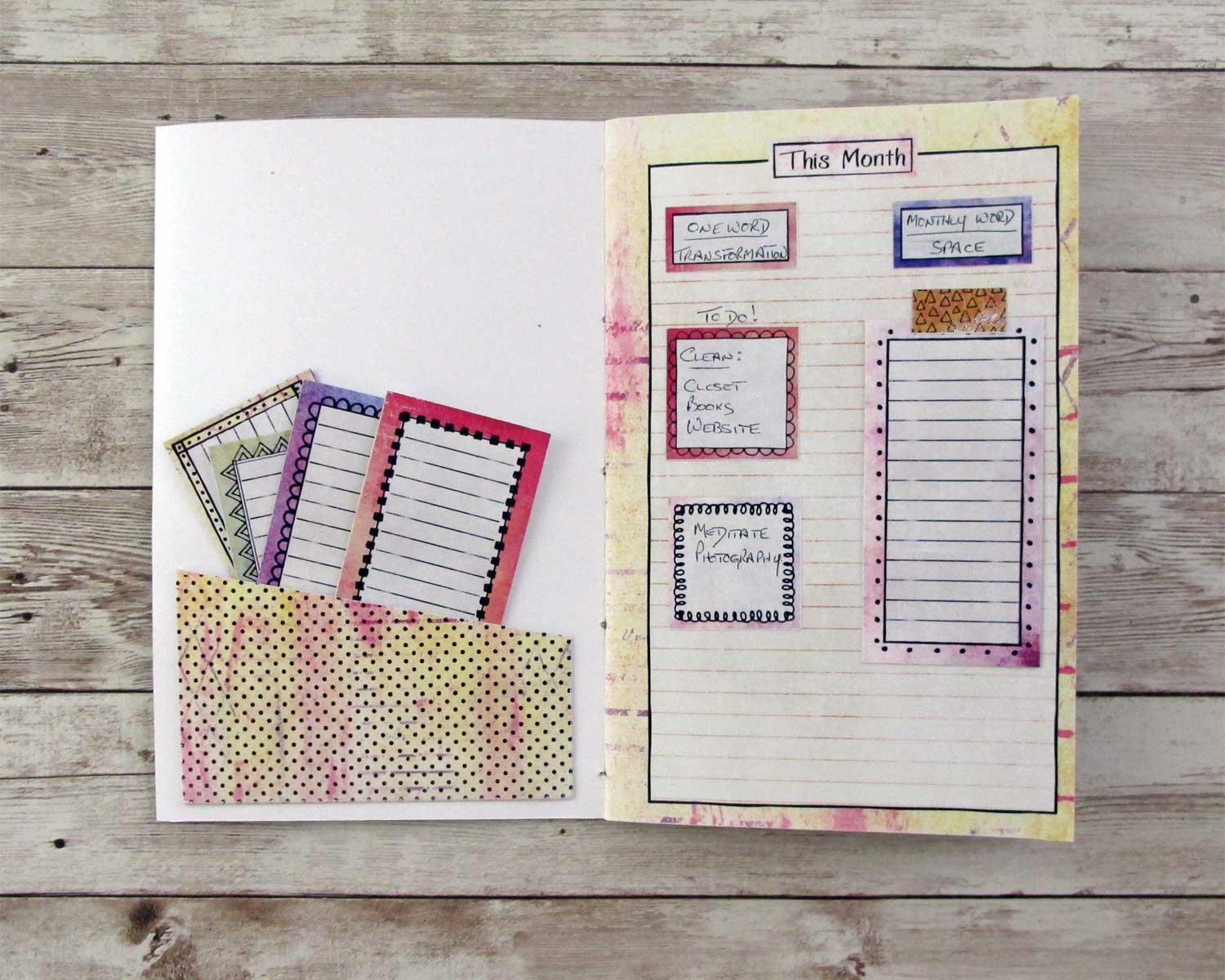 Notes & Vision Board
Use the Notes page to take notes during the month. Use the Vision Board page to paste images and photos of how you want this month to unfold. Pictures are fun and a great visual reminder of what you want to achieve.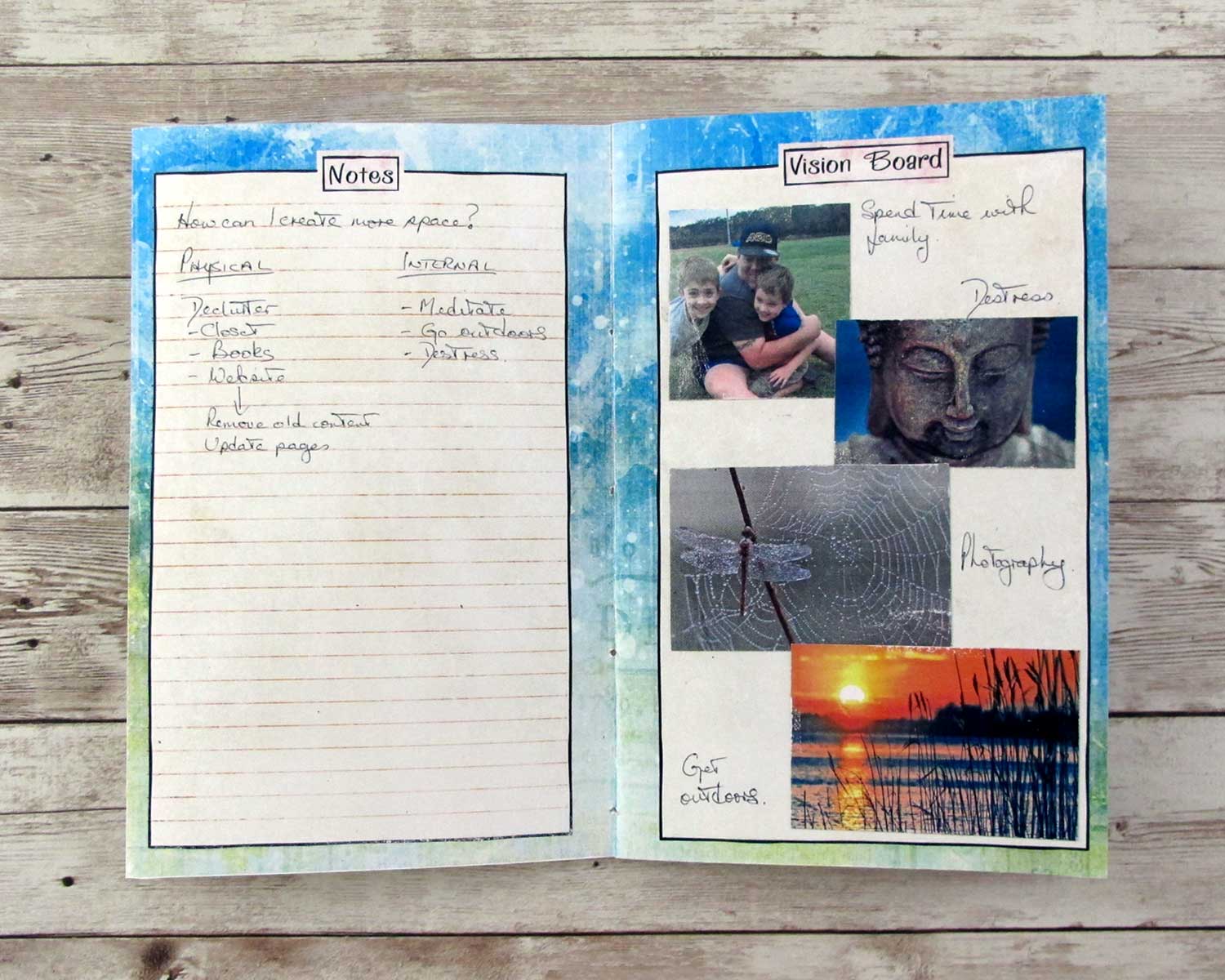 Monthly Calendar
Fill out the monthly calendar with things that need to get done during the month and use it as a big picture overview of the month ahead.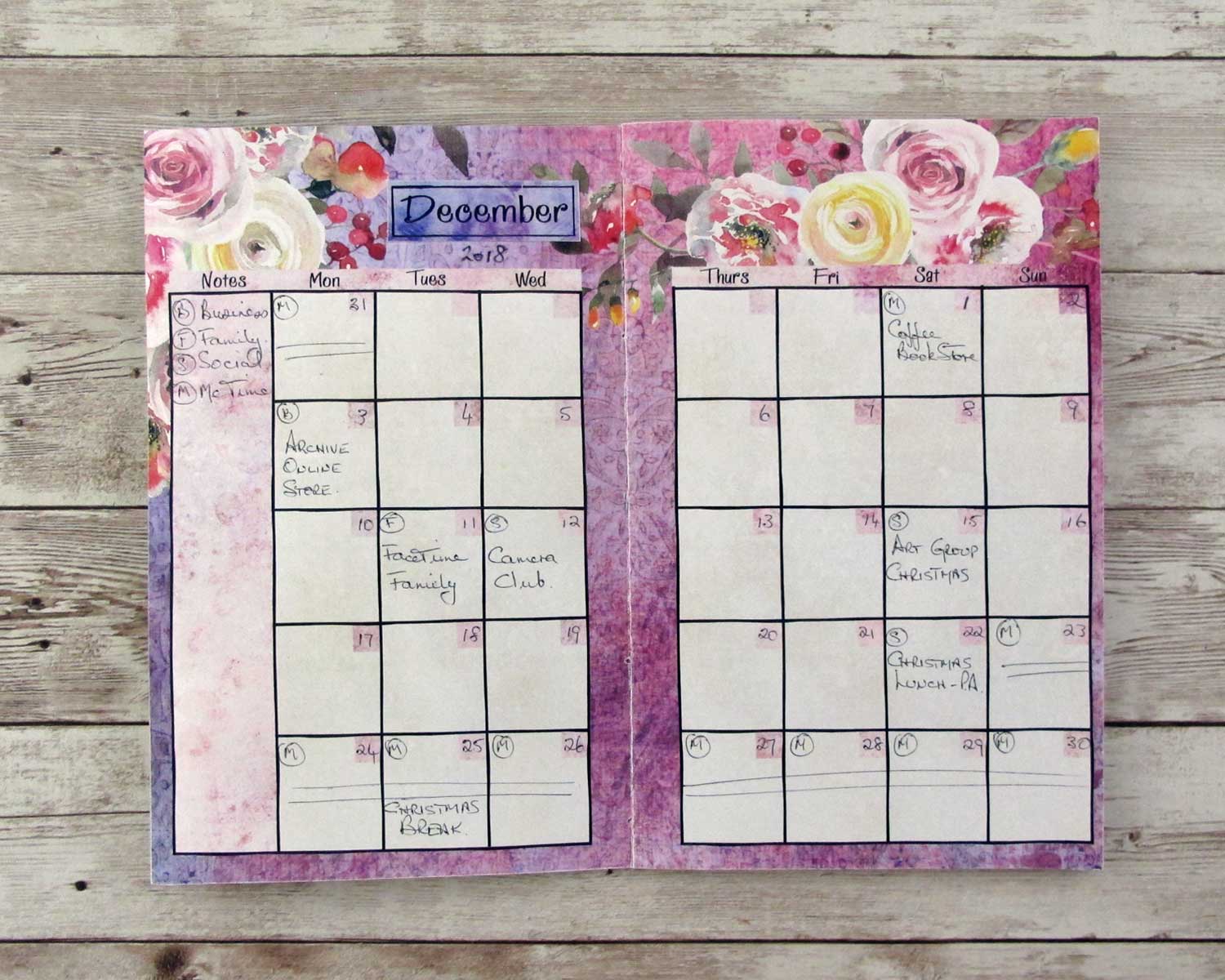 Weekly Planner Journal
It's important to pick up and use your planner journal every day, even if you don't actually do anything that moves you toward your dream. It only takes a few minutes, and picking it up every day will act as a reminder that you do indeed have big dreams and that they won't get forgotten or buried under all the other stuff you need to get done during the day.
Each monthly planner journal includes a month's worth of daily pages so you can draw, journal and collage as a way to keep track of your progress and capture a month's worth of memories. Make a note of the things you've got done during the day, achievements, gratitudes, or things you want to remember. Use stickers and images to dress up the pages.
Monthly Review
At the end of the month use the monthly review to make notes of all the things that you achieved, or didn't get done, during the month. This is a safe space to look back on each month – letting go of things that didn't work, and embracing the things that moved you forward.