If you've ever had problems printing printables, this handy guide will get you on track and teach you how to print printables that are perfect every time!
I've been designing digital artwork and designs for printing on my home printer for well over a decade. As a result getting perfect prints is something I know a little about.
Whether it's printing on paper or printing on fabric, you only need to know a few things to learn how to print printables that result in beautiful prints every time.
Contents
Your Easy Guide: How to Print Printables
– File Formats –
When learning how to print printables, it's important to know about files formats. There are several file formats that are commonly used for printables – pdf, jpg and png.
PDF format is the most commonly available format for printables because this particular format is so versatile and easy to use. All that's needed to open and print a pdf file is a pdf reader. Other printable formats include jpg and png. To to open and print these types of files you will need a photo editing program such as Photoshop or other similar type of program.
Because pdf format is so easy to use, all our premium printables are designed in high resolution and compiled in pdf format for easy printing. Although the printables are designed to print on US letter-size paper (8.5″ x 11″), you can also easily print them on A4-size paper (8.25″ x 11.75″/210mm x 297mm).
PDF Format
PDF readers can be either browser-based, or you can use a desktop version.
With browser-based viewers you can view pdf documents in your browser. While this option might be quick and convenient, it has limited capabilities.
Desktop versions such as the free Adobe Acrobat Reader DC can be downloaded to your computer or device, and gives you many more options for reading and printing.
Apart from the simplicity of reading and printing pdf files, you can also easily scale and resize the pages. This gives you the option to resize your printables and use them in different ways or for different crafting projects.
When printing from a pdf document, the "Page Scaling" option to "None" or "Actual Size" should be used for most printables. This option might look different depending on which reader you use. This ensures that your printable will print at the correct size regardless of what paper size you use. When printing on A4 paper, you may also need to check the "Auto-rotate and center" option.
For some printables, particularly if they have a border around the edge, you may need to set the "Page Scaling" option to "Fit to Printable Area". This will ensure that the page prints without cutting off the border or edge. You may need to play with these settings to ensure that your page prints correctly.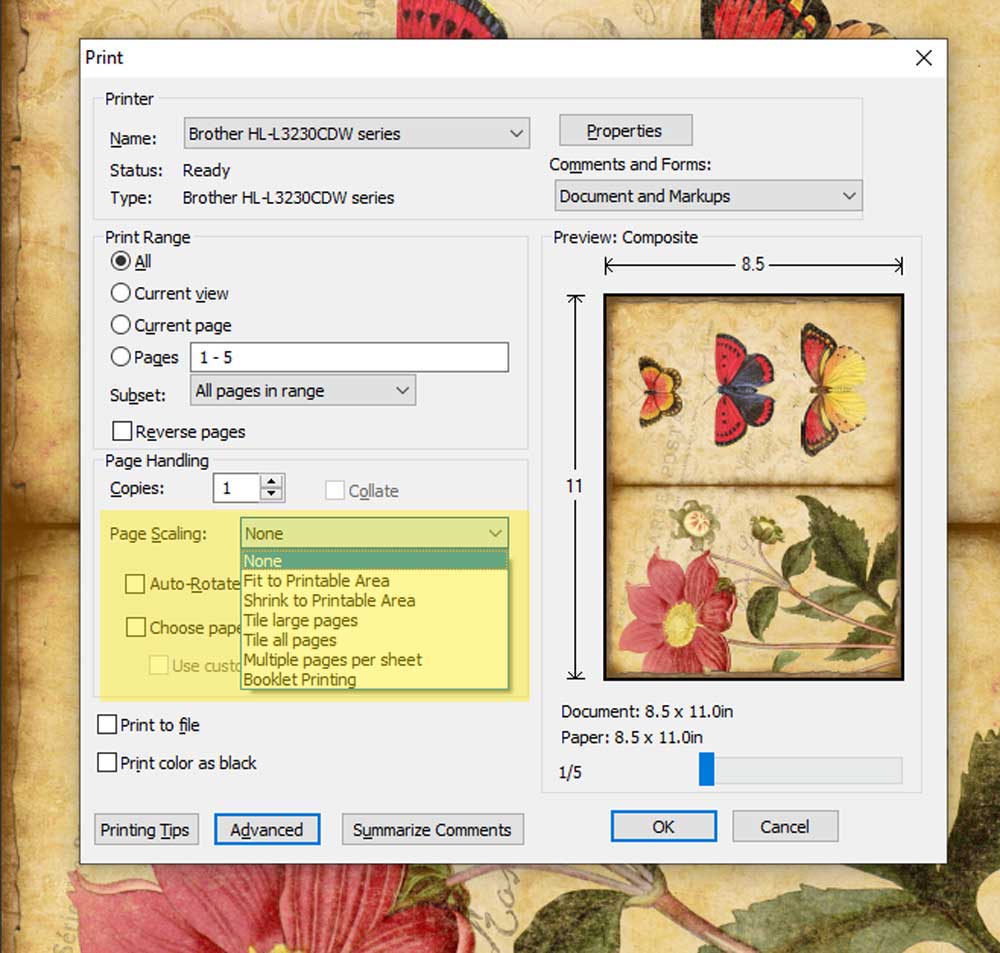 Your Guide to Printing Printables
– Printers –
You have several choices for printing. You can take your files to a copy shop for printing, or you can print them using a home printer.
Getting your printing done at a copy shop is as easy as taking or sending your files to the store and then picking them up when they're ready. Check with your store and they will tell you how they prefer the files to be forwarded.
Printing at home is a more convenient option but you will need either a color inkjet or laser printer. Generally speaking, inkjet printers will produce better prints and print colors more accurately than laser printers. This is because of the different technologies that each style of printer uses.
Color Accuracy
I use both an inkjet printer and a laser printer. From experience I know that I never have to adjust the color settings on my inkjet printer. I simply insert the paper and print and the images are always beautiful and vibrant. However I sometimes have to adjust the color settings on my laser printer. I do this by either reducing or increasing the red, blue or yellow tones in order for the colors to print accurately.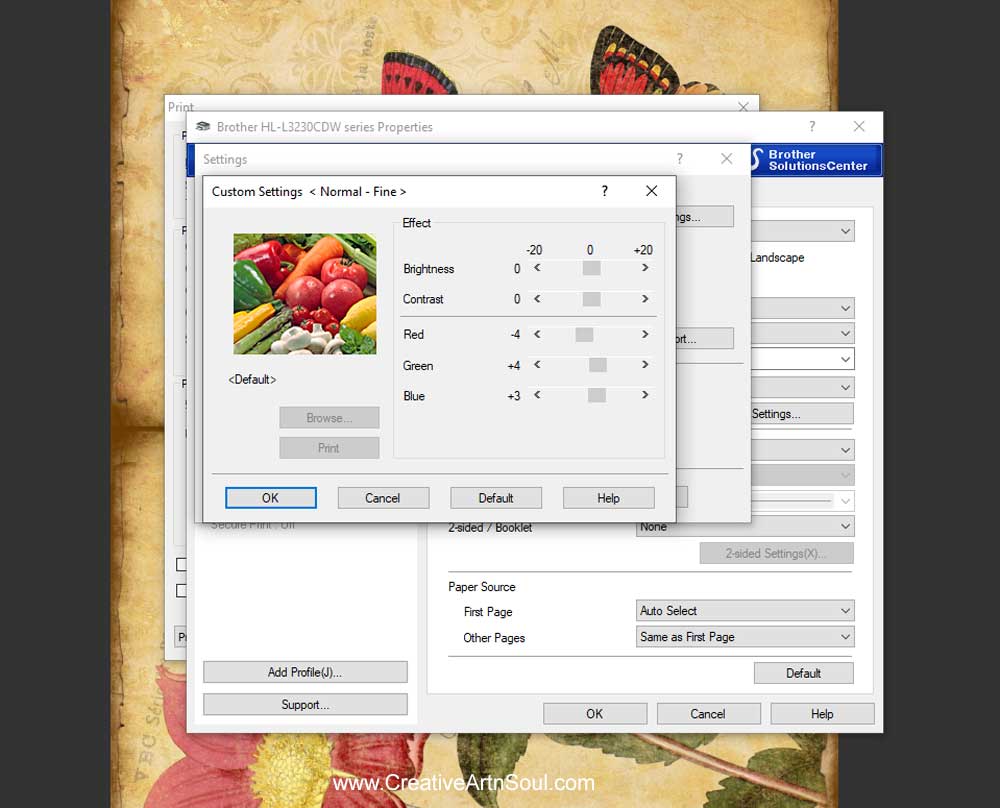 It's also important to remember that the colors that you see on your monitor or computer screen may not be quite the same as those that are printed. This is because screens use RGB colors and printers use CMYK colors.
Test Prints
If you intend to print a lot of pages or are unsure how your printables will turn out, it's always a good idea to do a test print first. Make sure to choose the correct paper setting and print quality setting. You may also need to adjust the color settings and brightness to ensure a good quality print. If you're not sure how to adjust your settings, refer to your printer manual or check your printer's website for instructions.
Inkjet Printers
Most inkjet printers will produce photo quality prints. This means that an inkjet printer will give you better and more photo realistic prints than a laser printer.
Borderless Printing
Some inkjet printer models offer borderless printing which is not available with laser printers. Borderless printing means that full-page size images will print from one edge of the paper to the other. This is an option that you can change in the printer settings.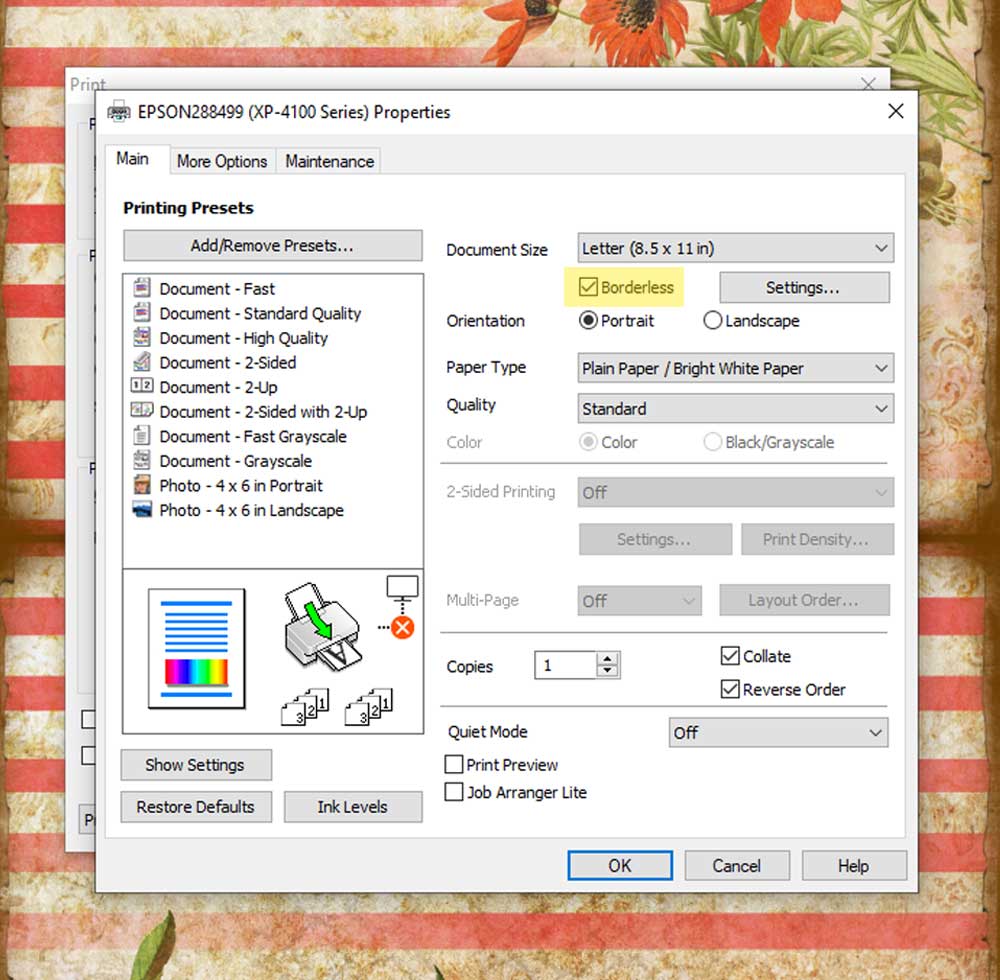 Printers that don't offer borderless printing will leave a narrow white border around the print. This needs to be cut away after printing. This isn't usually a problem however it will affect the finished size of your printable.
Cost of Ink
The cost of ink is a factor if selecting an inkjet print as replacement ink cartridges can be quite expensive. You can of course use remanufactured ink cartridges, but sometimes these cause more problems than they're worth. Plus they don't always produce as good quality color prints as when using original ink cartridges.
What I Use
I currently use an inkjet printers with eco-tanks. These types of printers use large tanks to store the ink instead of small cartridges. Ink is purchased in bottles and poured into the tanks. This ultimately makes the cost of ink less expensive. The cost of these types of printers are a little more expensive than a standard home inkjet printer, however they pay for themselves over time because you don't need to replace the ink very often. I've been very happy with my eco printer.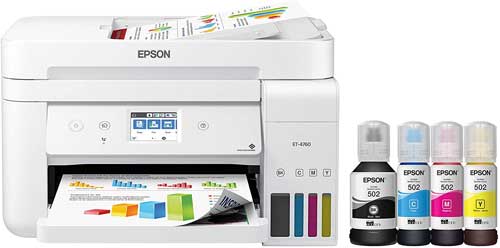 Laser Printers
Laser printers won't print images that are as high quality as those printed using inkjet printers. However generally speaking they print well enough for most crafting projects.
Pros and Cons
The main advantage of laser printers is that the prints are permanent and waterproof. This means that you can add inks or stamps and paint to the surface of a laser printed image without the risk of ruining it. Another reason to use a laser printer is the relatively low cost of each print. A laser printer will give you several thousand printed pages per cartridge set. A standard home inkjet printer will only produce several hundred.
The downside to using a laser printer though, is that folded pages tend to crack along the fold, and the color may also rub off. This is due to the way laser printers work. Laser printers fuse the colors to the top of the paper using heat. This makes the color more susceptible to flaking off, particularly when folded. Inkjet printers on the other hand, drip ink through the page. This ink is bonded to the paper better and won't crack or rub off.
One way to resolve the problem of cracks or flaking color is to use an ink pad to hide those problem areas.
What I Use
I use a Brother HL-L3230CDW Laser Printer. This is an economical color laser printer and I've been very happy with the way it prints and performs.
The cost of replacement toner cartridges for laser printers is also something to consider. Much like inkjet cartridges, genuine laser cartridges are quite expensive, however I've been using these E-Z Ink Compatible Toner Cartridges. I've been very happy with these cartridges and the way that they print and I've never had any problems with them.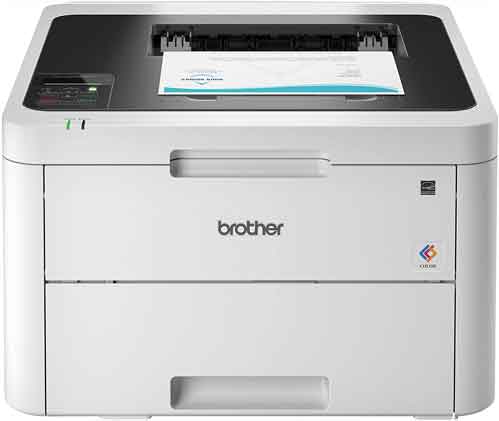 Your Guide to Printing Printables
– Paper Types –
The type of paper that you use will determine how successful your printables will turn out.
Always choose white paper as it will give you the best and most vibrant color. I always choose good quality copy paper, presentation paper, or cardstock for a professional result.
Standard copy paper is generally quite thin, so choosing a slightly thicker copy paper such as this 24lb copy paper will ensure a good quality printed image. Using a thicker paper will ensure that the ink doesn't bleed through to the other side.
Also choose a good quality thick cardstock such as 110lb cardstock. This thickness is easy to print but is much thicker than copy paper making it will be more durable.
Another option is matte presentation paper. This is an in-between weight that is more substantial than copy paper, but not as rigid as cardstock. This type of paper prints photo quality images on matte paper.
Conclusion
The best way to learn how to print printables is to just dive right in and print out a page or two.
From the way they print out you can usually determine whether adjustments need to be made to the color or quality settings on your printer. It also helps you determine whether you need to use a better quality paper. After making a few prints you'll know exactly what you need to do to get perfect prints every time.
Discover More Creative Junk Journal Resources
Save this pin to your favorite Pinterest board!