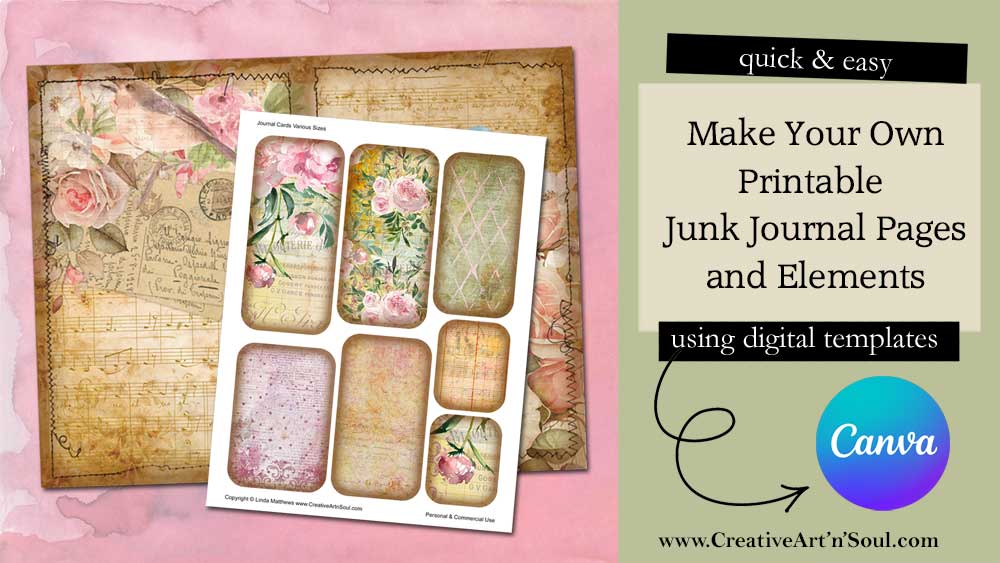 Learn how easy it is to make your own printable junk journal pages and elements in Canva using digital junk journal templates.
Whether you're experienced at making junk journals or are just starting out, using digital templates is a quick and easy way to make your own unique printable junk journal pages and elements.
With digital templates and papers, you can effortlessly create your own unique printable junk journal pages and elements. These digital resources make it easy to add that extra touch of creativity to your journals.
You can use these types of templates with any type of photo editing or graphic design program such as Photoshop, Photoshop Elements, or Affinity Photo, however Canva is convenient because it's free and easy to use.
Supplies & Resources
DIY Printable Junk Journal Pages and Elements using Digital Templates in Canva
About Canva
Canva is an online graphic design platform where you can create social media graphics, presentations, posters and other types of visual content.
Canva has a free version which includes lots of different types of content that you can use to create your project, and it also has a paid version that has additional features.
You only need the free version to create your junk journal pages and elements using my printable templates.
To get started making your own printable junk journal pages and elements, you first need to log into Canva. If you don't already have an account you'll need to make one.
After you log in you'll land on the home page where you can create a new project or view previous projects.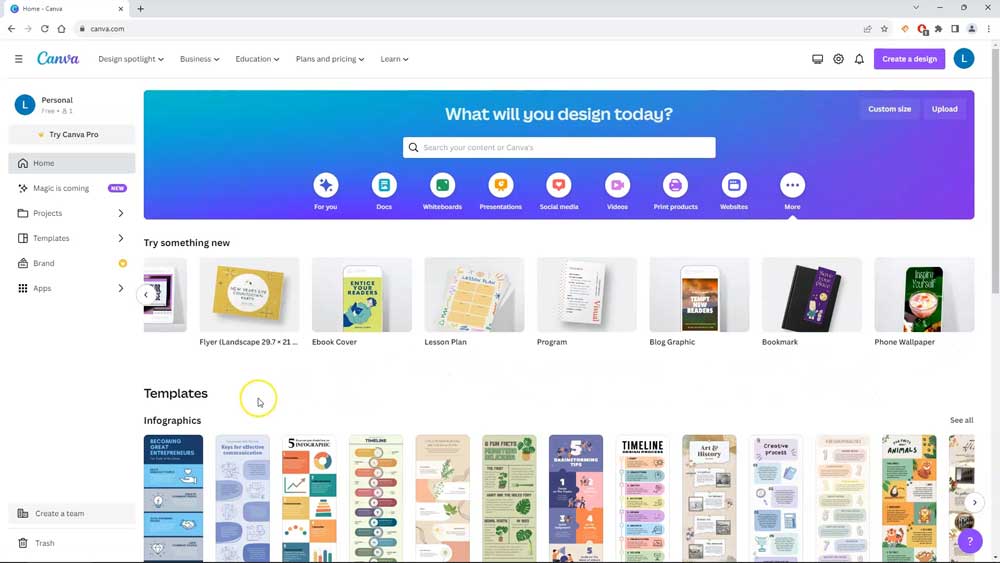 DIY Printable Junk Journal Pages
When you create a project you can select from a number of different styles of presets, but I'm going to use a custom size 11″ wide by 8-1/2″ high which is a standard junk journal page size and is also the size of the templates that I'm using.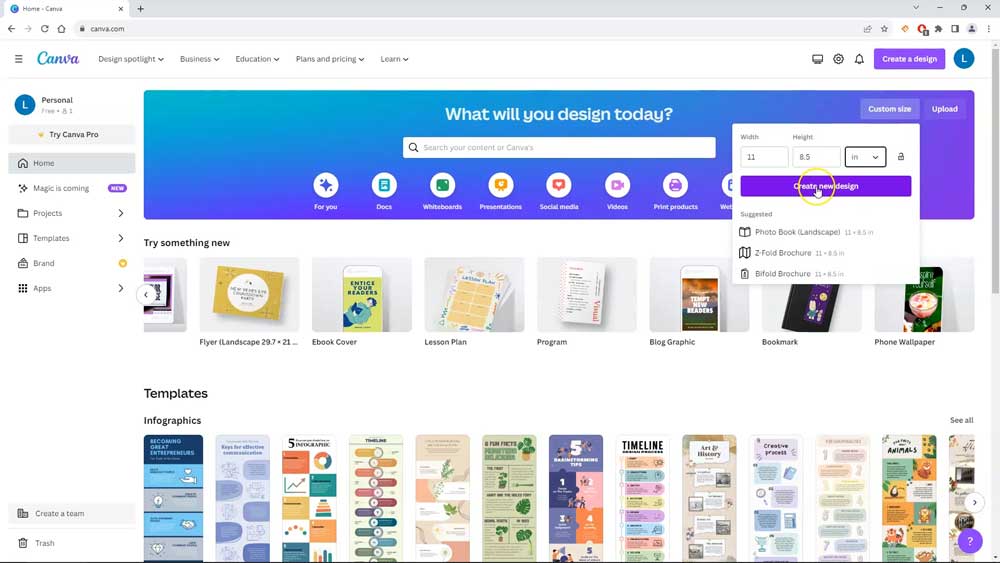 After you input the size, you'll be taken to the canva editor where you can create your project.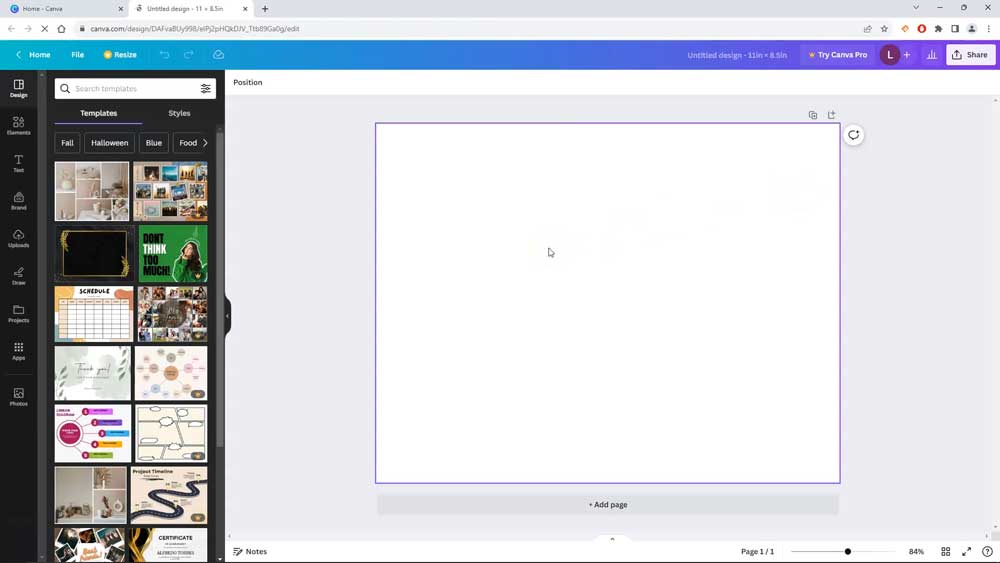 Canva has a lot of different elements that you can freely use to create your graphic designs, but for this project I'll be importing the files from my desktop into Canva.
To import files select the upload tab. You can either click the upload button, browse to your folder and select the files, or simply drag and drop the files from your folder onto the upload area.
Canva allows you to import a wide variety of file formats for images, videos and documents.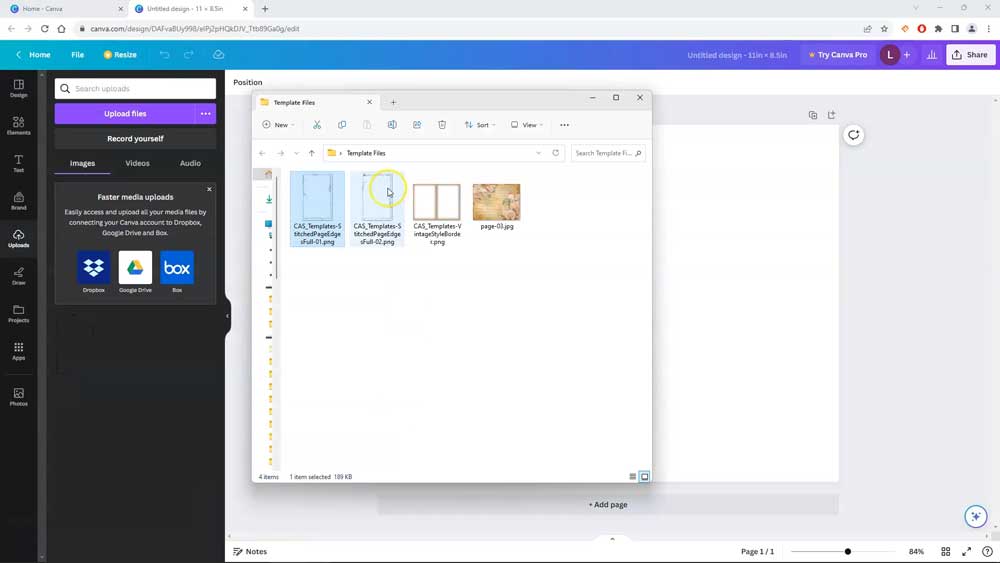 To create printable pages and elements, you'll need to import a digital paper that will be used for the background, together with the png template files.
Once the files are uploaded, to add them to your document simply click on a file and it automatically inserts itself onto the document.
To move the file, drag it into place and then use the handles to resize if necessary.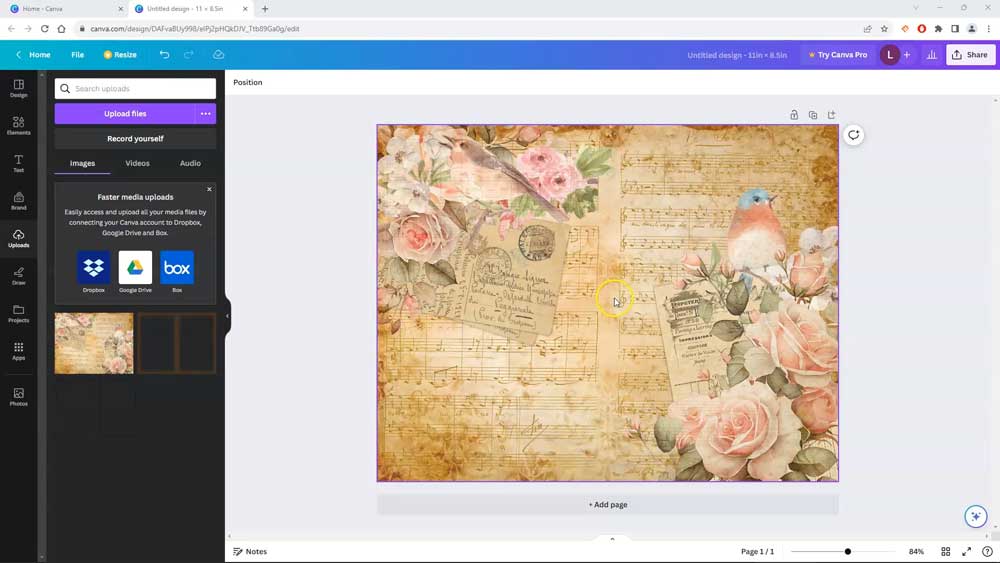 Once the printable paper is in place, now you can add the border templates. I'm using templates that have a stitched border effect. These templates make it super easy to create a stitched effect without actually sewing anything.
When using these templates, the main thing to remember is to always place them on top of the background paper.
I'm using two different templates placed side by side. These particular templates are designed to mix and match so you have unlimited design options.
I'm also going to add a vintage style edge template, which is included in the template set, that gives the page edges a slightly darker appearance when printed.
I now have several layers in my design and I want to bring the stitched layers forward so they are sitting on top of the vintage style border so that when I print the page, they will be a little darker in color and less obscured by the faded edge.
To view the layers, click off the document and onto the background area of the editor then click on the "position" tab on the top left.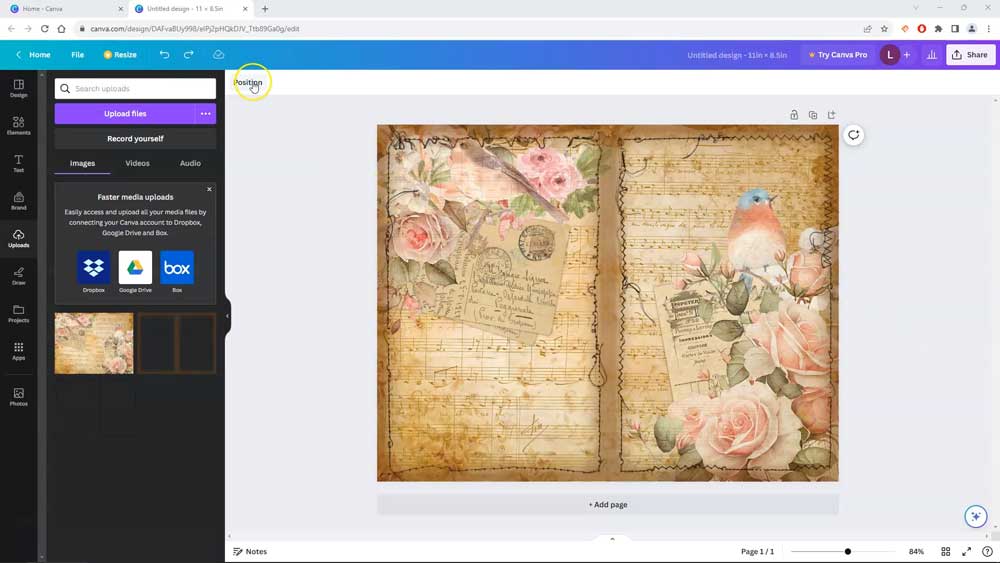 Now you can see all the layers listed in order.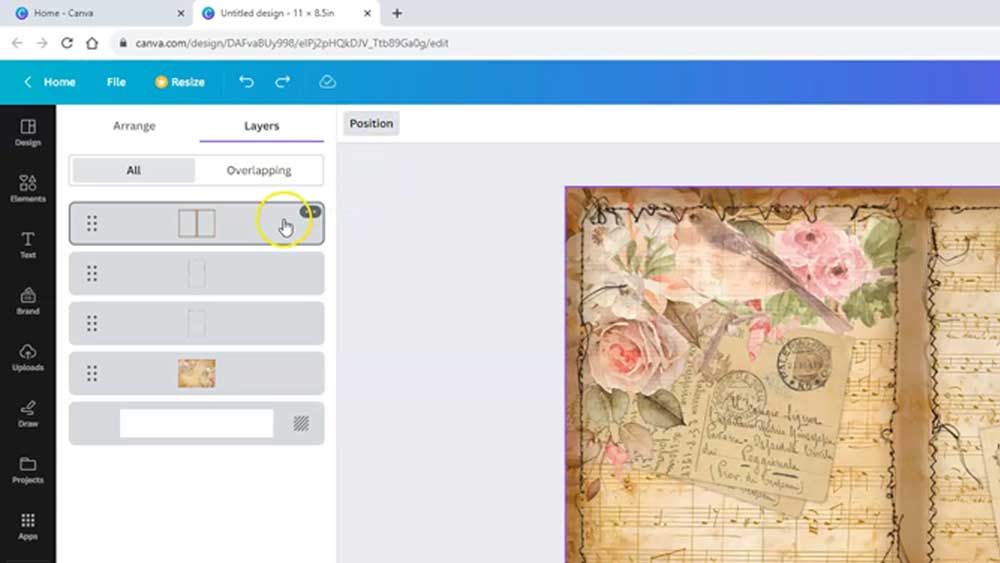 To move the layers, grab them and simply move them into position.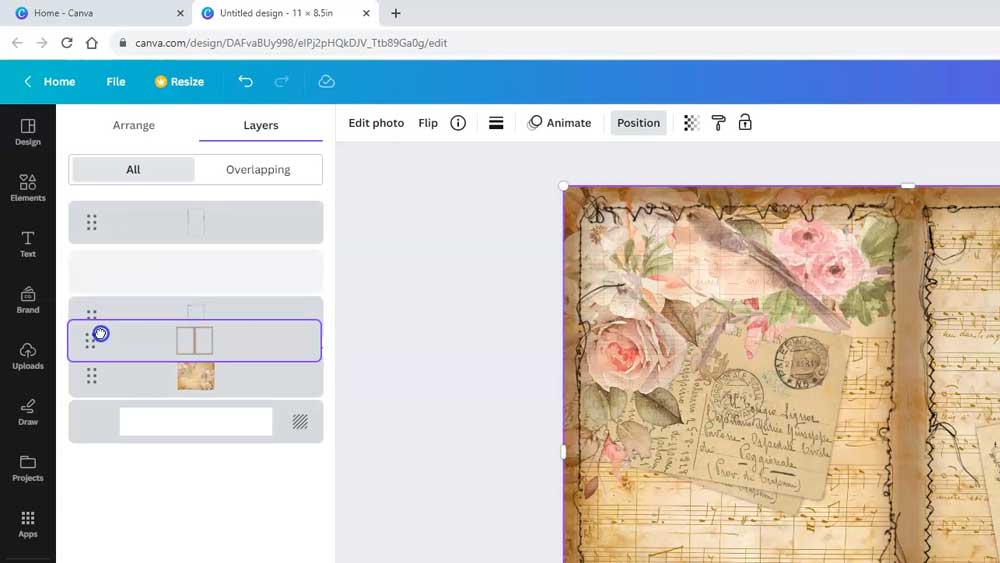 On this screen you can also rotate the elements horizontally and vertically. Click on the layer to select it, then click on the "flip" button and select the rotation.
To go back to the main editing screen click on the background area.
DIY Printable Junk Journal Elements
In a similar method to making quick and easy junk journal pages using the page border templates, you can also use digital templates to quickly make junk journal elements such as cards and tags and pockets.
Make a new document, this time size 8-1/2″ by 11″ which is the size of these particular templates.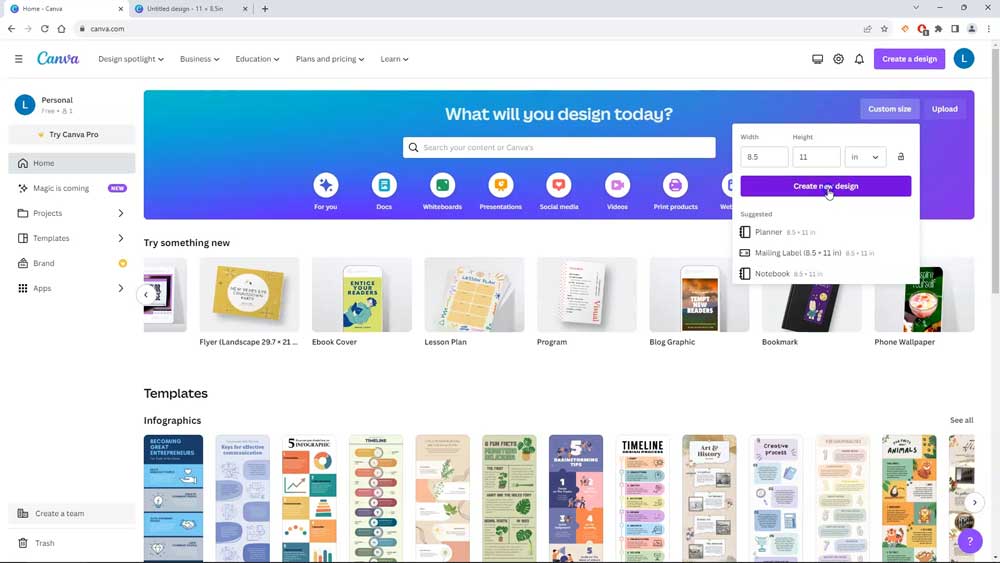 In this example I've uploaded a journal card template set together with some printable papers to make a variety of journals cards.
Click on the template and it automatically inserts itself onto the document, then use the handles to resize it.
Click on the paper to add it to the document and resize it.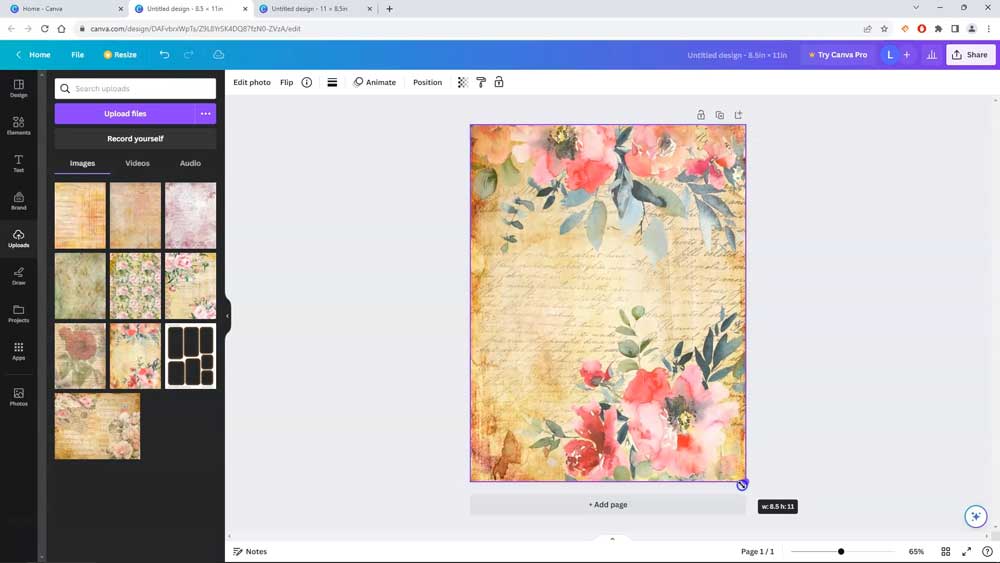 Then access the layers panel and move the paper layer underneath the template layer.
Automatically you now have a page of journal cards that you can print out and use in your journals.
With these templates you can use one digital paper such as the one that I'm using that gives you a set of coordinated journal cards.
Papers with large patters and design on them will usually give you a good selection of coordinated elements each with a slightly different pattern or design.
However you can also easily use a number of different digital papers to create elements that have completely different patterns and designs.
Add the papers that you want to use.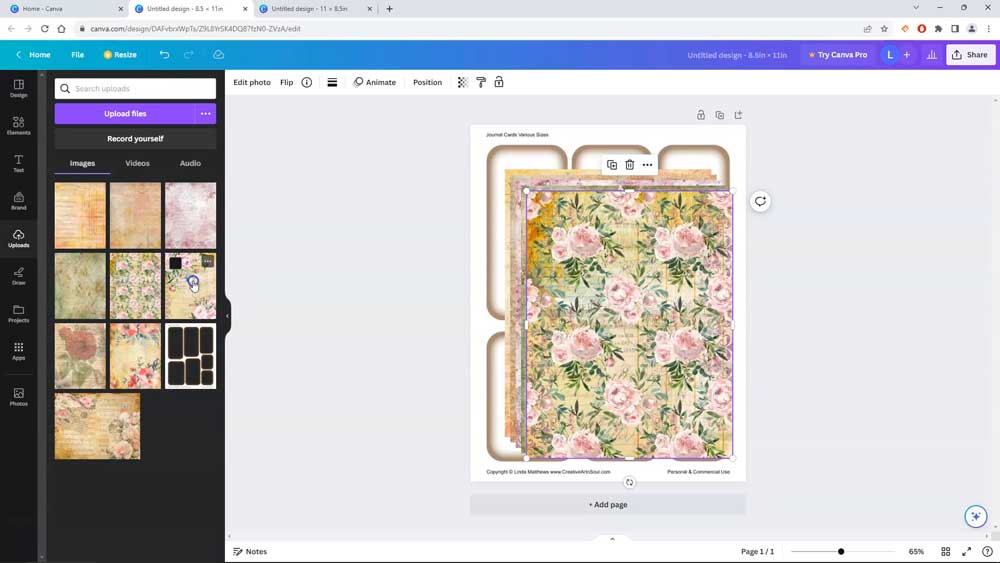 In the layers panel move the template layer to the top.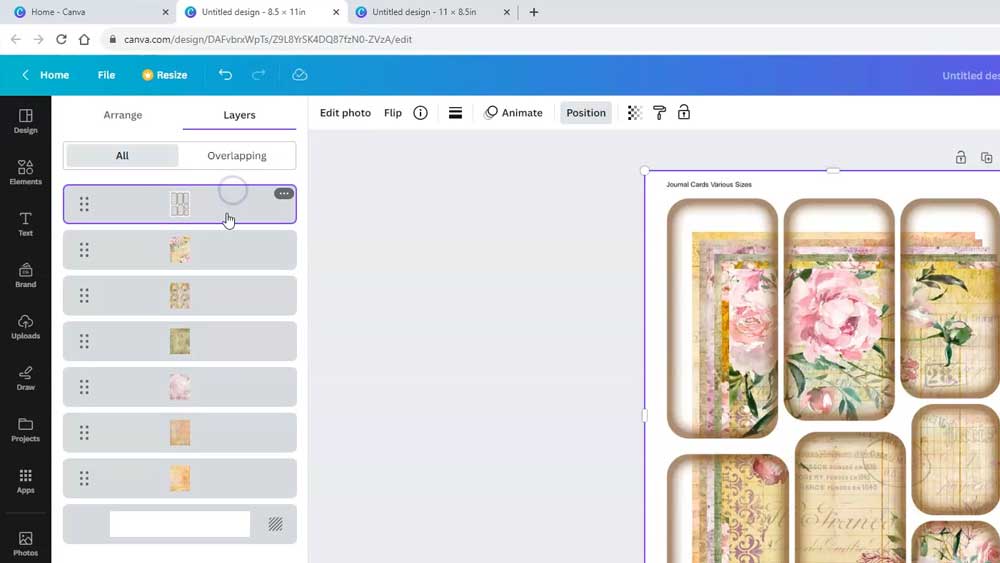 Select each of the papers and move them into position. Then use the side and the bottom handles to resize the paper. What this does is actually crop the paper to size.
Now you can download the file by clicking the "share" button on the top right, the download button.
Then select "PDF Print" which is best for printing. Check "Flatten PDF" to ensure that it prints correctly then click download and the file will download to your desktop.
Once downloaded, open the file in a pdf reader and open the print dialog box. Make sure the scaling option is set to none so that it prints at the correct size, then print it out onto a piece of cardstock, and cut out the pieces.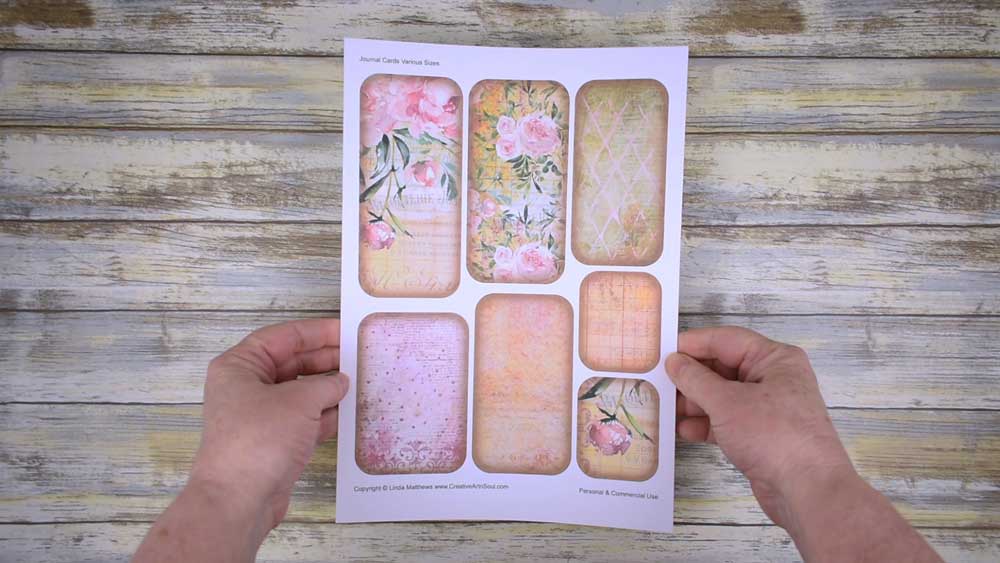 Save this pin to your favorite Pinterest board!