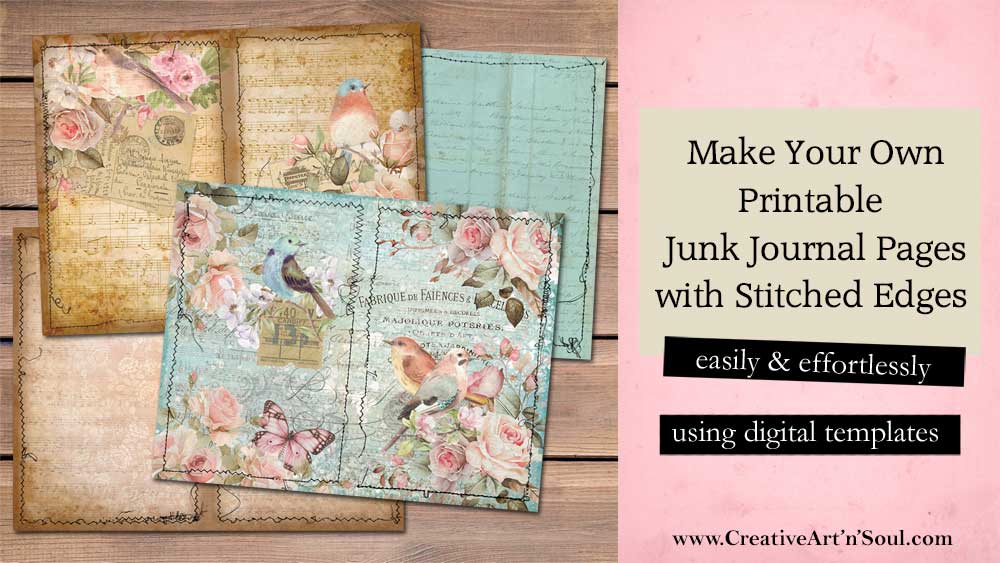 Learn how you can make your own printable junk journal pages with stitched edges – without using a sewing machine.
Do you love the idea of creating your own unique junk journal pages but find yourself short on time or artistic inspiration? In today's digital age, crafting beautiful printable junk journal pages has never been easier. Using digital papers and templates, you can unleash your creativity and create unique edges for your junk journal pages easily and effortlessly.
Whether you're experienced at making your own printable junk journals or a complete newbie looking to dive into the world of junk journals, these digital tools are your secret weapons for crafting one-of-a-kind printable junk journal pages that will add charm and character to your junk journals.
Supplies
How to make Printable Junk Journal Pages with Stitched Edges
To get started making your own printable junk journal pages with stitched edges you'll need some digital papers and a set of junk journal templates with stitched edges.
The junk journal templates comes in two sizes – to fit junk journal pages size 11″ x 8.5″ and junk journal pages size 10″ x 7″. Each set includes 12 stitched overlays in png format that can be mixed and matched to create unique border effects.
You can use these templates together with your own digital papers, with any type of photo editing program such as photoshop or photoshop elements, or even canva. I'm using Affinity Photo.
To use the templates, open a digital paper in your photo editing program. This will become your journal page once designed and printed.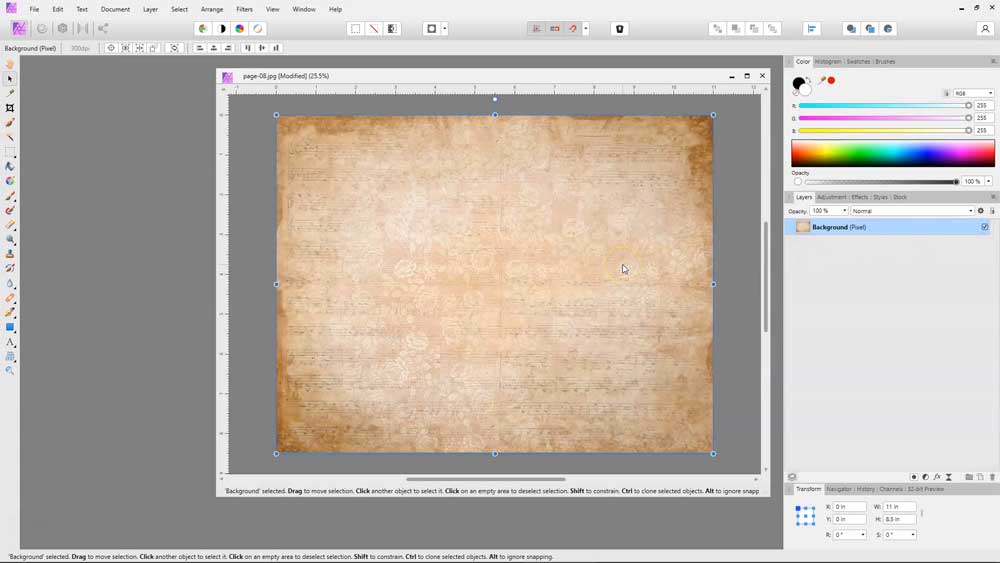 Now select one of the stitched templates and place it on a layer above the paper layer. The templates are designed to fit on one half of the page so you can easily mix and match them.
There are various ways you can position the template. Duplicate the template and move it to the other side to create a double-sided stitched page.
Flip the template over for a mirror image effect.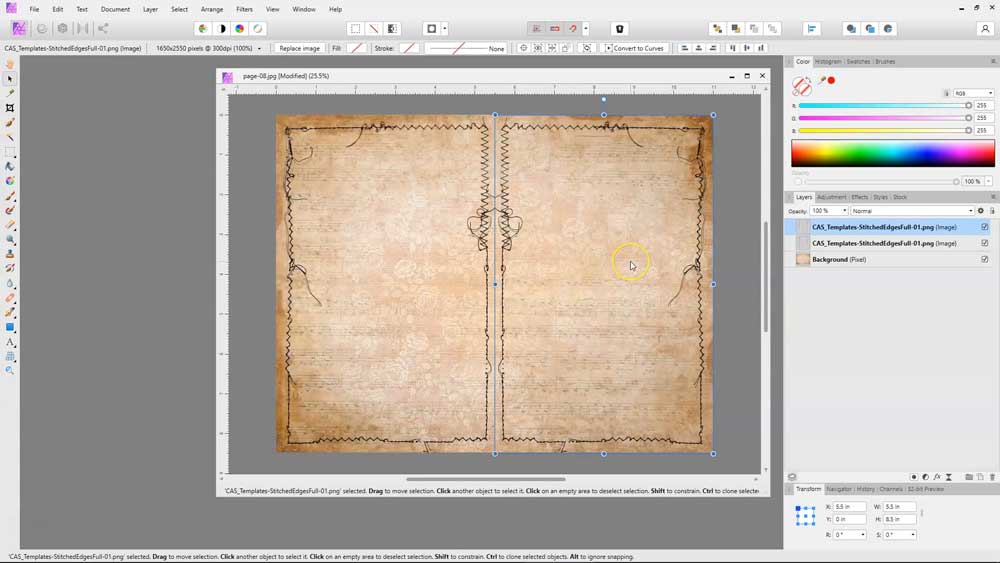 Or you can add a completely different template.
You can layer more than one template, one on top of the other and rotate them and flip them around until you have a page design that you like.
This mix and match system gives you endless design opportunities to create unique printable pages for your junk journals.
Included also in this set is a shaded border that you can use to create a vintage style edge.
You can also combine these stitched templates with the page border templates that can purchased separately. These templates include basic border edges in sizes 10″ x 7″ and 11″ x 8.5″. Or torn paper border edges in sizes 10″ x 7″ and 11″ x 8.5″. Using these templates will give you even more options for creating unique journal pages.
If the stitched overlays don't fit perfectly after adding a border edge template, simply resize them a little by pulling the resizing handles.
The templates will work with all types of different digital papers, patterns, and backgrounds.
Once you've finished your modifications, all you need to do is save the file to jpg format and then print it out and use it in your junk journals.
Using these templates you can quickly turn your digital papers and patterns into printable junk journal pages in no time at all.
Save this pin to your favorite Pinterest board!