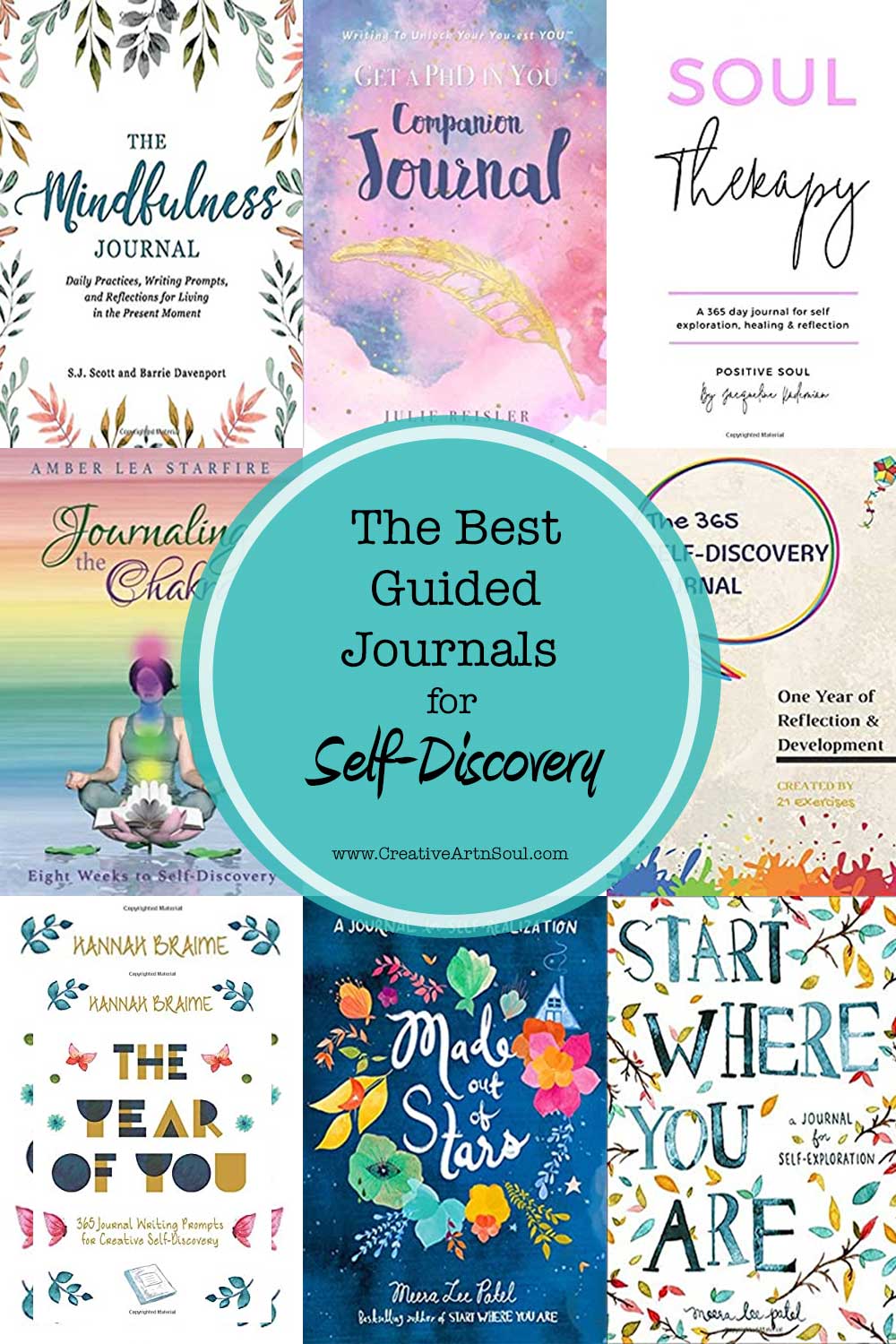 Using a guided journal is the easiest way to get started with a writing journal.
The benefits of writing in a journal have been well documented and the process can impact you in positive ways such as reducing stress, improving physical well-being, and even helping to reduce the symptoms of mild depression.
A journal also offers a safe place to explore our deepest thoughts and feelings. With a regular journaling practice, over time you'll even begin to notice the beliefs, patterns and habits that shape your life. Through deeper self-exploration you can modify or change those beliefs, patterns and habits that hold you back, in order to live a more fulfilling and happy life.
Guided Journals
If you've never kept a writing journal before or are unsure about how to get started with one, a guided journal is a great way to begin. Instead of staring at a blank page wondering what to write or how to begin, a guided journal includes thoughtful questions and prompts to get you started.
If you're ready to make meaningful change in your life, choose the guided journal from the list below that best suits your needs and get started!
Start Where You Are Guided Journal

Journal for Self-Exploration
This interactive journal is designed to help you nurture your creativity, mindfulness, and self-motivation. Learn to navigate the confusion and chaos of daily life with a simple reminder: that by taking the time to know yourself and what your dreams are, you can appreciate the world around you and achieve your dreams.
Featuring vibrant hand-lettering and images, this uplifting book presents supportive prompts and exercises along with inspirational quotes to encourage reflection through writing, drawing, chart-making, and more. With plenty of room for writing and reflecting, this appealing full-color book will make a perfect gift and keepsake as well as being a powerful tool for positive change.
The Mindful Life Journal
Seven minutes a day for a better more meaningful life
The Mindful Life Journal is a thoughtful interactive book that gently guides you to reflect on your emotions, intentions, and energy. Through a series of simple, practical prompts and playful illustrated exercises, you'll feel better in the morning, be more productive during the day, and sleep better at night.
With just seven minutes of effort per day, you'll begin to knock down the barriers between you and a happier life. This life-affirming book is the journal you need to live a more mindful life. If you like time-tested methods, structured approaches to self-reflection, and spending just a few minutes a day to make real progress, then you'll love this inspirational guide.
Journaling the Chakras
Eight Weeks to Self-Discovery
Take a guided eight-week journey to deeper personal discovery, growth, and spiritual/emotional healing using a unique approach to achieving spiritual and emotional wellness. Learn to use a combination of journal writing and guided chakra meditations that will help you uncover previously hidden aspects of yourself and increase your understanding of why you respond and make decisions the way you do.
When you journal the chakras, you gain clarity and empowerment to create your life the way you want it to be and fulfill your potential. An amazingly effective, fun, and enlightening approach to personal development.
A Year of Zen
Reflect, meditate, and grow with 52 weeks of
guided journal prompts rooted in Zen Buddhism
Combining the practice of Zen Buddhism with journaling is a powerful way to live mindfully, gain clarity and perspective, and let go of stress and worries. Whether you're new to Zen or you've practiced for decades, A Year of Zen guides you through 52 weeks of journal prompts that inspire self-exploration, reflection, and mindfulness to help you live a happier, more fulfilling life.
These writing exercises will bring your attention to seven areas: meditation, liturgy, work, body, study, art, and the world. By making the time to journal and meditate with Zen guidance, you're creating a ritual that stimulates your physical, creative, and intellectual growth, and reminds you that life is a gift and a sacred journey.
Soul Therapy
A 365 day journal for self exploration, healing and reflection
This daily, interactive journal is designed to aid you in self exploration, healing, and reflection. With 365 days of thought provoking prompts, inspiring quotes, open-ended questions, daily practices, and motivational soul food with room for writing, this journal is the ultimate tool for personal growth.
This journal has been designed to be a safe space for you, where you can grow into the best version of yourself. When done effectively, it will change everything in your life for the better.
The Mindfulness Journal
Daily Practices, Writing Prompts, and Reflections for Living in the Present Moment
Build a stress-reducing habit that makes you appreciate every single day. This journal gives you 365 daily writing prompts divided into 52 weekly mindfulness topics, which gives you seven days to fully immerse yourself in each topic. The prompts are are fun and engaging, and unique enough so you'll never feel bored while journaling. Each prompt is on its own separate page, so there is lots of space for reflection.
The journal is broken down into weekly themes which means you can skip around and complete the prompts in any order that you choose.
Made Out of Stars
A Journal for Self-Realization
This beautifully illustrated journal celebrates what makes each of us uniquely amazing and provides a booster shot of self-care when you need it most.
This beautiful, intimate book will be a touchstone for anyone looking to better understand themselves so they can clear out the "noise" and be who they are.
The 365 Self-Discovery Journal
One Year Of Reflection, Development & Happiness
The 365 Self-Discovery Journal will help you discover new ideas, challenge old beliefs and unlock your secret potential. This inspirational guided journal offers a new self-discovery question every day, and combines a no-nonsense approach with deep and honest self-reflection questions.
If you're looking for a daily journal that will improve your life, The 365 Self-Discover Journal won't disappoint.
The Wildflower's Workbook
A Journal for Self-Discovery in Nature
The Wildflower's Workbook is a companion to How to Be a Wildflower and will help you slow down and take a moment to reflect on the world around you.
This self-guided journal helps to remind you that nature offers limitless inspiration as long as you are willing to pause and savor the wonder that is all around, and will help you connect with the magic of the natural world, as you write, reflect, and daydream your way through its inspiring pages.
The Year of You
365 Journal Writing Prompts for Creative Self-Discovery
Discover more about yourself, become more conscious about what you want, and create a rich and fulfilling life through one journaling prompt a day. In The Year of You, take the guess work out of journaling and use one writing prompt each day of the year to explore and unpack the most important aspects of your life and your being. Monthly topics keep you focused on exploring one important area of your life each day.
Whether you're new to journaling or have enjoyed a reflective writing practice for some time, The Year of You offers a wealth of inspiration that will deepen your understanding and awareness of what makes you who you are.
Get a PhD in YOU Journal
Writing To Unlock Your You-est YOU
This companion journal is an extension of the writing exercises included with Get a PhD in YOU. Working through this journal can help you reduce stress, reconnect with your inner most desires, and uncover a greater sense of self-worth, all while excavating your greatest, truest, you-est YOU. Discover reflections of your conscious and subconscious self in your daily habits, attitude, and behavior. Clear away the blocks, masks, and stories that stand in your way, and find peace, fulfillment, and confidence in who you are at your core.
Think of this journal as your breathing space, or relaxed retreat where you can spend time getting to know more about your unique essence and highest potential. You deserve this YOU time.
Becoming Who You Are
A Workbook For Self Discovery + Transformation
If you've ever felt bored with your life, confused about who you are, and unclear about your purpose, this journal will change your life. With inspirational quotes, challenges, games, and deep provoking questions, "Becoming Who You Are" offers you a chance to embrace the real you through creative self expression and self discovery.
This workbook was strategically put together in a 31 day format to help build new habits, reprogram your subconscious mind, and create new neural pathways in your brain to achieve your biggest dreams. You will gain clarity on who you are not, accept who you are, and lovingly grow into the person you want to be.