Learn how easy it is to print on fabric using an inkjet printer.
It's fun and easy to print on fabric, and the best thing about printing your own images onto fabric, is that you can then sew and embellish them.
You can use fabric prints in all sorts of different ways, such as quilts and other textile projects, and of course in your creative stitched journals and junk journals.
I've been printing my own photos and images onto fabric for over 20 years and I never get tired of seeing the beautiful images that emerge from the printer.
Regardless of how you plan to use your them, it's not as difficult as you think to make fabric prints that are permanent and washable using a home inkjet printer.
How to Print on Fabric Using an Inkjet Printer
Printing your images onto fabric is relatively easy and all you need is an inkjet printer, fabric that has a paper backing, and a digital image.
Supplies
Best Type of Printer
The best type of printer to print on fabric is an inkjet printer that feeds from the top in a vertical position, then spits out the copy at the front.
Printers that feed from a horizontal position require the fabric to make a u-turn inside the printer and this can sometimes cause paper jams.
Although some printers are available with pigment inks that make your prints permanent and washable, making washable prints is easy if you use pretreated fabric.
Pre-Treated Fabric Options
There are several options for pretreated fabric sheets; you can use either commercial fabric sheets or do it yourself fabric sheets using bubble jetset solution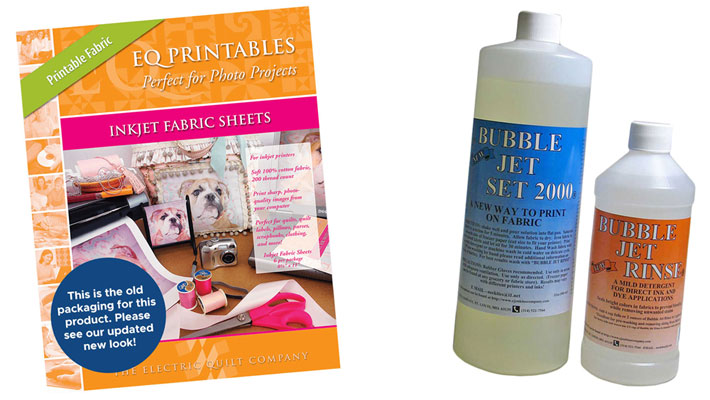 Commercial Fabric Sheets
Using commercial fabric sheets is a quick and easy way to get perfect fabric prints every time. My favorite commercial fabric is EQ Printables. It comes with complete instructions for using the fabric, including washing instructions and helpful tips.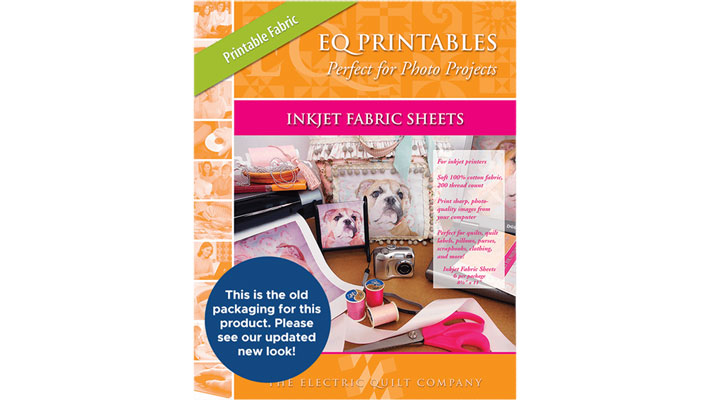 The fabric is very smooth and this particular fabric is backed with a plastic-type backing sheet which goes through the printer very easily.
Inkjet prints made using these particular fabric sheets are permanent and washable because the sheets have already been pretreated.
I buy this fabric by the roll because then I can cut it to any length which avoids wastage.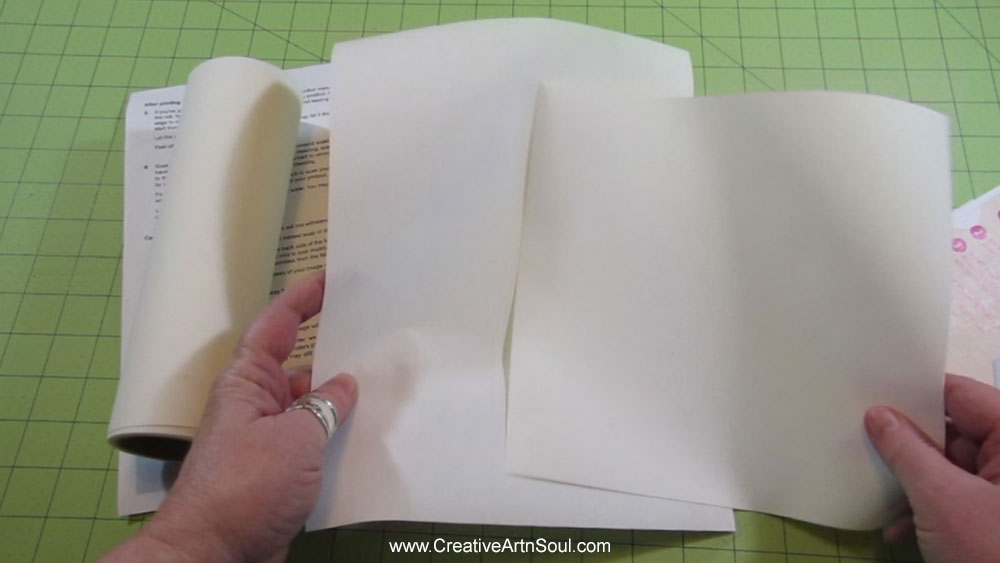 Bubble Jet Set
If you don't want to invest in commercial fabric sheets you can make your own using Bubble Jet Set and Bubble Jet Rinse.
Bubble Jet Set is a liquid solution that is used to pre-treat fabric prior to printing using an inkjet printer. It sets the ink so that the printer ink becomes permanent and washable.
Although it is more economical to use than commercial fabric sheets, it is more time-consuming to prepare the sheets because you have to soak, dry, iron, and then attach to a paper backing. Commercial fabric sheets are already pre-treated and backed with paper.
Making fabric sheets using Bubble Jet Set solution is very easy. The solution will work with all types of inkjet printers, but will only work with 100% cotton and silk fabrics.
To use bubble jet set, first cut your fabric slightly larger than your backing paper. This makes it easy to cut when attaching the fabric to the backing paper.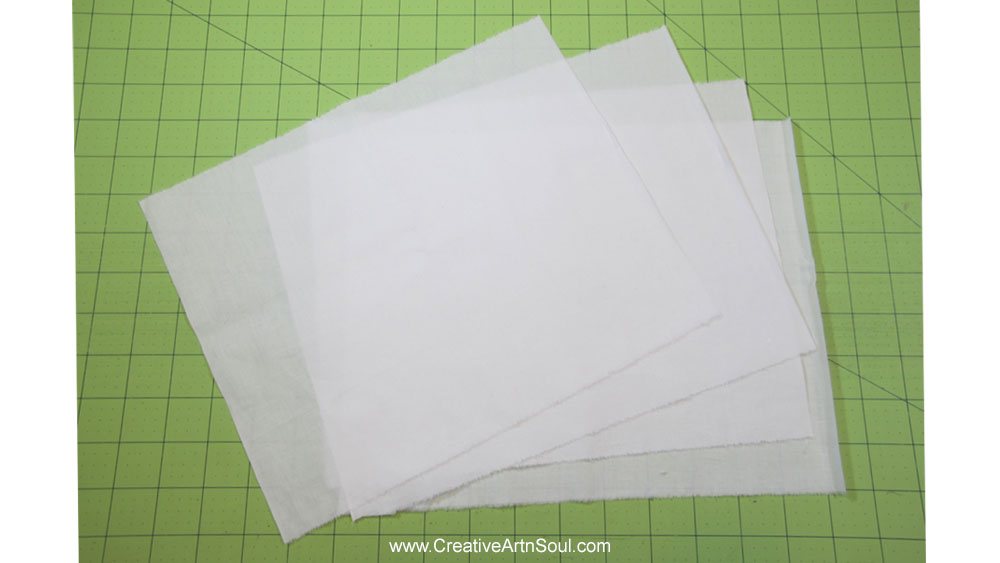 Place the fabric sheets in a tray and make sure to lay them flat. You can soak as many fabric sheets as you like at one time.
Shake the bottle well and then pour some solution over the fabric. You only need to use as much solution as it takes to cover the fabric. Then leave it to soak for 5 minutes.
After 5 minutes, remove the fabric from the tray by picking up two corners and allow the excess solution to drip off.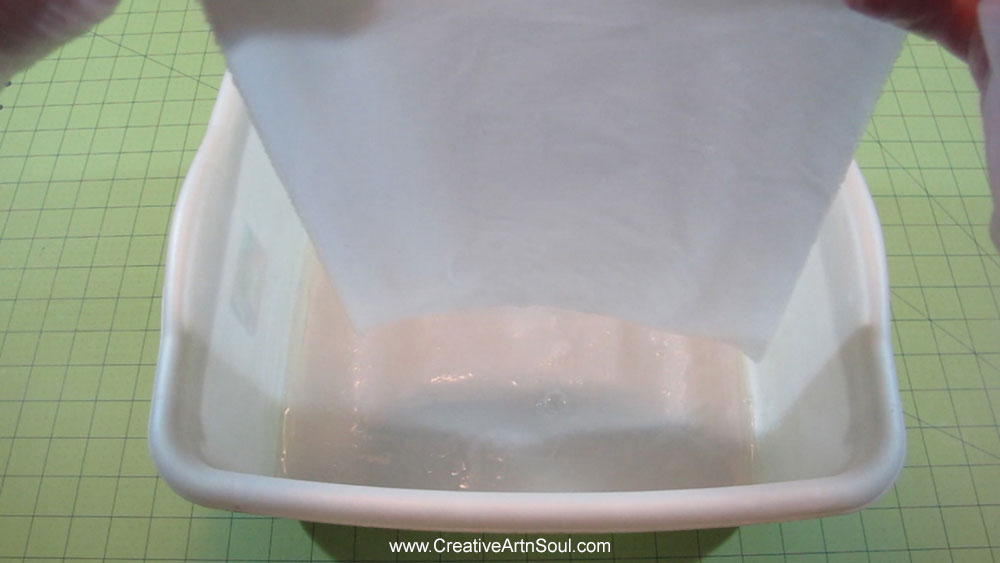 Then place the fabric flat on a towel to dry. You can then return any excess solution to the bottle for re-use.
How to Attach a Paper Backing
Once the fabric is dry, you now need to attach it to a backing paper so that it feeds through the printer. The size of the backing paper should be cut to the copy paper size that fits through your printer.
The most common types of backing paper are …
… standard freezer paper that you can find in the grocery store …
… C Jenkins freezer paper sheets which are precut and heavyweight. These freezer paper sheets tends to cause less paper jams …
… or you can use a full-size sticky label which is my preferred method because it ensures a very strong adhesion.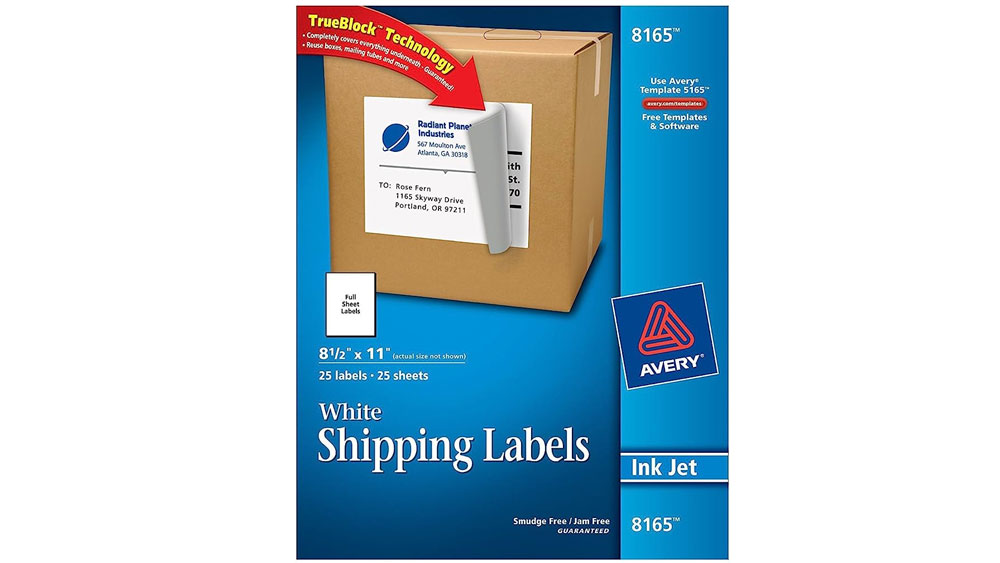 You can re-use all these types of paper backings over and over again until they no longer stick.
To attach a freezer paper backing, cut the freezer paper to size and place it shiny side up on your ironing board.
Place the fabric on top, and using a dry iron, iron the fabric to the freezer paper. Make sure that the fabric is perfectly smooth and there are no wrinkles or bubbles on the surface.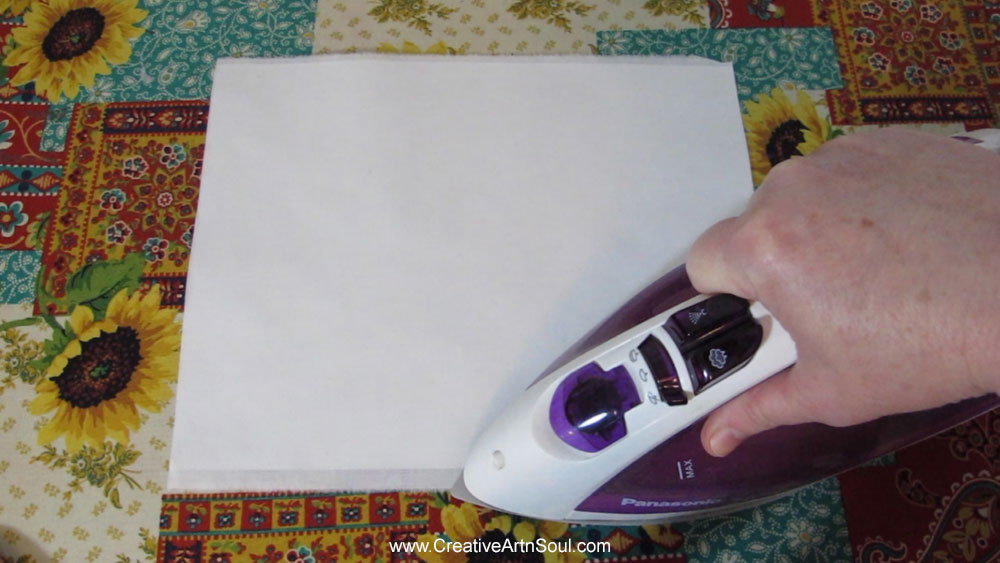 If you notice that any stray threads have got caught in between the fabric and the freezer paper, take the time to remove them otherwise your image won't print correctly.
Once the fabric is firmly attached to the freezer paper, place the sheet with the paper side facing up on a cutting board and trim away the excess fabric. Make very sure there are no loose threads hanging off the edges.
An alternative to a freezer paper backing is to attach your fabric to a full page size sticky label. Full page size sticky labels are more expensive than freezer paper, however using labels offers a more secure way to feed your fabric through the printer.
To attach a sticky label backing, first iron the fabric to remove any wrinkles. Then carefully remove the protective backing paper from the sticky label.
Snip a very small piece from one corner of the label. This will allow you to easily lift the fabric in order to remove it from the label once it's been printed.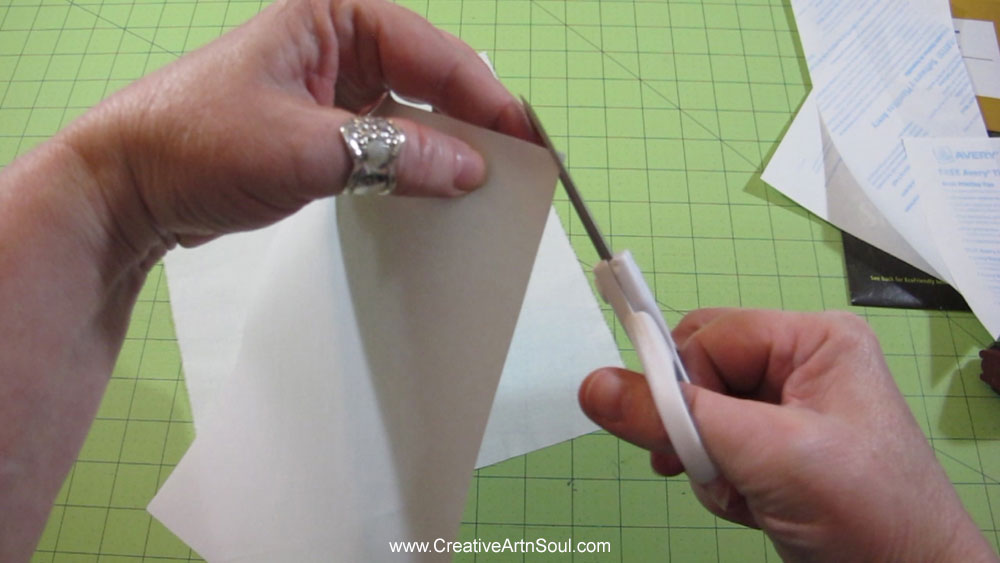 Place the fabric on a flat surface. Place the sticky label with the sticky side facing down, on top of the fabric. Using your fingers, press the label in place.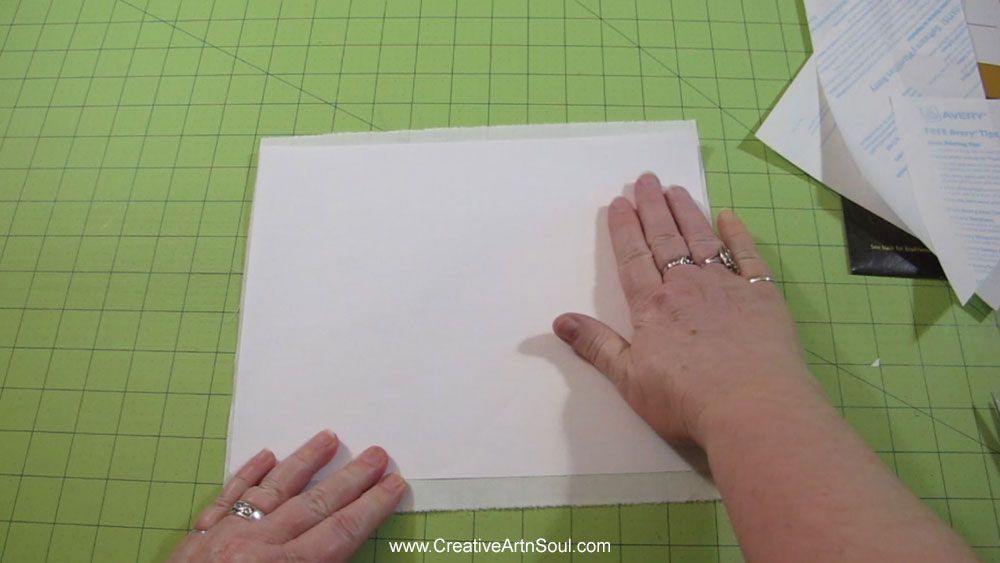 To make sure that the fabric is perfectly adhered, you'll need a brayer. Turn the label over so that the fabric is facing up and run your brayer over the top ensuring that the fabric is securely attached to the sticky label and there are no wrinkles or bumps on the surface.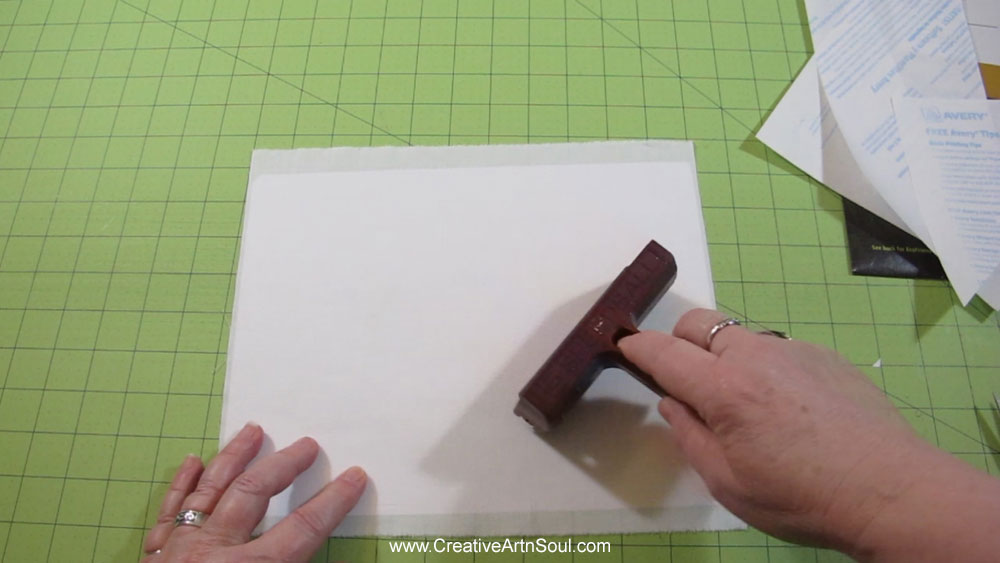 Place the sheet with the paper side facing up on a cutting board and trim the edges of the fabric even with the paper using a ruler and rotary cutter. You could use a pair of scissors but you'll have to be careful to ensure that your cut is straight.
Check and make sure there are no loose threads hanging off the sides and every cut is nice and clean and straight.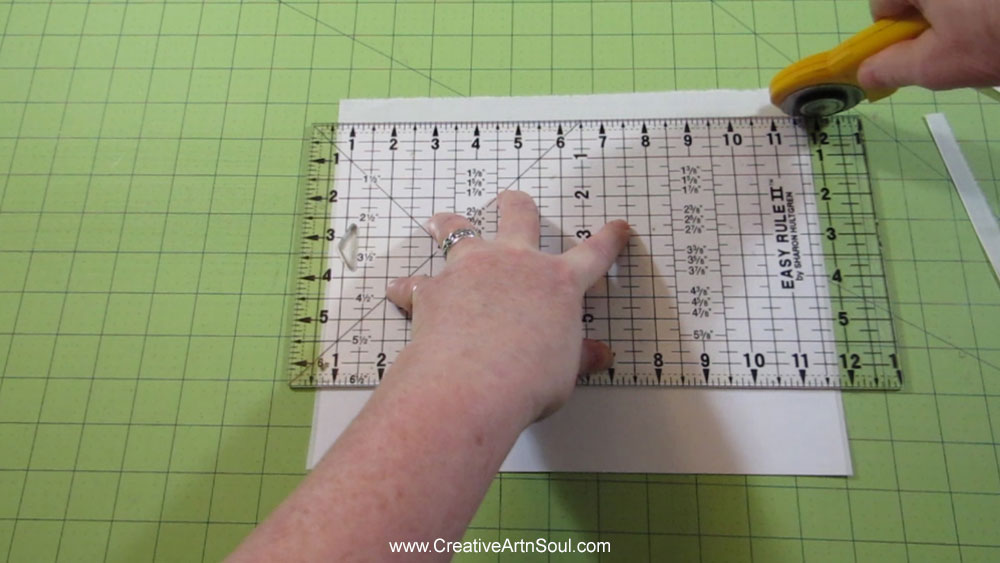 When printing, make sure to insert the fabric sheet into the printer with the snipped corner located along the bottom edge, so the fabric feeds through easily.
Ready to Print on Fabric
Once your fabric is prepared, open your image or photo in a photo editing program or word processing program, or print directly from a pdf file as I'm doing.
To get the best quality print you may need to play around with the printer settings but generally I set the paper on a matte setting with best quality print.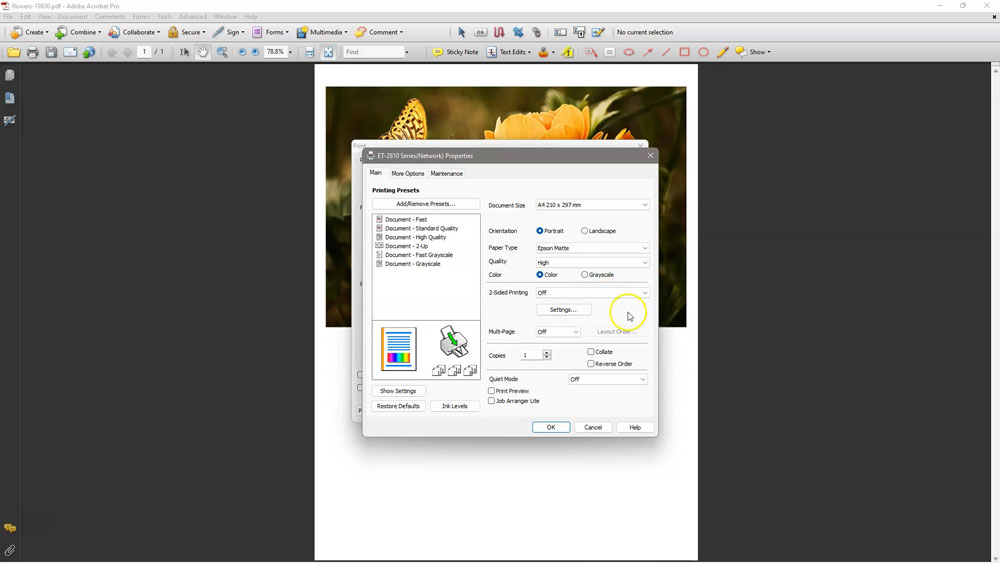 Put the fabric sheet it in the printer just like a sheet of paper and hit the print button.
Rinsing the Fabric Print
After printing allow the print to dry for at least half an hour, then remove the fabric from the paper backing and rinse the sheet in order to remove any excess ink so it doesn't transfer or run or become smeared.
If you've used a commercial fabric sheet, be sure to follow the directions included on the pack.
If you've prepared your fabric sheets using Bubble Jet Set, it's important to rinse using Bubble Jet Rinse which is a mild detergent, because this is the final step that creates the chemical bond between ink and fabric which will make your prints permanent and washable.
To rinse your fabric print using Bubble Jet Rinse, fill a container with 1 gallon of water and add 4 cap fulls of the rinse.
Dip only one sheet at a time into the rinse water. so any excess ink won't bleed onto the other prints and cause streaks and discoloration. Gently swish the fabric around in the rinse water for 2-3 minutes continuously.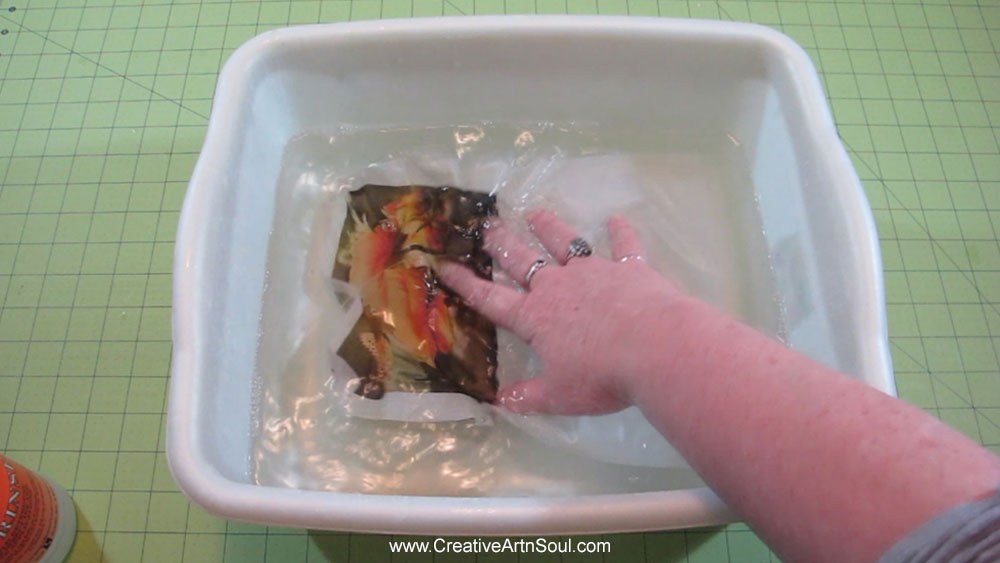 After you're done rinsing, remove the fabric and allow the excess water to run off, then place the fabric flat on a towel to dry.
When the fabric is dry, iron it to remove any wrinkles, and your print is ready to use.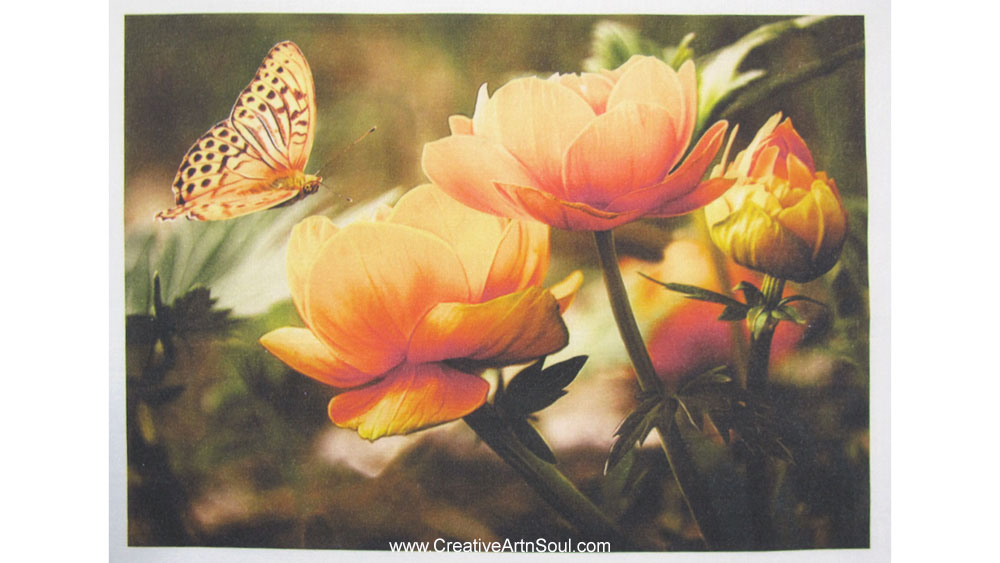 For after-care, as a rule, you should keep your print out of direct sunlight to avoid any fading, and if needed, handwash using a mild detergent.
Use Your Fabric Prints
Use your fabric prints in art quilts, textile art, and all your creative journals.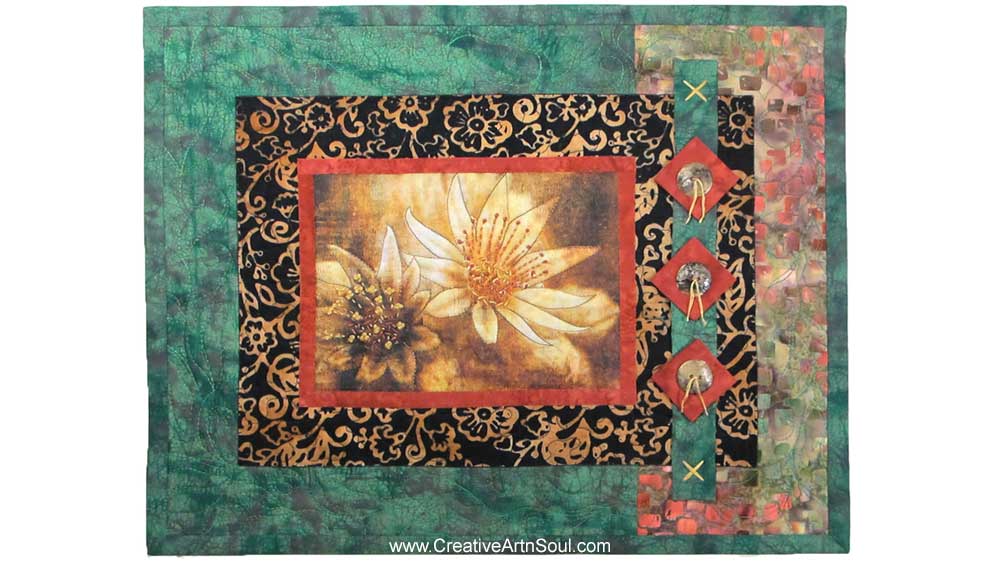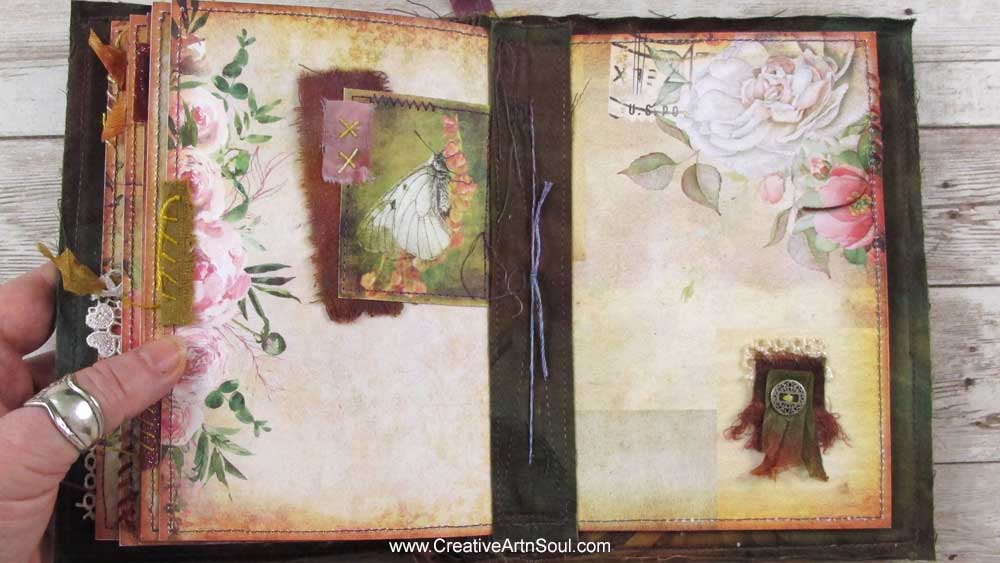 Save this pin to your favorite Pinterest board!