Blow the dust off your Silhouette Cameo Die Cutting Machine and discover how to make stencils.
Not so many years ago, designing and cutting stencils was a time-consuming job.
You first had to sketch the design, or design it in a software program and then print it onto paper. Then you had to transfer the design to a piece of stencil plastic and cut it out by hand using an exacto knife.
If the design was simple, it wasn't such a problem. But if the design was intricate or complex, cutting stencils by hand was a really time-consuming job.
These days I simply love the convenience of having a quick and easy way to design and cut my own stencils using the Silhouette Cameo cutting machine.
I've had my machine for quite a few years now, and after getting past the learning curve I've grown to really love this machine, not just for cutting stencils, but for lots of other die-cutting jobs as well.
Although I still use version 2, the latest version 4 has a few features that I think I'd like including bluetooth and an auto blade, so I'm thinking about upgrading very soon.
It's a Time Saver
For artists and crafters who love to use stencils as much as I do, the Cameo is a real time-saver. What used to take hours, now takes minutes, and designs that once were impossible to cut by hand are now a breeze to make.
I think what I love most is that it doesn't interrupt my creative flow. I can be in the middle of making a creative journal, realize I need a particular stencil design, and it only takes minutes to make a new stencil by machine instead of hours by hand.
What You'll Need
When learning how to make stencils with your Cameo you only need a few supplies.
Silhouette Cameo Die Cutting Machine
Silhouette Studio Designer Edition Software Card
Grafix Dura-Lar .005 Film – either clear or matte
Designing Stencils using Silhouette Cameo Software
To get started with stencils you first need a design. The Cameo offers lots of different ways to get designs.
Silhouette Design Store
You can purchase stencil designs from the Silhouette Online Design Store which you can access directly from within the software program. Simply do a search for "stencils" and you'll find lots of really great pre-made designs.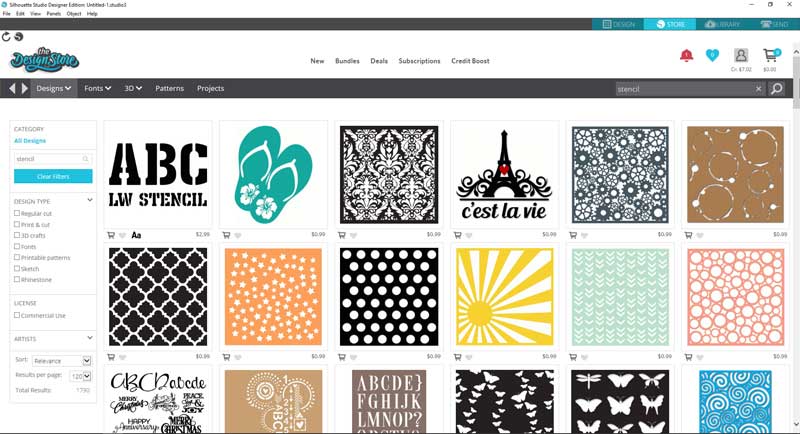 Designing in Silhouette Studio
You can draw your own designs using the Silhouette Studio design software. The basic software is available for free here on the Silhouette website.
However when I bought my Cameo I also purchased the Designer Edition Software which is an upgrade and has lots of additional design tools at a reasonable price.
With the Silhouette Studio software I can also use my Wacom tablet to help draw and fine-tune the designs.
I love my Wacom table and use it all the time for designing as well as touching up photos and making PhotoArt.
Importing Designs
Even though the Silhouette design software is quite versatile I only use it once in a while as I prefer to either draw my designs by hand and then scan and save them, or use stock vector images and then import them into the Silhouette software. I also sometimes use Photoshop to make designs using brushes and other shapes.
Once you have a saved image in a compatible format, you can then import it into Silhouette Studio. Compatible file formats include JPG, PNG, BMP, GIF, and TIF.
You can also import SVG and PDF formats if you have the Designer Edition Software which is what I have.
How to Make Stencils with the Silhouette Cameo
Once the design is imported, simply resize it by dragging the handles with your mouse, and position it on the cutting mat.
Creating a "cut design" from the imported image is really easy. Simply select "Trace Area" from the Tracing Panel and adjust the threshold if necessary to ensure that all of the design area is filled in with the yellow color.
Select "Trace Outer Edge".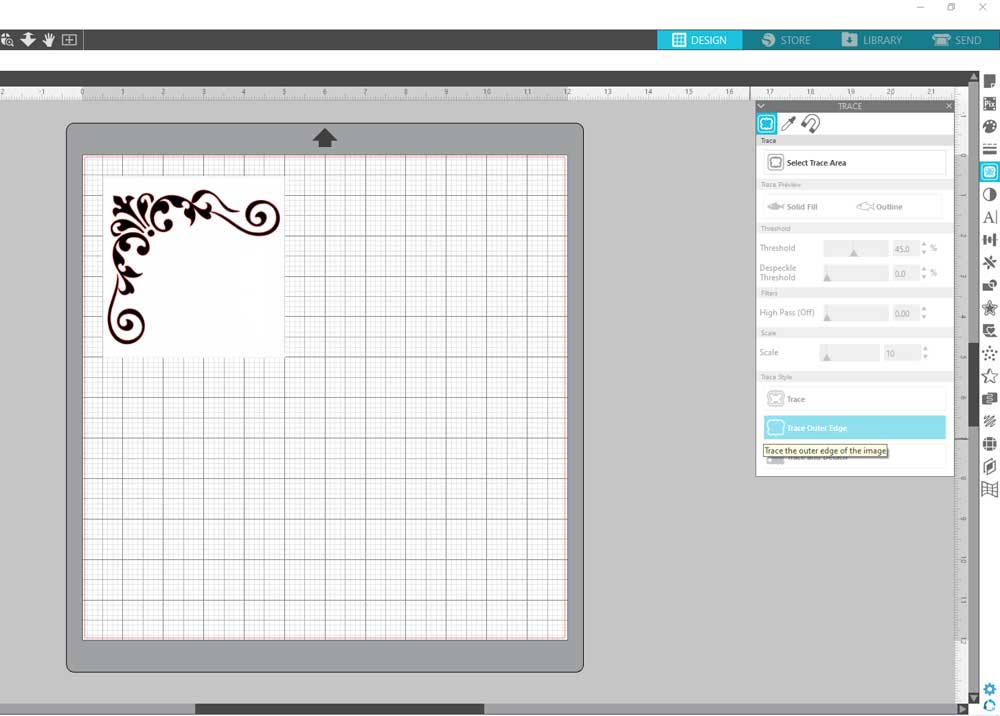 After the design is traced, you can move the original jpg image off the cutting mat area and you're left with the cutting outline. This is the design that the Cameo will cut so if you need to do any touch-ups, now's the time to do it.
Touch-ups can be easily done using the Silhouette software which has an eraser tool and other editing tools. With simple designs like this one however, there are no touch-ups required and it's ready to cut.
The last thing you need to do before cutting is to set the background page size. The Cameo cutting mat is 12″ x 12″ but you can make the paper any size at all. The stencil material I'm using is 9″ x 12″ so I've resized the page in the Page Setup Menu.
You also want to make sure that you leave an inch or so around the edge of the design so that you have room to apply ink or paint to the stencil without running off the edge. I like to leave 1″-2″ all the way around depending on the size of the stencil.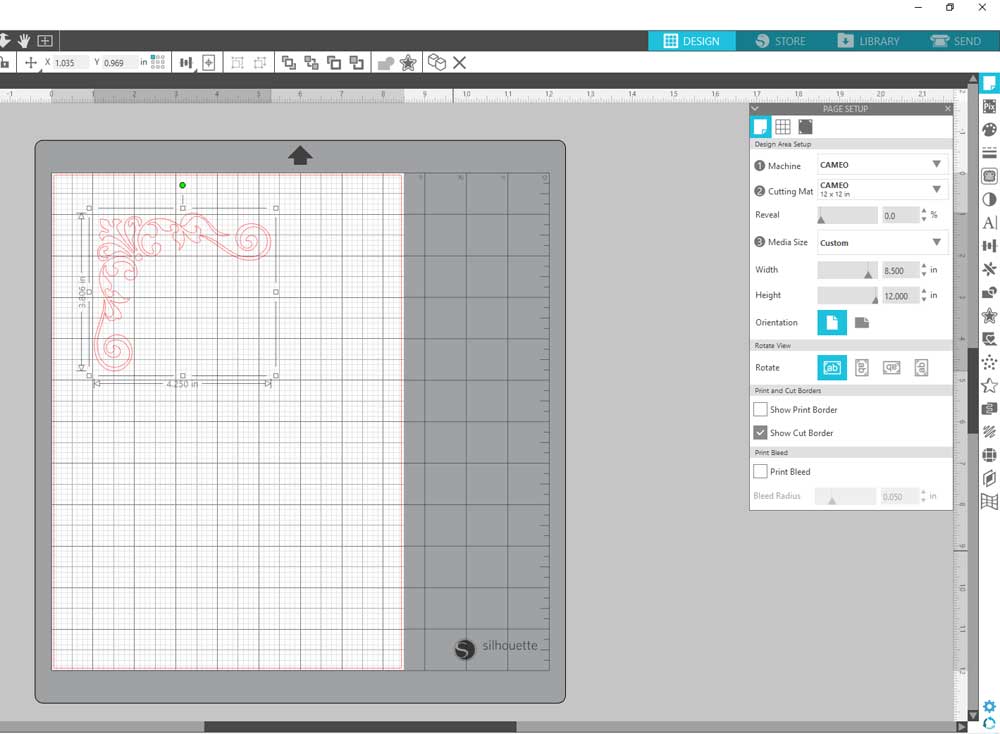 Cutting Stencils using Silhouette Cameo
Now that the design is ready to cut, it's time to load the stencil material into the machine.
For stencil material I use Grafix Dura-Lar .005 Film. This film is very thin so it's really easy to cut using the Silhouette Cameo, but it's also very durable and can withstand a lot of use and handling without becoming damaged which is perfect for stencils.
It's also transparent which I like because it makes it easy to position stencils on your fabric or paper. The film is quite inexpensive and comes in a pad of 25 sheets size 9″ x 12″ so you can cut a lot of stencils, even large ones.
To begin cutting, press the stencil material onto the Cameo cutting mat and load the mat into the Cameo machine. The cutting mat has a sticky surface so the material normally sticks to it easily.
However as you can see, my cutting mat has had quite a bit of use (I love my Cameo and use it all the time) so it's not quite as sticky as it once was. To ensure that the material doesn't shift during cutting, I like to add some masking tape along the edges to hold it firmly in place.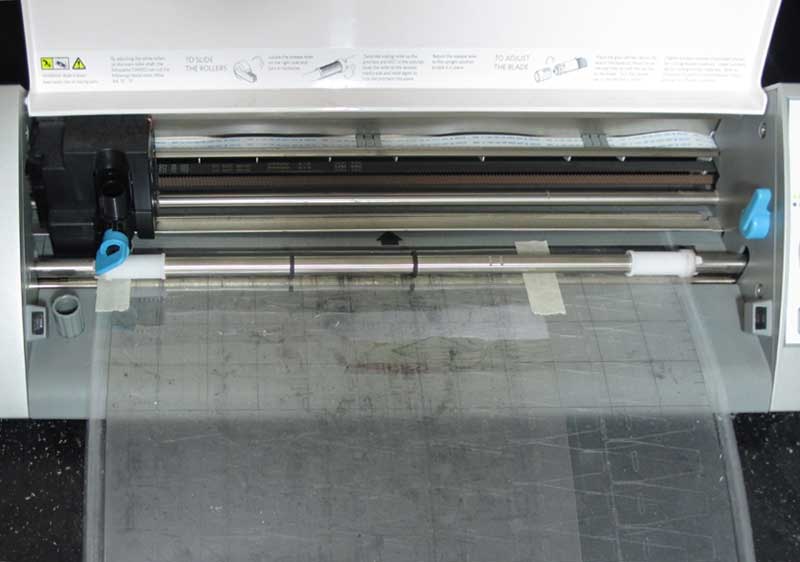 For cutting stencils, I use the "Stencil Material" setting which is available in the drop down menu. Although these settings are intended for the Silhouette brand stencil material, they also work perfectly well for the Dura-Lar film.
Once the design is cut, trim away the excess film and save it to make other stencils. I then like to add some duck tape to the edges of my stencil. This makes the stencil easy to see and easy to pick up. It also protects the edges.
From start to finish, making this stencil took me about 10 minutes. If I had to do this by hand it would take me a couple of hours and I know I wouldn't get the curves to be as perfect as they are.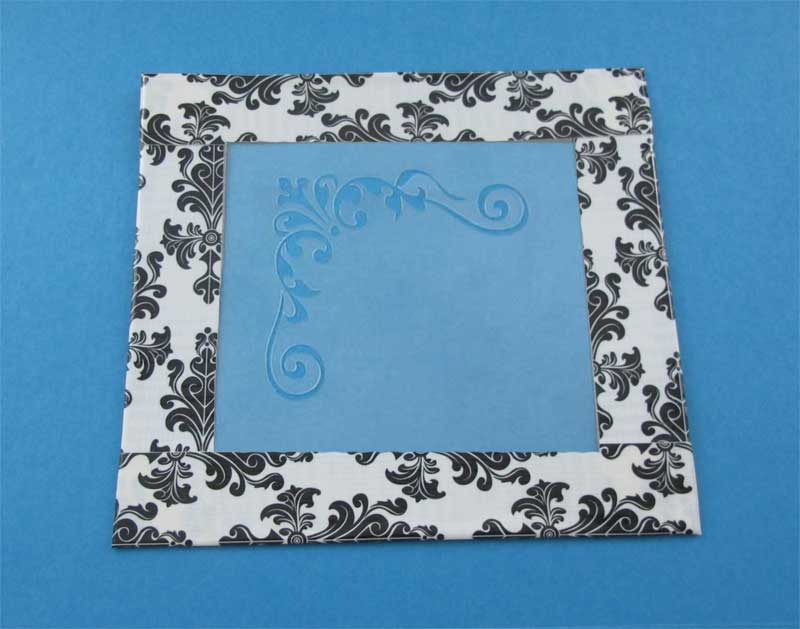 Now the stencil is ready to use and this design is perfect for adding decorative borders to the edges of my journal pages using some distress ink.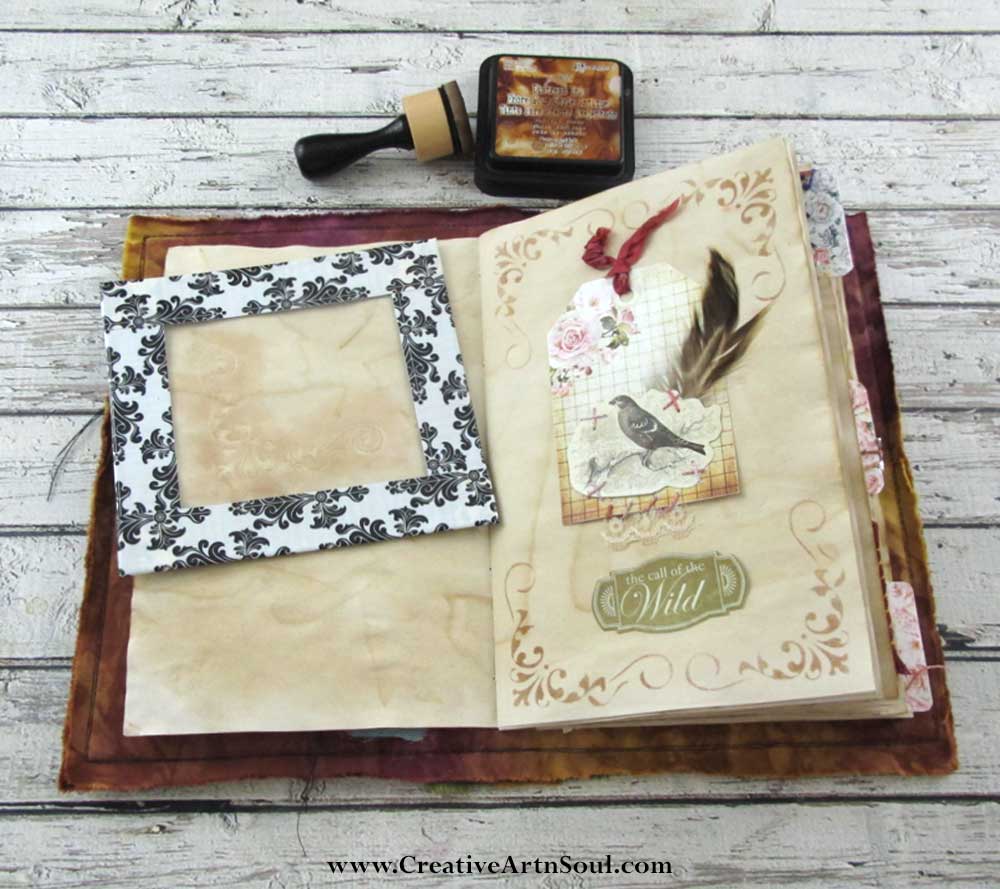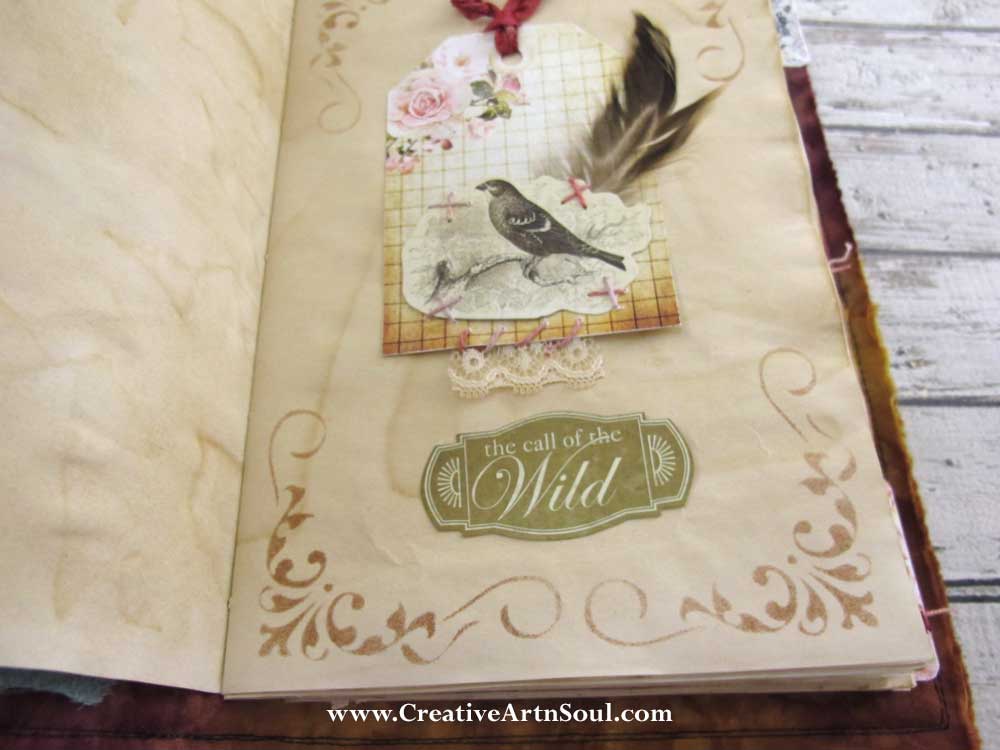 I hope learning how to make stencils has inspired you to blow the dust of your Silhouette Cameo and get started making your own!
Products Mentioned
Save this article to your favorite Pinterest Board