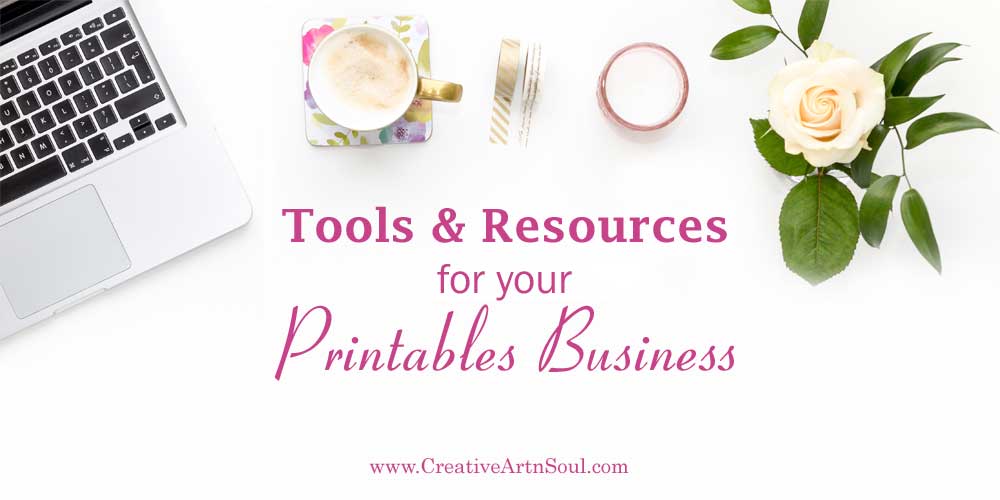 These tools and resources will help put your printables business on the right track.
Selling printables is a fun and creative way to make money online. Having a printables business is also easy to scale and grow which makes it ideal to set up as a part-time business and then grow it into a full-time business. I originally started my printables business as a side business and grew it into a full-time business over the course of several years.
As with any business, when selling printables you need certain tools and resources to ensure that your business runs smoothly, and grows and flourishes. The list that follows includes the tools and resources that I use in my own printables business.
Learn how to get started building a printables business
Contents
Business and Marketing
Digital Design
Printing, Cutting and Assembly
Business and Marketing Resources
To run a successful online printables business you need an online space to market and sell your products:
Photos, Clipart and Illustrations
Photos, clipart and illustrations provide the inspiration for all your digital designs. Unless you can draw or paint your own images, you will need to compile a library of digital images that you can use in your designs.
Searching and shopping for imagery is one of my favorite things to do however if you've never designed or sold digital art before, please be mindful of copyright! Before downloading free images or purchasing commercial images, always check the copyright to make sure that it meets your requirements. The last thing you want is the designer or copyright holder coming after you with a lawsuit for copyright infringement.
I avoid copyright issues by purchasing images that come with a commercial license from places like Creative Market and DesignCuts. I also sometimes use images from the public domain.
Free Photos
Free Graphics/Illustrations
Commercial Graphics/Illustrations
A Quick Way to Build a Library
The quickest way to get started building an image library, is to purchase "bundles" of clipart and textures. Bundles are individual designer collections that are bundled together at a discounted price.
DesignCuts features a fresh new bundle every two weeks at significant savings, and individual designers also offer their own unique bundles, usually at significant savings. To make it easy to get started with a bundle, I've gather together a selection of some of the most popular bundles around here on the Graphic Design Resources page.
File Management
Once you start compiling an image library and start accumulating hundreds or even thousands of images, managing your files so you can find things quickly can become a challenge. I use XnViewMP to catalog and organize the image and illustration files that I use the create my printables. XnViewMP is a free photo view and image management software program that makes it easy to keep your files organized and enables you to find what you're looking for quickly.
XNViewMP (windows and mac) – free photo viewer and image management software
XNViewMP User Guide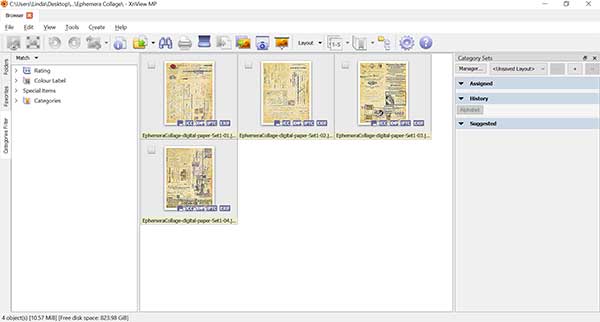 It's also a good idea to keep your files organized when designing so you can find them quickly and easily when you need them. I use a simple folder system to organize my printable collections.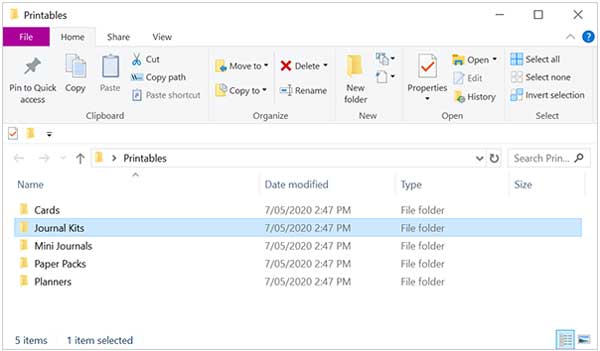 Design Software
There are lots of different types of software that can be used for designing printables depending on the type of printables you like to design. I use Photoshop to design all my printables because it offers a lot of flexibility for the way that I like to design. If Photoshop seems too overwhelming to use, Photoshop Elements is a good alternative.
Purchase
Free Tutorials
If you're not familiar with the basics of Photoshop or Photoshop Elements, Adobe provide comprehensive tutorials to get you started.
Printers
You will need a color printer in order to make test prints of your digital designs and printables. During the design process it's often necessary to make quite a few prints to ensure that your pages have no flaws or problems with the design. Selling high quality printables will ensure the success of your business.
Inkjet Printers
An inkjet printer will give you better and more photo realistic prints than a laser printer, however the cost of ink can become quite expensive, particularly if you make a lot of prints. Inkjet printers with eco-tanks are an alternative to the standard home printer and offer substantial cost-savings on ink, however these types of printers are quite expensive to buy in comparison to standard home inkjet printers.
Laser Printers
A color laser printer is a better option than an inkjet printer because of the relatively low cost of each print.
Printers Comparison
A laser printer will give you several thousand printed pages per cartridge set, as opposed to several hundred from an inkjet printer.
The downside to using a laser printer though, is that folded pages tend to crack along the fold, and the color may also rub off. This is due to the way laser printers work. Laser printers fuse the colors to the top of the paper using heat, which makes the color more susceptible to flaking off, particularly when folded. Inkjet printers on the other hand, drip ink through the page so the ink is bonded to the paper better, and won't crack or rub off.
My Recommendations
If you can only have one printer, get a color laser printer as this will be the most economical in the longer term.
I use both an inkjet printer and a laser printer. I use a laser printer for making test prints during the design process as it's sometimes necessary to make quite a number of test prints to ensure the imagery prints crisp and clear. I use an inkjet printer to print pages for the final product such as when making sample journals for tutorials, and also for product photos of finished printable products.
Inkjet Printer Recommendations
I currently use an Epson XP-4100 inkjet printer which is a home printer and quite inexpensive to buy.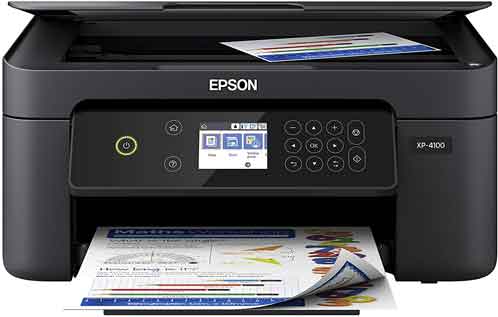 An alternative to this standard type of inkjet printer are inkjet printers with eco-tanks which use large tanks to store the ink. So instead of using ink cartridges, ink is purchased in bottles and poured into the tanks, which ultimately makes the cost of ink less expensive.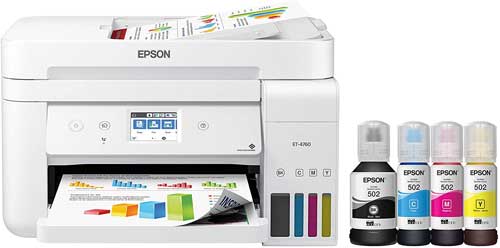 Laser Printer Recommendations
I use a Brother HL-L3230CDW Laser Printer. This is an economical color laser printer compared to other color laser printers, and I've been very happy with the way it prints and performs.
The cost of replacement toner cartridges for laser printers is also something to consider. Much like inkjet cartridges, genuine laser cartridges are quite expensive, however I've been using these E-Z Ink Compatible Toner Cartridge Brother HL-L3230CDW. I've been very happy with these cartridges and the way that they print and I've never had any problems with them.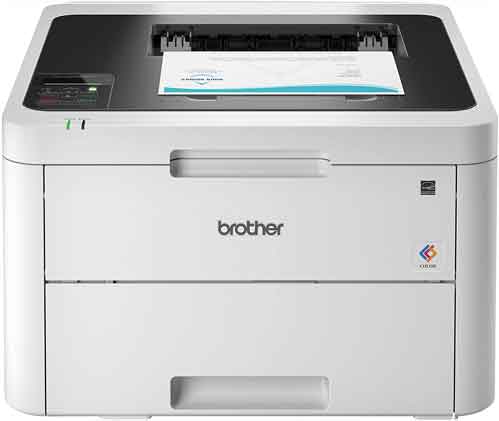 Tools and Supplies
These tools and supplies will make it easy during the cutting and assembly of your printables.
BookBinding Tools
An awl makes it easy to punch holes in signatures and book covers. I like this wooden handle awl – it's very comfortable to use.
Wooden Handle Awl
A cutting tool for easily cutting pages and printables.
A cutting tool for easily cutting stacks of pages.
A clear quilting ruler with non-slip pads underneath is useful for accurately cutting and trimming printable journals and other papers.
Non-slip Ruler
Paper and Cardstock
24lb copy paper is slightly thicker than standard copy paper which makes it ideal for using in writing journals or for tea-staining.
24lb Copy Paper
This chipboard is perfect for journal and book covers. Can be sewn through using a sewing machine.
Chipboard
Glue & Tape
When you want stuff to REALLY stick. This is the strongest and stickiest tape I have ever used.
Scor-Tape
Save this pin to your favorite Pinterest board!