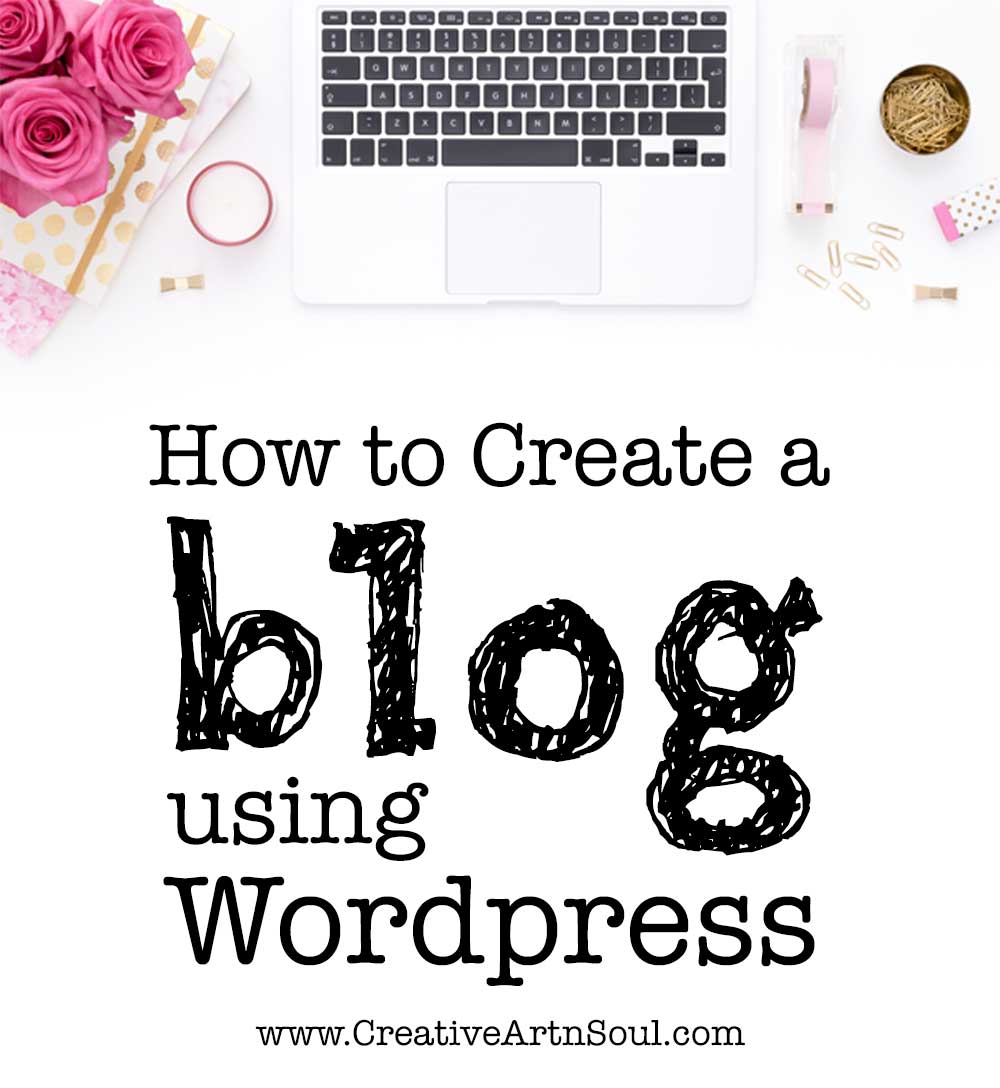 When building a creative online business, a blog is a valuable marketing tool that can be used to drive traffic to your online store. It's where you'll connect with your blog readers and customers, share with them your creative ideas, products and services, and most importantly, use it as a way to collect email addresses for your mailing list which is your most valuable marketing tool.
When setting up a website and blog, I recommend a self-hosted Wordpress site which is what I use. Wordpress combines both a website and blog in one, and it's free to use. Because it's a self-hosted website however, you'll also need a web hosting service. I recommend Bluehost which is the web host that I got started with, and is one of the web hosting companies endorsed by Wordpress themselves. Bluehost offers an economical and stable hosting environment when getting started with your online business.
It doesn't need to cost a lot to get started with your Wordpress website and blog, and choosing Bluehost for your web hosting needs is a good choice.
Bluehost is endorsed by Wordpress.
Bluehost makes it very easy to create a WordPress blog. In fact, once you sign up, it's already done for you! All you have to do is log in and get started.
Bluehost web hosting offers free technical support which is really important when you need help.
Bluehost is extremely affordable and they offer cheap web hosting starting at just $3.95/month.
You get free domain name registration for the first year at signup if you choose.
Bluehost offers a guarantee in case you determine that it's not for you.
Bluehost includes a free SSL certificate which means your website is secure and any sensitive data is protected.
Steps to Set up a Wordpress Website using Bluehost
1. Choose a domain name
Choosing a domain name is one of the most important steps as this is your internet address. You could use your own name as I do here on my other website, or you could use a domain name that better reflects your products and/or services such as the one I use here on Creative Art'n'Soul which is home for my creative journaling products and services.
It's best to make a decision about a domain name before you set up your website. Although you can change it down the track, it can become a bit complicated, not to mention confusing for your customers and blog readers.
Tip: If you find that the name you want is already taken, try using hyphens between the words. This is what I had to do when I purchased my domain www.linda-matthews.com. Some may tell you not to use hyphens for a variety of reasons, but I have never experienced any problems using them in my domain names.
If you want to check domain name availability, use the search form below.
2. Select your hosting plan
Setting up a hosting account on Bluehost is quite easy. Begin by clicking on this link to go to the Bluehost website. Using my referral link will make you eligible for discounts on your hosting plan and I earn a small commission if you decide to sign up, at no extra cost to you.
From their main menu select Wordpress > Wordpress Hosting

Click on the "Choose Plan" button

When starting out with your website and blog, the "Basic" plan is all you need. The Plus and Choice Plus plans are a little more expensive, but you can upgrade plans as your business grows. Web hosting is very flexible and Bluehost will do all the upgrading for you; there's nothing for you to do. You can always change it later to a different plan if you want to (and just pay the difference), so there is no need to sign up now for extra stuff that you don't need.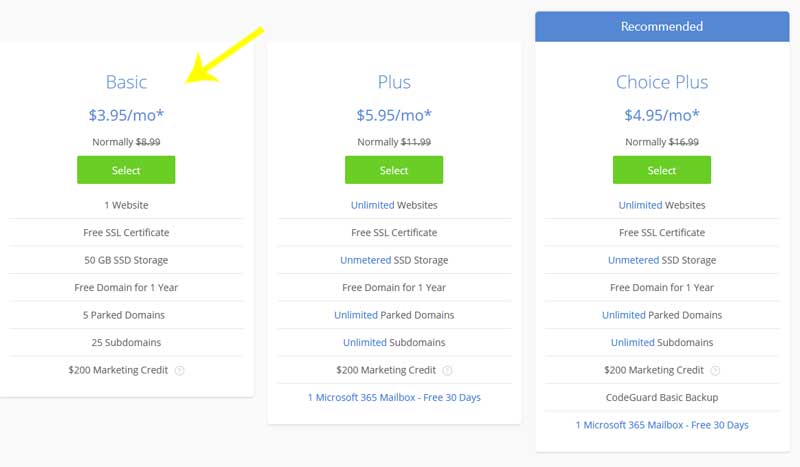 3. Set up your domain
Once you've decided on a domain name, you can get a free domain for the first year when you sign up with Bluehost. This makes it an economical and easy way to get started with your website.
Alternatively if you want more control over your domains, consider using a domain registrar such as Namecheap to purchase your domain (I use them), and then use Bluehost for your web hosting. Namecheap offers a competitive rate on new domains and they also include privacy protection for free. Privacy protection means that your personal information which is attached to your domain is locked and no-one can see it. If you don't have privacy protection anyone can access your information and use it for spamming you, scamming you, sending you junk mail, selling your information to others – you get the idea.
If you decide to get the free domain name through Bluehost, select "Create a new domain". If you decide to purchase your domain name from Namecheap, select "Use a domain you Own".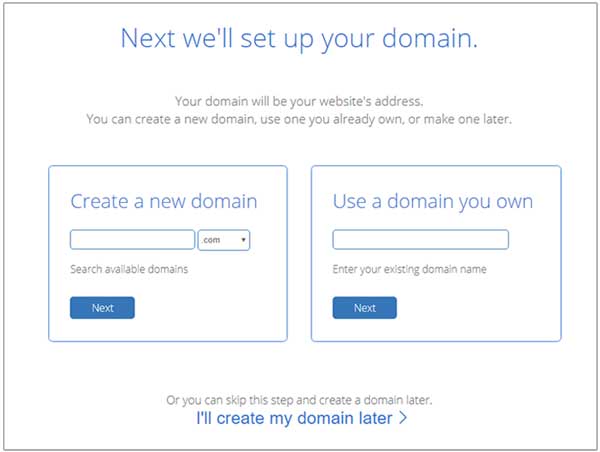 4. Create an Account
Next, fill in your personal information to create a new account.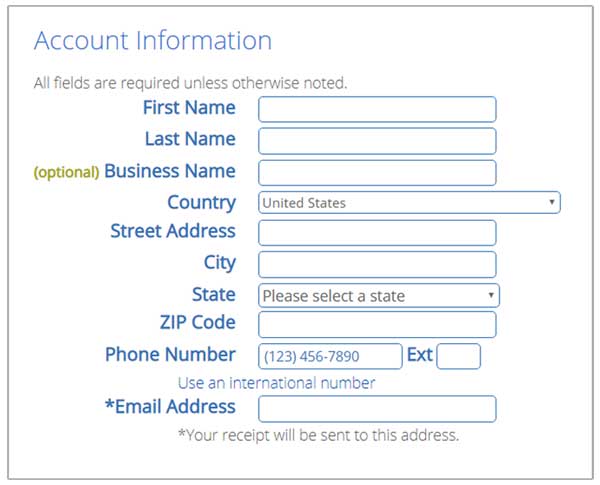 5. Choose a Package and Add-Ons
The "Basic" plan costs only $3.95 per month when you sign up for a 36 month plan, which is a great price. If you sign up for a 24 month plan, then the price is $4.95 per month. If you sign up for a 12 month plan, then the price is $5.95 per month. You don't need to include any Package Extras at this time. You can add them at a later time if you feel you need them.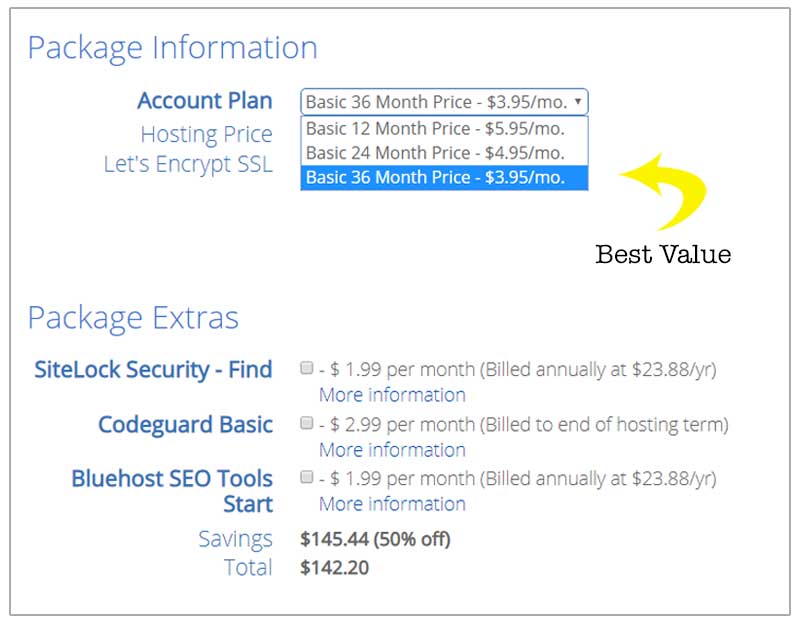 6. Connect your domain and your hosting
Note: If you buy your domain directly through Bluehost, you can skip this section.
If you buy your domain through Namecheap, then you will need to connect your domain to your hosting account. This is quite easy to do using a custom dns redirect. Basically, all you need to do is:
1. Sign in to your Namecheap account.
2. Select "Domain List" from the left sidebar and click the "Manage" button next to your domain.

3. Find the Nameservers section and select your preferred option from the drop-down menu – this will be "custom dns". Click on the green checkmark to save the changes. You will need to fill in your hosting nameservers to the empty lines and click on the green checkmark to save the changes. Your entries should look like this:
ns1.bluehost.com
ns2.bluehost.com
They will tell you that it can take up 24 hours before these changes take effect, although I've never had to wait more than a few hours.
If you need additional instructions, you can find them here on the Namecheap website.
You will then need to add the domain that you bought as an "addon domain" to your Bluehost web hosting. You can do this by clicking on "Domains" when logged into your Bluehost web hosting account and then clicking on "assign" and follow the steps.
You should also find these instructions in the welcome email that Bluehost send you.
7. Install WordPress
Once you have your domain name and hosting properly set up, it's time to install WordPress. Setting up Wordpress on Bluehost is incredibly easy and all you have to do is log in to your hosting cPanel and Bluehost will guide you through the process of starting your WordPress blog for FREE. The link to your cPanel will be included in the welcome email you get from Bluehost.
The only real decision you have to make is to pick a theme for your website. You can choose a free theme to get started, but you will most probably want to upgrade to a commercial theme at some point because a commercial theme has more options than free themes, and it also offers one of the most valuable features you can have when running a business – technical help. When you find yourself in trouble and need answers quickly, technical assistance is close at hand.
I recommend the Soledad Theme. I use this theme here on Creative Art'n'Soul because it's flexible and allows me to easily create beautiful websites and pages.
The End Beginning
Setting up your website is the beginning of your great creative business adventure. There will be some learning curves as you learn to navigate your new Wordpress site and also your new theme. However taking the first step and getting things started is the hardest part and you've just done it! Congratulations!
I'll be writing more about how to use Wordpress, but in the meantime you can get started by reading "First Steps with WordPress" here on the Wordpress website, and also check out this free Wordpress crash course by IMark Interactive.
Save this pin to your favorite Pinterest board!