Having a journaling practice is probably one of the best things you can do for yourself. Having some me-time every day to write, draw or create in your journal, not only reduces stress, but increases self-confidence and increases your creativity. The more you create the more you become creative. Although creativity might seem like a bit of buzz-word these days, it's actually just a visible expression of the things that can't be put into words; the things that touch your heart and soul.
Journaling offers a way to record your own unique story in the safety of your own journal or book, and it also helps you work through problems. It's not only a creative practice, it's also a healing practice. However developing a regular journaling practice takes time and effort and it's easy to get bored or to lose interest, and before you know it your journaling practice is a thing of the past.
One of the best ways to maintain a regular journaling practice, is to first of all make a space in your life for journaling, even if it's only minutes a day. Then make sure that your time is infused with creative techniques and processes. Learning something new or exciting is a sure way to keep your interest flowing and keep you coming back to your journaling practice day after day, week after week.
These online classes each offer something unique and different, and are sure to infuse your own journaling practice with endless creativity. So pick your favorite – and get started!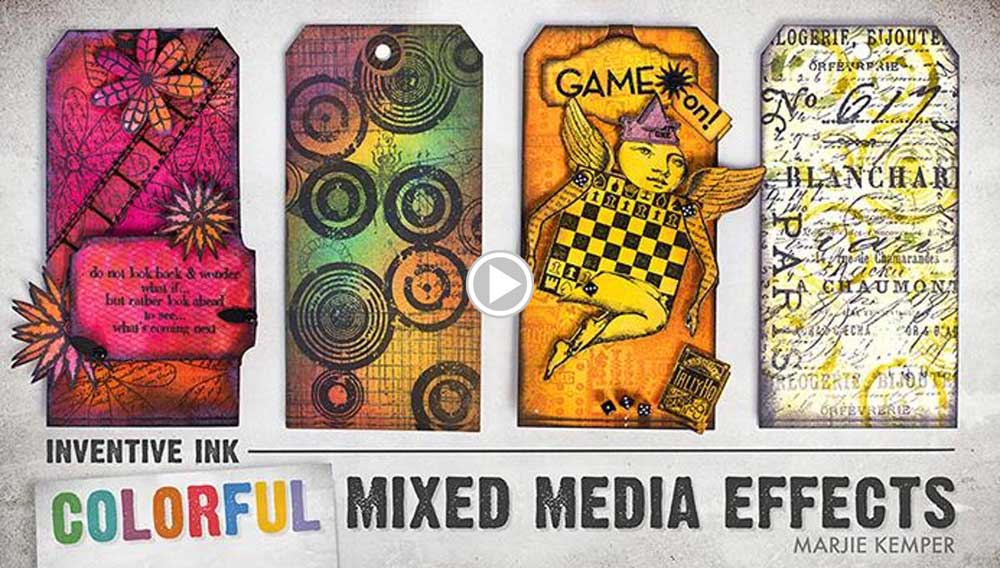 Discover the secrets to gorgeous mixed media paper projects! Build beautiful backgrounds with layering, blending and different surface effects for unique results. Add layers of color, texture and dimension with stamps and stencils for backgrounds that catch the eye. Become comfortable working with a variety of inks and mixed media products techniques for using distress inks and stains, ink sprays, crackle paint and more. Along the way, discover design tips for layering, balance and art journaling.
---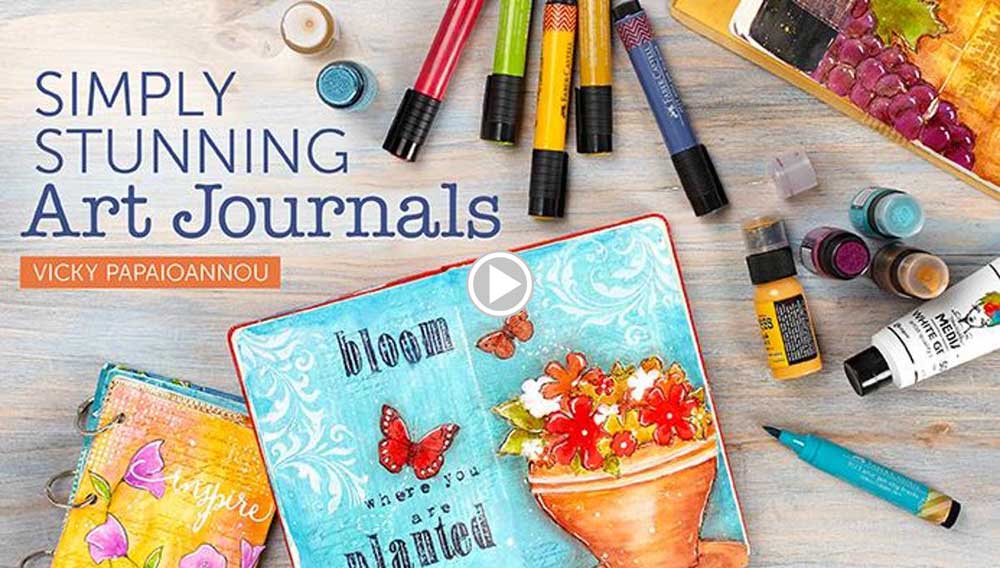 Discover how to turn your inspirational art journal ideas into eye-catching designs! Learn about the tools and mediums used to make gorgeous designs. Build textured backgrounds with gesso wash, patterned paper and acrylics before adding layers of depth with stamps, inks, pastes and stencils. Add complexity to your work with original drawings, pre-made designs and perfectly placed focal points. Learn secrets for shading, highlighting and adding striking dimension to make your pages cohesive and complement each other.
---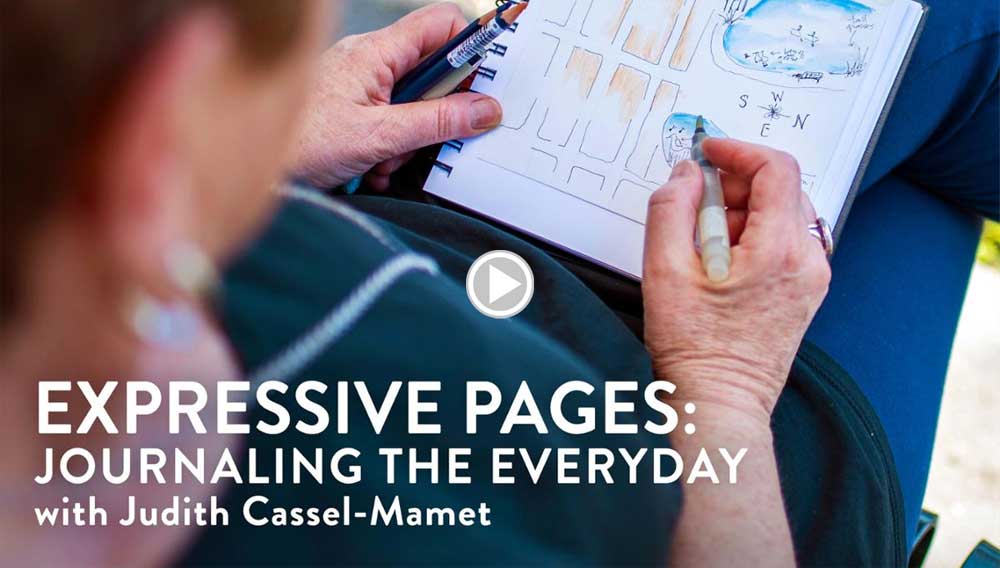 Let your imagination run wild and discover how to create your own personalized art journal to record both your everyday and extraordinary experiences. Discover easy techniques and simple, portable tools that will help you activate your pages, turning them into inspiring platforms for creative expression using color, design, found objects, text and more.
---
Take your art journals from mundane to marvelous without having to worry about creative constraints. Learn how to use water-based materials such as spray dyes and India ink, as well as familiar favorites such as watercolor paints, in new and unexpected ways. Discover new techniques for water-based media and create more playful, mindful and meaningful journals that you'll cherish for years to come.
---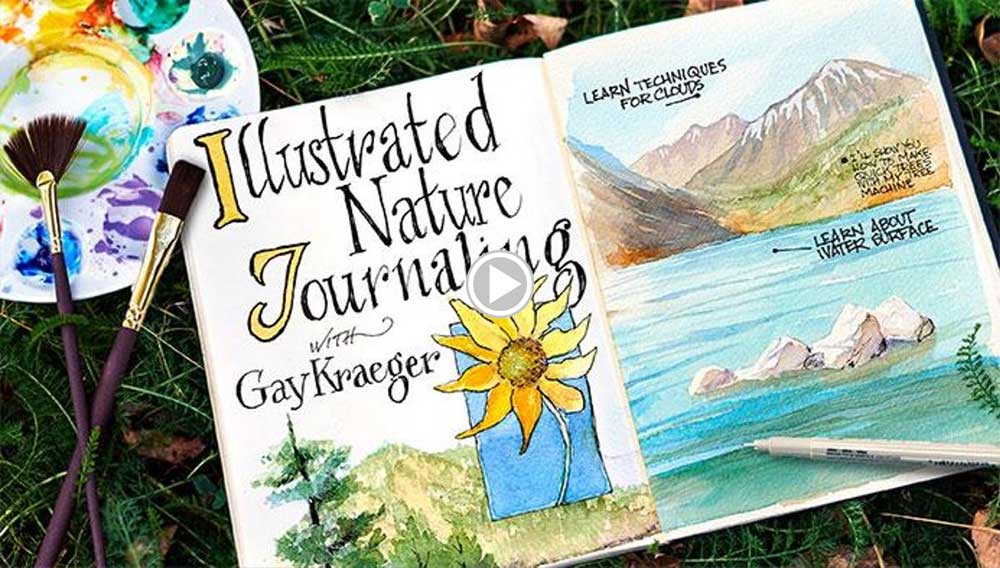 Learn sketching and watercolor techniques for illustrated nature journaling. Loosen up with gesture sketches, blind contour drawing and watercolor washes. Use common household items to transform watercolors into lifelike textures for trees, clouds, waves, rocks and more. Break down landscapes further with tips for layering watercolors to develop a sense of distance. Discover how ink can bring eye-catching dimension and drama to your work so you can move on to methods for depicting waterscapes with greater confidence and realism.
---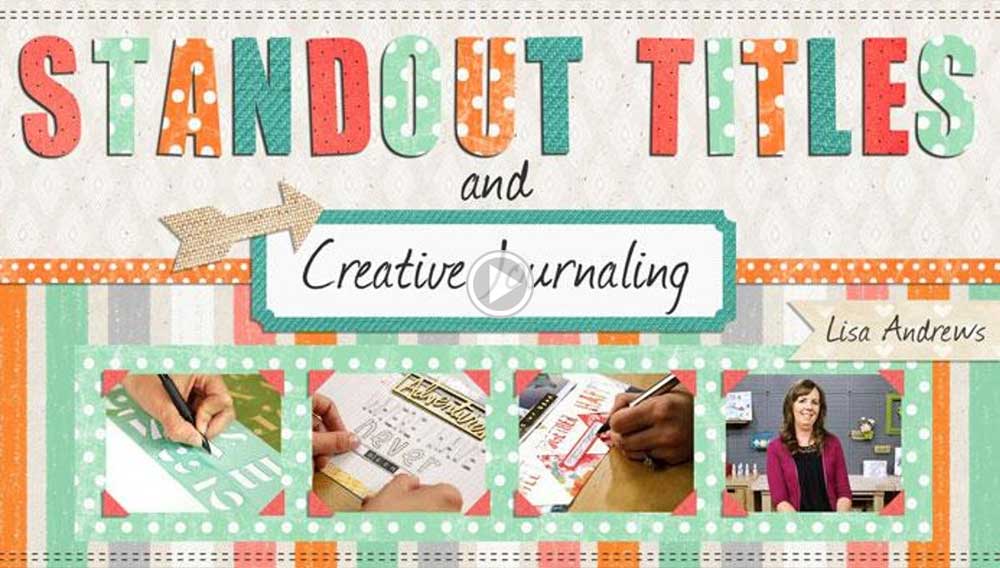 Create scrapbook pages that offer a lifetime of enjoyment. Learn how to keep your pages cohesive by matching different fonts to your page design and theme. Fearlessly work with supersized titles and die-cut letters for striking designs. Learn how to tell a compelling story with your pages by including the what, where and when of each sentiment. Make your journaling live large and frame your page with your story to highlight your hard work. Discover the list method for pulling more details from your memory for pages that are packed with detail you'll love returning to each year!
---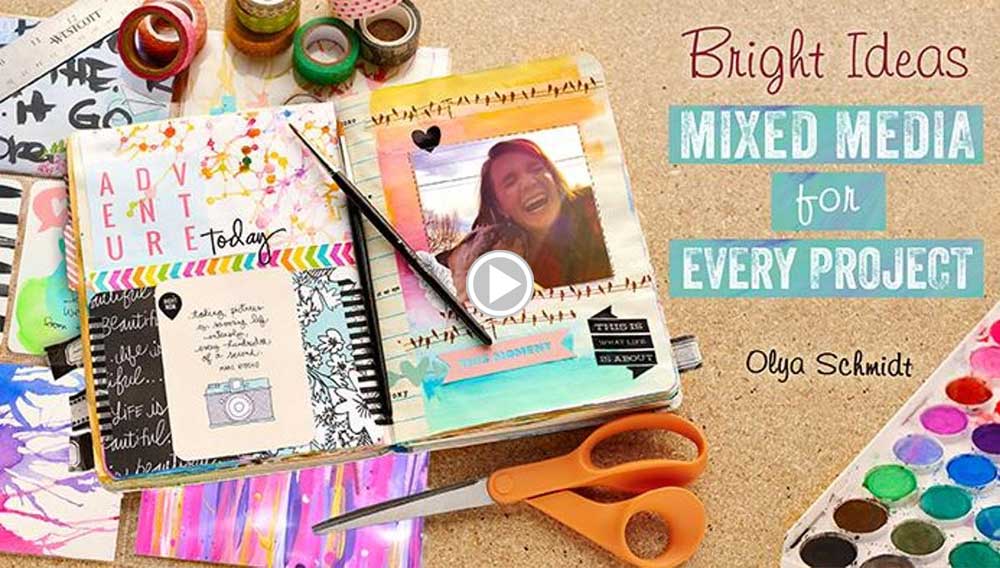 Add a stunning dash of color to projects with mixed-media scrapbooking and art journaling techniques! Transform blank pages into bold, beautiful designs and incorporate more color into your work by creating bright watercolor backgrounds with splashes, bubbles, acrylics and texture mediums. Add effects that make a statement with bright lettering, explore watercolor ombré and discover the best way to use your brushes for different scripts. Discover tips for capturing colorful photos and using her favorite photo-editing apps.
---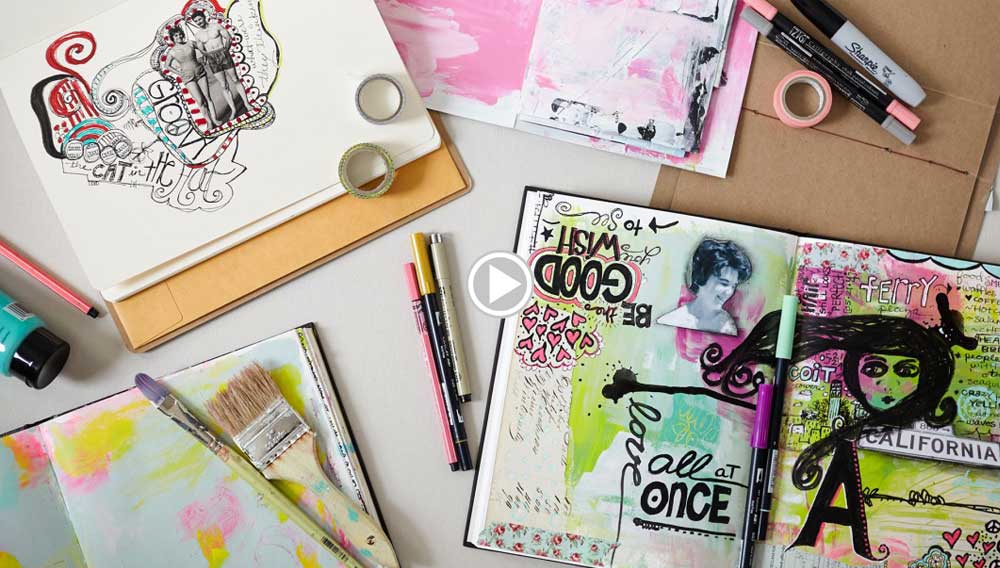 Take a leap into the vibrant world of art journaling. Art journaling is an artistic way of documenting your life within the pages of a journal, but instead of using words alone, you can use pens, paint, and collage to express yourself and record moments from your life. Discover tips on painting, doodling, and composition, as well as frequent reminders that there are no rules. Whether you have five minutes, half an hour, or endless days to fill up your pages, simply grab a blank journal, doodle to your heart's content, splash the page with paint, cover it in collage, and scribble on the page all over again.
---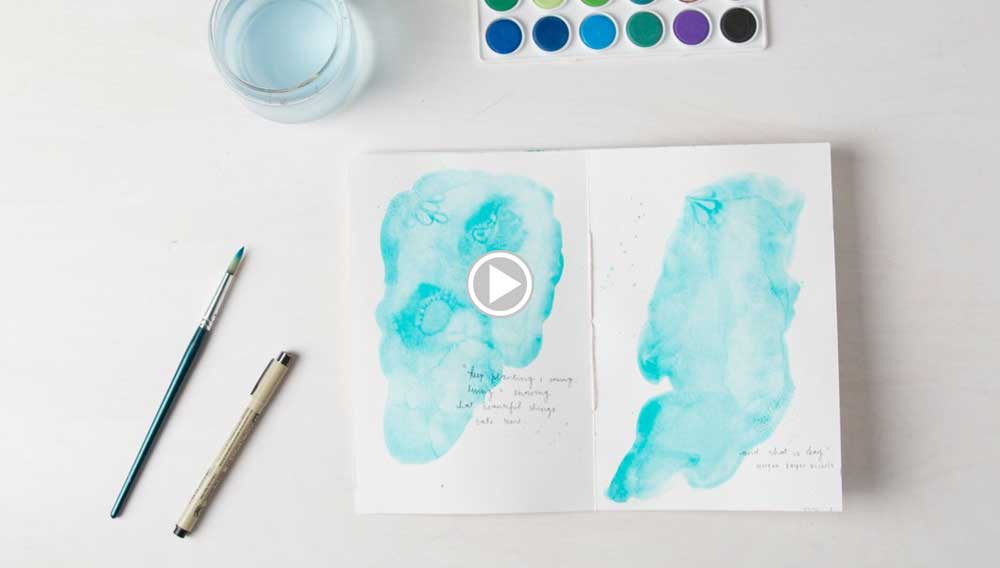 Learn how to make a meditative art journal that serves as a container for your hopes, fears, frustrations and more. Learn how to free write to get what's in your head onto the page, obliterate it with paint and meditative marks, use watercolor to channel your mood, then add quotes and lettering to complete your page. This small handbound book provides the perfect place to journal and explore your feelings through words and art.
---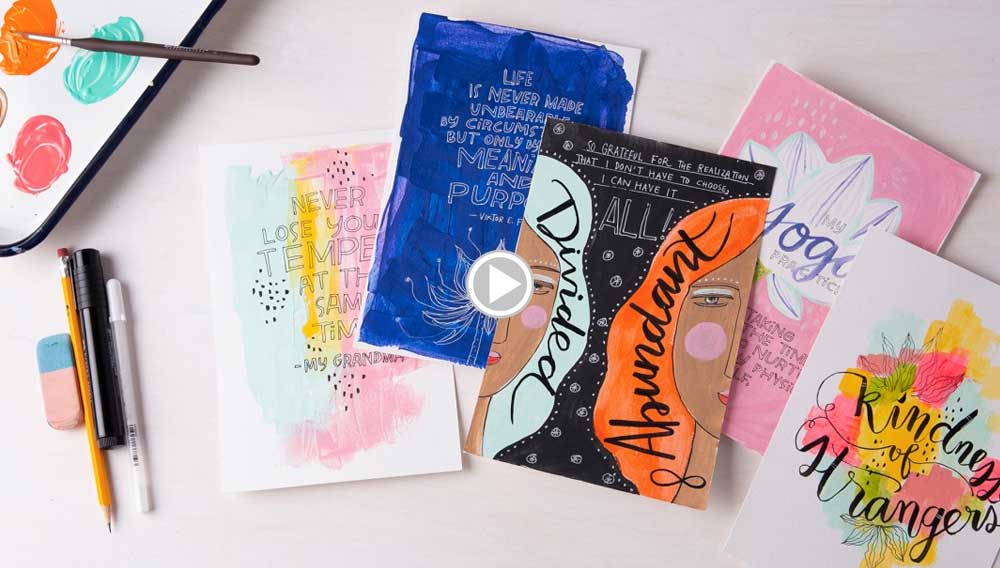 Learn to make gratitude a part of your daily art practice. During the course of a month, get prompts and techniques for focusing on the moments, people, and themes in your life for which you the most thankful. Use ink and paint to make drawings, paintings, and hand-lettering to complete your spreads. Learning to take a moment out of your every day to visually express gratitude takes practice, but after a full month it will become second nature, and you'll be amazed by how your perception shifts.
---
Take your journaling to a whole different level with the Creative Art'n'Soul Journaling classes. Use paints and textures, images and words, paper and ephemera, and fabric and stitch, to make creative journals that will become treasured keepsakes. Learn techniques and processes for making journals that tell your story in a unique and personal way.