Take care of your mind, body and spirit using this free printable daily self-care journal page.
A regular journaling practice is one of the best way to develop a self-care routine. Writing in your journal helps you to gain clarity about your life and identify things that are going well, as well as things that are not going so well. After journaling for a while, you'll begin to see patterns emerge that can help you take action to improve your life.
During difficult times it's easy to forget about self-care, particularly if you're caring for others. While you may think it's selfish to spend time caring for yourself, it should be obvious that if you don't take care of yourself first, how can you be expected to take care of others.
When you say "yes" to others, make sure you are not saying "no" to yourself.
– Paolo Coehlo –
Self-care for mind, body and soul doesn't have to take a lot of time, but it should become a regular practice in order to achieve any benefit. Journaling is a great way to start because it keeps you mindful about the things that are important to you.
How to Journal for Self Care Using the Printable Journal Page
The free printable daily self-care journal page makes it easy for you to get into the habit of keeping a daily journal. It includes a set of guided questions that are designed to take only a few minutes of your time each day. The questions on the left should be done in the morning, and the questions on the right should be done in the evening.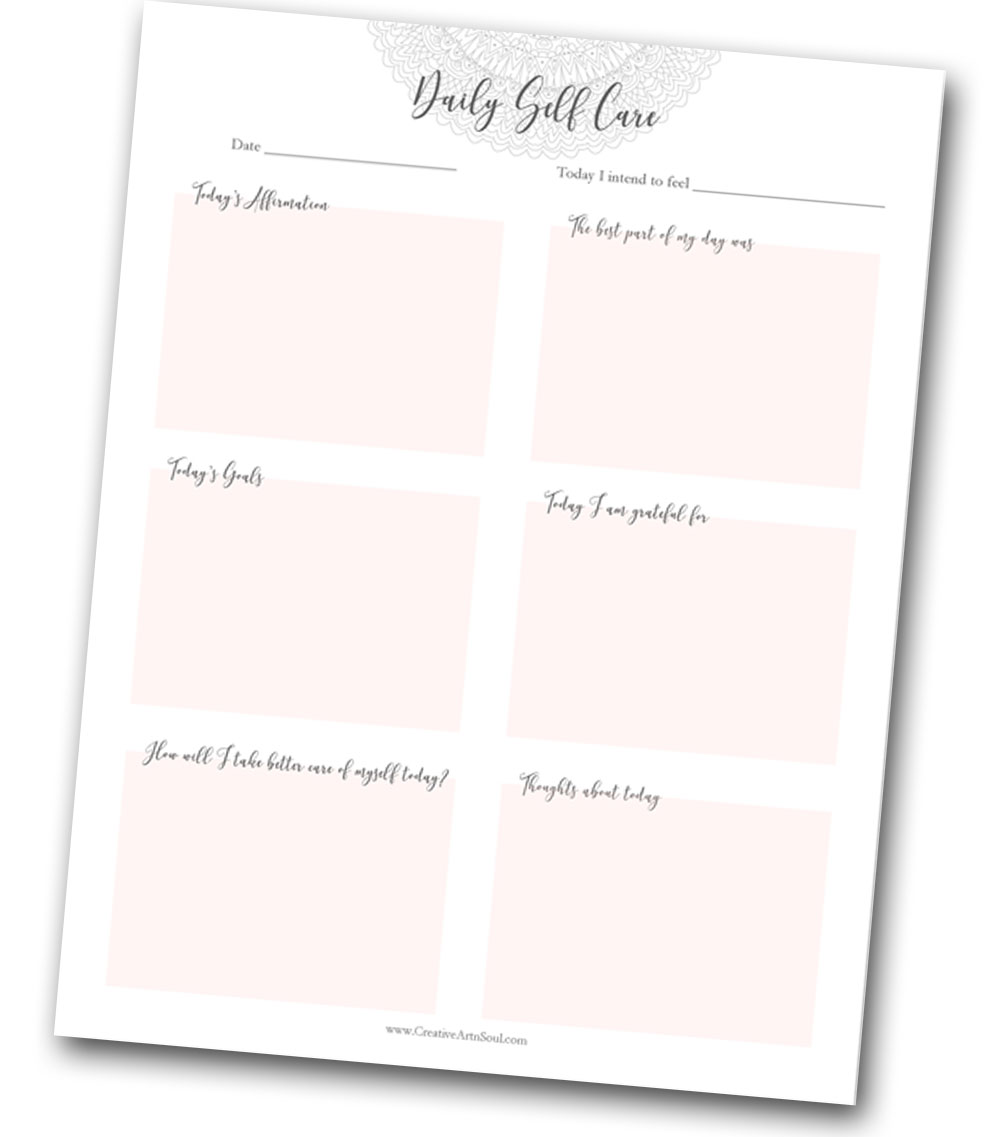 Download the Free
Daily Self Care Journal Page Printable
How to Complete the Daily Self Care Journal Page
Morning
Today's affirmation
An affirmation is a short positive statement that can be used as a mantra throughout the day to keep you focused and help you maintain a positive attitude. When difficulties arise or things become challenging, or even if your mind tends to go to a dark place, lean on your affirmation to help you get you through it. A daily affirmation should be short, memorable, and written in the present tense. Think of something you'd like to change about yourself or about your life; something like "I am strong and confident" or "I am capable when dealing with challenges". Then remember to use it throughout the day.
Today's Goals
Select two or three things that you can do today that will move you toward one of your dreams or desires. Small, baby steps are all that's needed. Having goals and achieving them gives you a boost of confidence and sense of accomplishment. Even if nothing much else gets done that day, a small goal can become a big achievement.
How Can I Take Better Care of Myself Today?
Pick one or two things you can do just for yourself today. You could take a short walk, read for 10 minutes, take a relaxing bath, meditate for 15 minutes, or even take a short nap. Pick something that you enjoy doing that will give your brain and body a rest and some space.
Evening
The best part of my day was
Look back over your day and pick one or two things that went well and make a note of them. All too often we tend to remember the things that go wrong. Keeping track of the things that go right helps to keep them in our memory and creates a positive vibe around our day.
Today I am grateful for
List one or two things that you're grateful for today, and also include the reasons why you're grateful for them. Writing down gratitudes can become a bit automatic and thoughtless after a while, but when we have to stop and consider the reasons why you're grateful, it gives a deeper appreciation for them. Gratitude has many benefits including improved mental health and a greater appreciation for the things in your life.
Thoughts about today
Finish off your journal writing with a few thoughts about the day. How did you feel? Did something go wrong or bother you? Reflect on the things that stand out in your day; good or bad. Writing things down and getting them out of your head offers one of the greatest benefits of journaling which is clarity. When we name our thoughts and feelings we bring them into the open where we can then deal with them by either letting them go or taking steps to resolve them.
Self Care Journal Resources
This free self-care journal page is designed to be simple and to get you started developing a daily journaling practice. It's also ideal if you don't have a lot of time to spare because it only takes a few minutes each day to complete. If you prefer to go a little deeper, consider one of these in-depth guided journals.
Save this pin to your favorite Pinterest board!