It's no secret that I love to make, and teach others to make, creative stitched mixed media journals that tell a story. Using fabric and paper, words and images, paints and gels you can create amazing journal pages that are rich in texture and color just waiting for a visual story to unfold.
I've been offering online classes for over 10 years in my online classroom, and I'm happy to share that you can now find some of my journal-making classes here on Skillshare. In each journal class I share different techniques and processes for making journals so you get to learn a wide variety of techniques and skills that you can add to your own journal-making toolbox.
Skillshare is a membership site so when you sign up for a free trial, you get to enjoy not only all my classes, but all other classes available on Skillshare as well . Get a free 2-week trial using this special link, or pick your favorite journal from the list below.
Transitions Handmade Journal Online Class
Learn how to develop a visual language using stitched mixed media techniques to tell your personal stories on the pages of this journal. In the transitions journal you can learn how to visually express yourself as you embrace and celebrate the things that you want more of in your life, as well as let go of the things that aren't working or things that you want to change.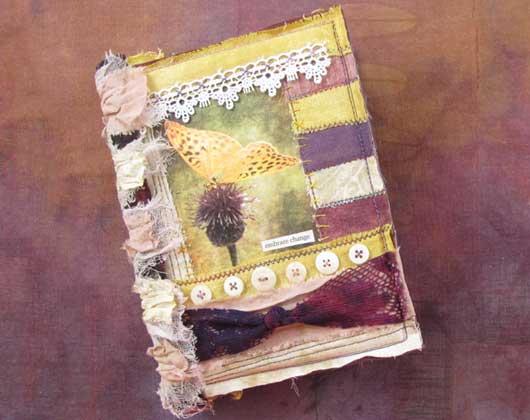 The Ancient Earth Handmade Journal Online Class
Learn how to make an Ancient Earth Journal with blank embellished pages that look worn and aged – and a little rusted around the edges. Also included in the workshop is a comprehensive course on rust dyeing. Explore simple techniques for making rust dyed fabrics and fibers, rust prints on paper, and all sorts of rusty things that can be used to embellish the pages of your journal.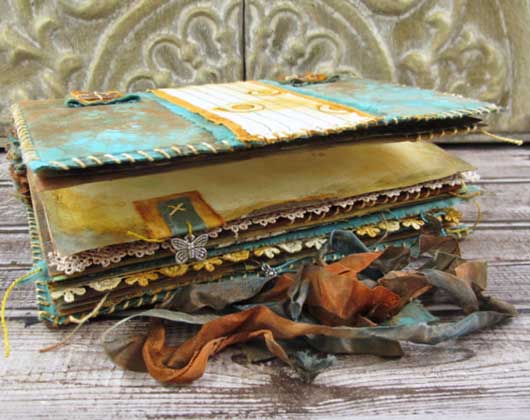 The Mystical Moon Handmade Journal Online Class
Learn how to make this beautiful little moon journal and discover how to journal using the lunar cycles as your calendar. Create monthly rituals so that you can harvest the energy of the moon to set intentions with every new moon, and clear space and let go at every full moon.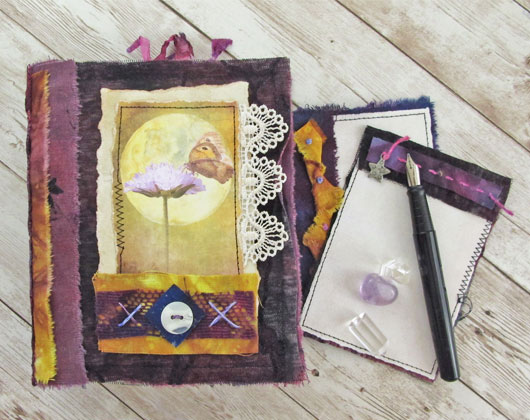 Soul Whispers Handmade Journal Online Class
Use the whispers of your soul as inspiration for making beautiful and artful journal pages that hold your secrets and personal stories. As you infuse the energy of your emotions onto the pages, your stories become transformative.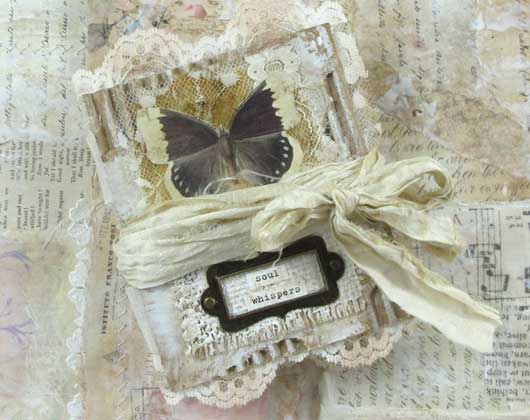 The Untamed Garden Journal Online Class
Using images and words, fabric and stitch, embellishments and ephemera – learn how to tell a visual story of what lies within your garden – and perhaps even what you hope to find hidden there. Snippet-Style Rolled Journals are fun and easy to make, and are a perfect way to tell a visual story using an unconventional journaling format. These types of journals can be made in any width and length, and then wrapped around, or hung from, a spool. They are a perfect small sewing project for travel, or for times when you only have a few minutes to sit and stitch.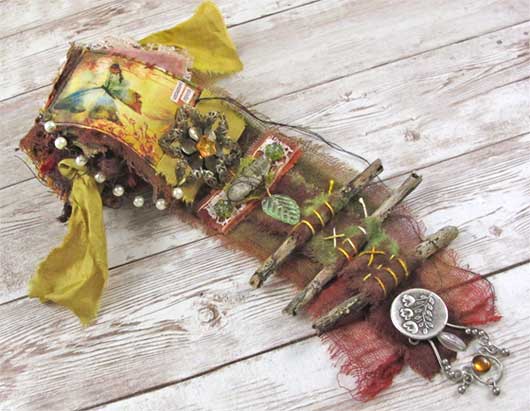 The Book of Winter Shadows Handmade Journal Online Class
Create your own Book of Winter Shadows using your own images and photos as a way to tell the story of winter and all the shadows that this season brings. Winter can be applied not only to the season of nature, but also to our own wintery feelings – a time when we look deep within to where our own internal shadows lie. Learning to express those feelings through art and journaling often has a healing effect, as the heavy energies of those shadows are lifted from our soul and transformed onto the pages of our journal.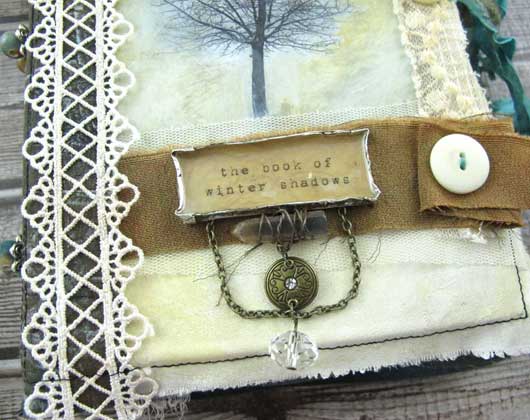 The Everyday Junk Journal Online Class
It's the small things in life that sometimes touch our hearts the most, but they are also easily forgotten unless we make an effort to remember. In this video workshop I share techniques for making and embellishing an everyday junk journal that is the perfect journal for collecting and storing daily memories, mementos, photos, inspiring quotes, or anything that crosses your path during the course of the day that you might want to remember in years to come.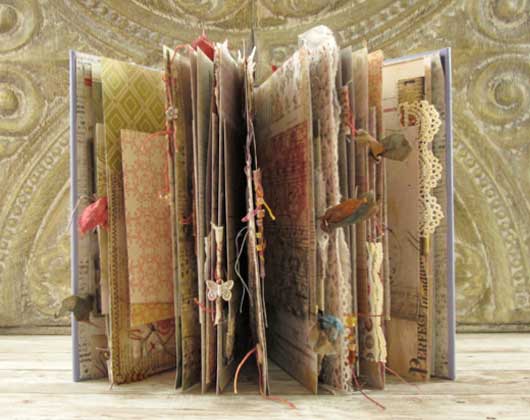 Vintage Style Handmade Journal Online Class
Learn how to make an easy but creative vintage-style journal which has a simple cover design that can be creatively embellished, an inside cover pocket, a hidden spine, and blank vintage tea-stained pages that are just begging to be used.
Save this pin to your favorite Pinterest board!