Bring your dreams to life using this free "Manifest Your Dreams" Goal Setting Planner
What are your dreams – the things that you desire deep in your heart? Are they small dreams that you think you might get around to achieving some day? Or are they big dreams that, on some level, you don't think you'll ever achieve? Dreams, even big dreams, can be fulfilled – but not by wishing and hoping. The best way to bring your dreams to life is to make a plan and then take action.
Making a plan involves turning your dream into a goal, breaking it down into small achievable tasks, and then taking action by doing the things you need to do in order to reach your goal and ultimately realize your dream. Your dreams won't come to life overnight, but by taking small actionable steps, one year from now you'll be amazed by how much closer you are to seeing your dreams come true.
Turning a dream into a goal is easy. A dream is vague and just a drifting thought; it's something you think about doing or wanting – sometime, somewhere. A goal is focused and requires action. It grounds your ephemeral dream in reality and gives it substance and structure. A dream is something like "Someday I'd love to start my own business". The goal becomes "Start my own business".
A goal is the pathway to your dream but that pathway is not always straightforward or easy, so goals need to be written down so they can be measured and assessed regularly. Using a goal setting planner makes this job easy by helping you keep your goals and thoughts organized and on track. I designed the "Manifest Your Dreams" Goal Setting Planner to be simple and easy to use, with a dual purpose. You can print the pages to make a regular goal setting planner, and also cut out the Action Plan sections and use them in your creative manifestation journal for recording your tasks.
How to Make a Creative Manifestation Journal
Make a Goal Setting Planner
Using a planner makes it easy to keep track of your goals over the weeks and months, and sometimes years, as you progress on your journey to bring your dream to life. To make a planner, all you need is a 3-ring binder and the free "Manifest Your Dreams" Printable Goal Setting Planner which you can download from the Free Printables Library using the link below.
I designed this free goal setting planner so that you can use the pages in a practical way to assign and track your goals. And then you can cut out the action plan sections to use in your creative manifestation journal.
Download the FREE
Manifest Your Dreams Printable Goal Setting Planner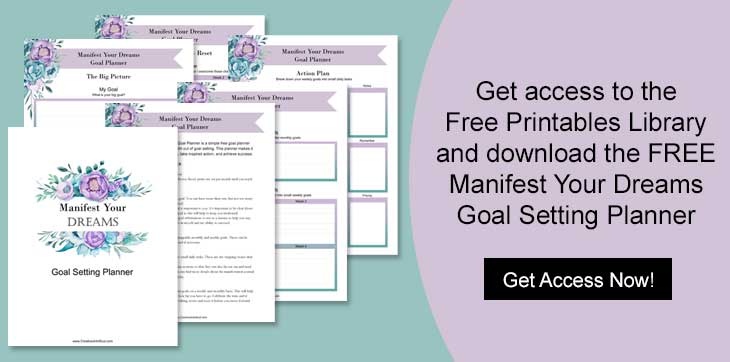 Once you've downloaded the planner pages, print them out onto good quality copy paper. Slip the cover inside the clear plastic insert on the front of the binder. The pages are sized to fit inside a letter size binder or A4 size binder.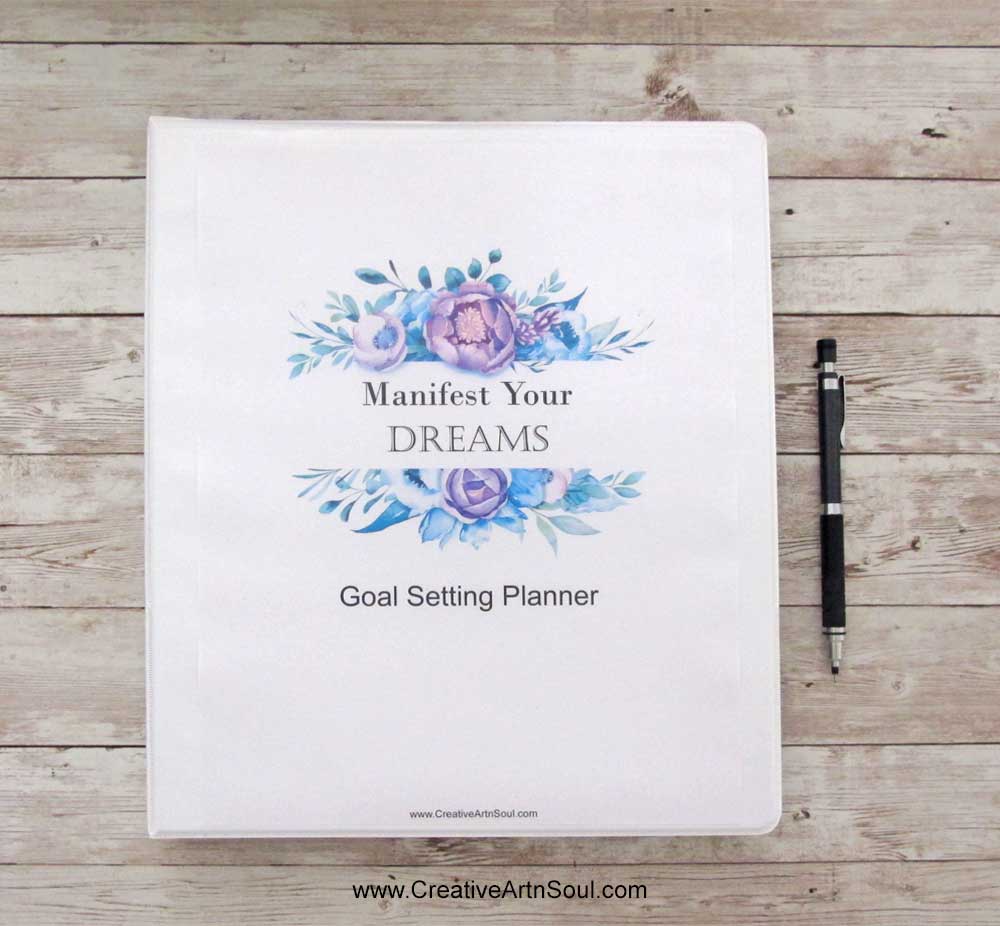 Punch holes in the remaining pages and insert them into the binder. "The Big Picture" page only needs to be printed once for each goal.
The "Break it Down", Action Plan" and "Review-Revise-Reset" pages should be printed one set per month until you reach your goal.
The Action Plan sections can be used in your planner to organize your daily tasks, and they can also be cut out and used in your creative manifestation journal for recording your tasks.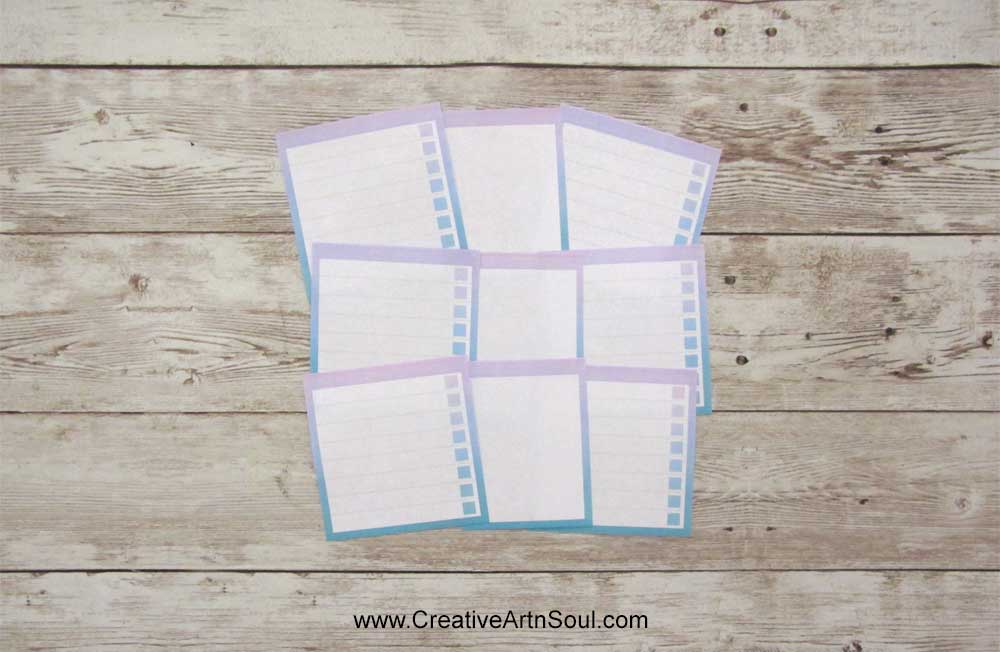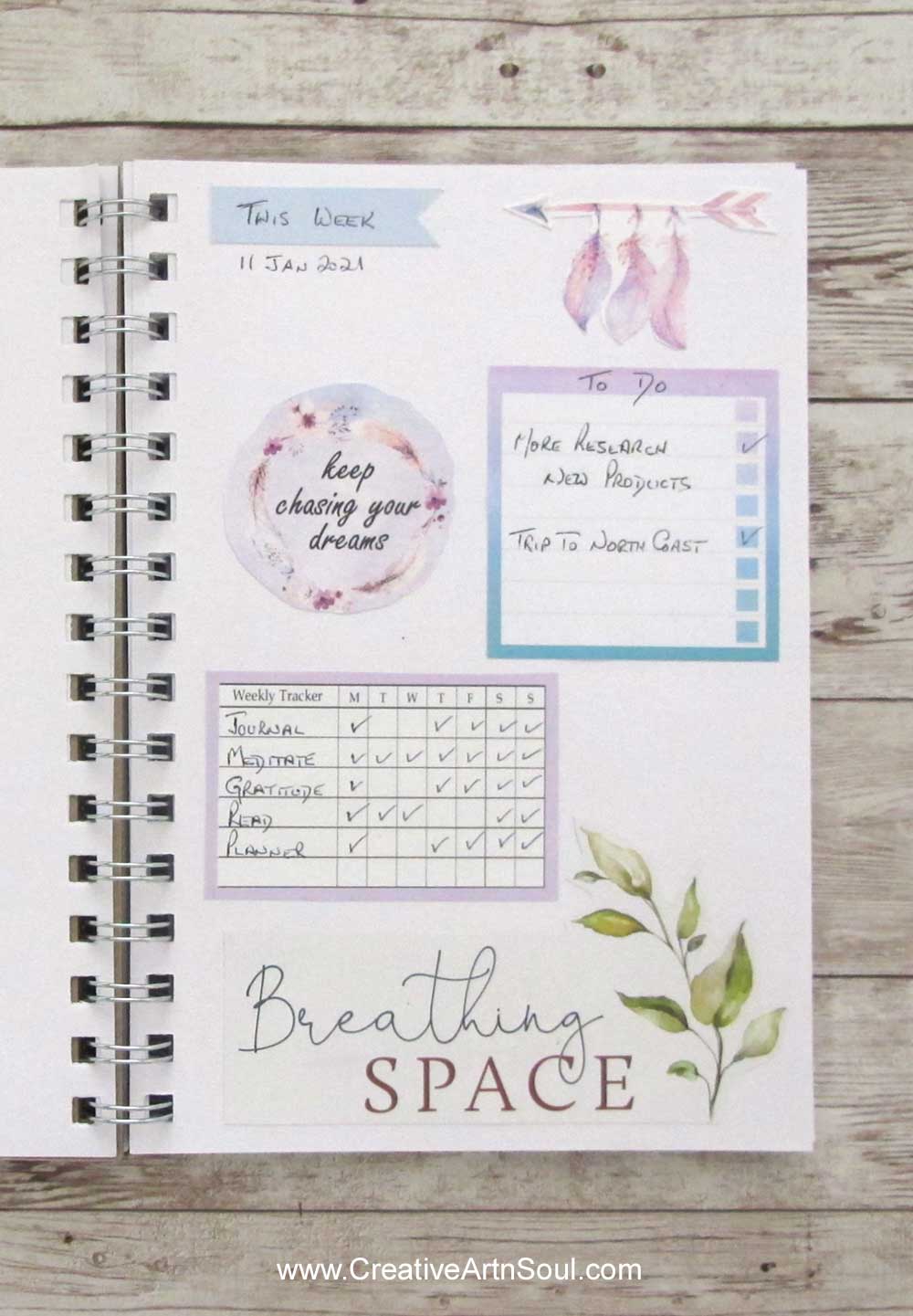 How to Use the Goal Setting Planner
The Goal Setting Planner includes 6 pages – 1 cover page, 1 page of instructions, and 4 action pages.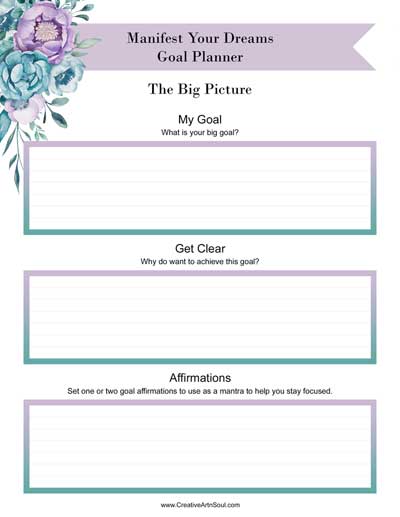 The Big Picture
My Goal: Write down your big goal. You can have more than one, but not too many otherwise you'll get overwhelmed.
Get Clear: Explain why this goal is important to you. It's important to be clear about why you want to achieve this goal as this will help to keep you motivated.
Affirmations: Write one or two goal affirmations to use as a mantra to help you stay focused. For example: I believe in myself and my ability to succeed.
Break it Down!
Break down your big goal into manageable monthly and weekly goals. These can be reviewed every month and readjusted if necessary.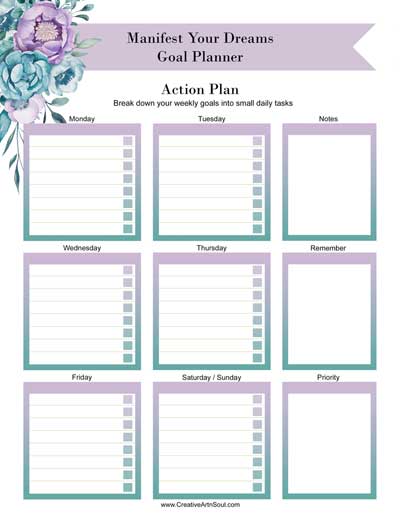 Action Plan
Break down your weekly goals into small daily tasks. These are the stepping stones that will help you achieve your goal.
Tip: I designed the daily Action Plan sections so that they can also be cut out and used in your creative manifestation journal.
Review – Revise – Reset
Spend a few minutes to review your goals on a weekly and monthly basis. This will help you see how far you've come and how far you have to go. Celebrate the wins and if something doesn't appear to be working, revise and reset it before you move forward into a new month.
How to Use the Goal Setting Planner with Your Creative Manifestation Journal
I like the idea of having a practical planner that works as a tool to help me achieve my dreams and goals. A planner helps to keep my tasks and thoughts organized and also keeps me focused and accountable. The Manifest Your Dreams Goal Setting Planner also makes it easy to transfer those tasks to my creative manifestation journal which is the place where my dreams really come to life. Simply cut out the "Action Plan" sections and glue or tape them into your journal, then transfer your daily or weekly tasks from your planner to your journal.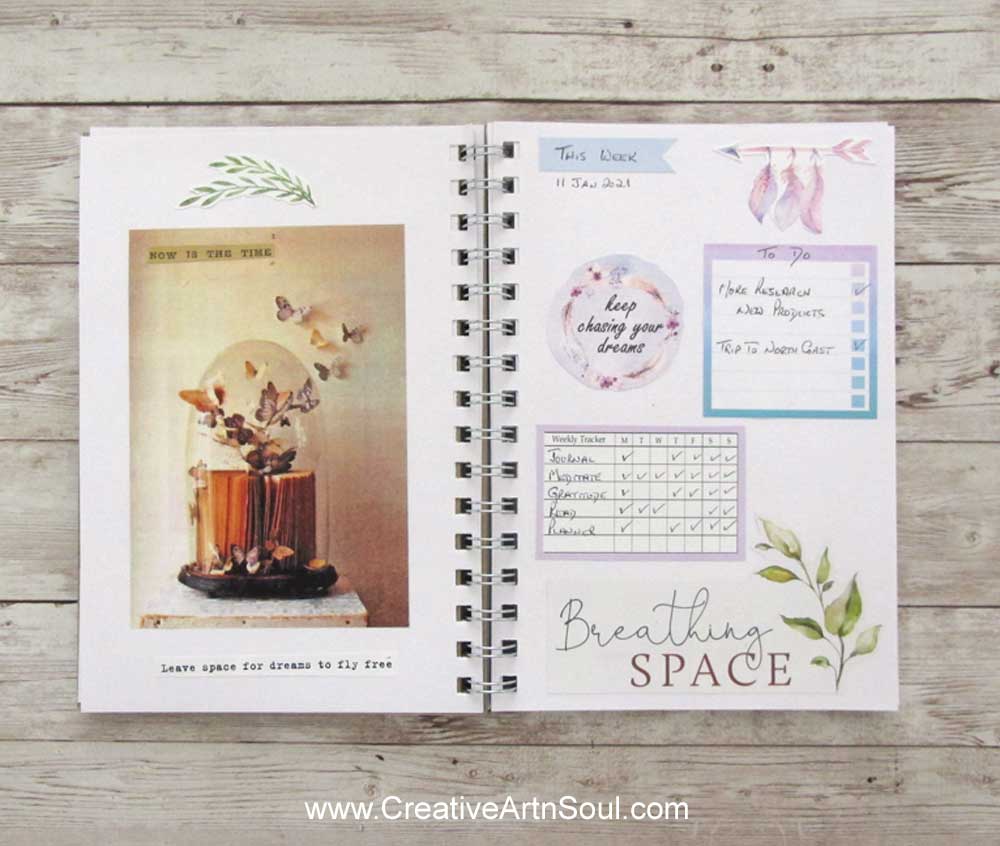 In my manifestation journal I combine the practical with the creative aspects of my goals. My tasks are there to lead the way, but I can also use words and images to create a visual picture of what my dreams really look like. My pages contain feelings and emotions which help to guide me on my path toward my dream. While my ultimate goal never changes, the journey to get there often ebbs and flows. To make my pages I'm mostly using the clipart from the Printable Manifestation Journal Planner Kit, but I've also combined some images and words cut from magazine pages.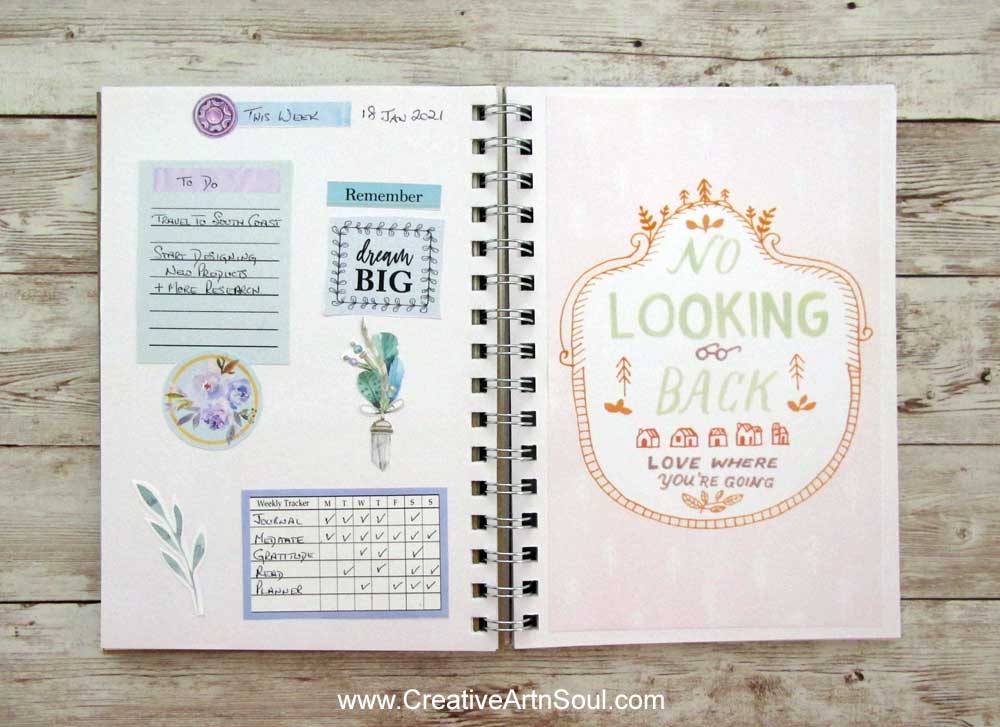 Although I use my journal to make weekly pages, I like to spend a few minutes every day working on it. I like to keep it simple so I focus on only a couple of goals every week so it doesn't become overwhelming. I added a daily tracker to my weekly pages which means I have to open my journal every day to update it. This means the journal doesn't get forgotten about and becomes a constant reminder of the things I hope to achieve.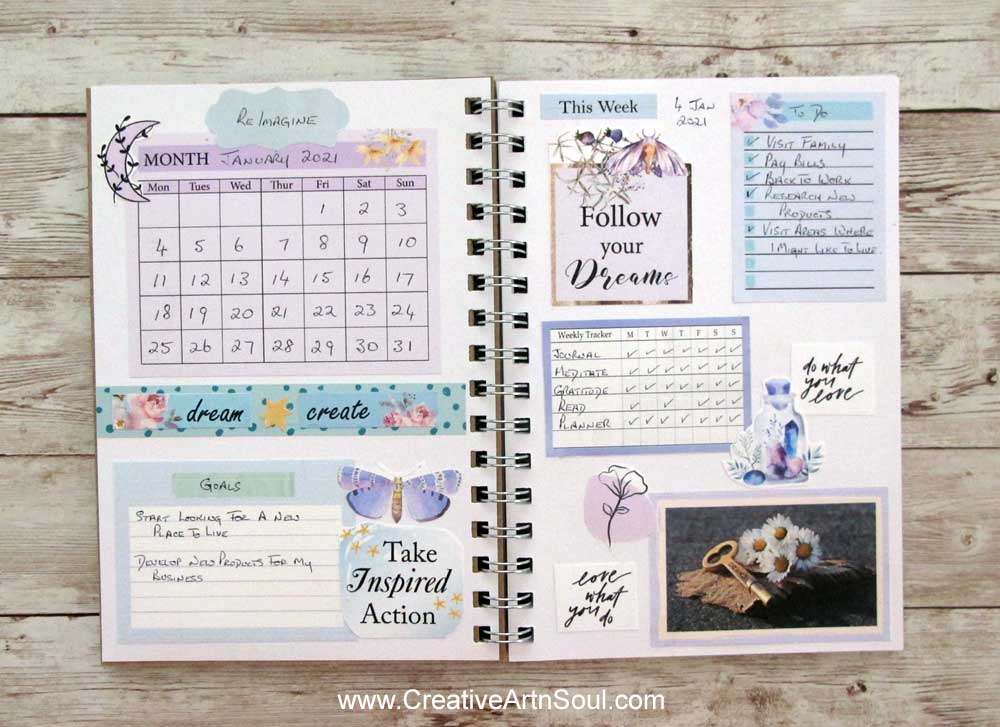 Save this pin to your favorite Pinterest board!