30 Day Journaling Challenge
Manifest Your Dream Life
Too often our dreams get pushed to the side or even forgotten simply because they seem unrealistic or too big. However, dreams are supposed to be lofty.
The key to getting your dreams to become a reality is to first identify what your dream life looks like, and then believe in yourself and your ability to achieve those dreams. Each morning is a new opportunity to recommit to your dreams and goals.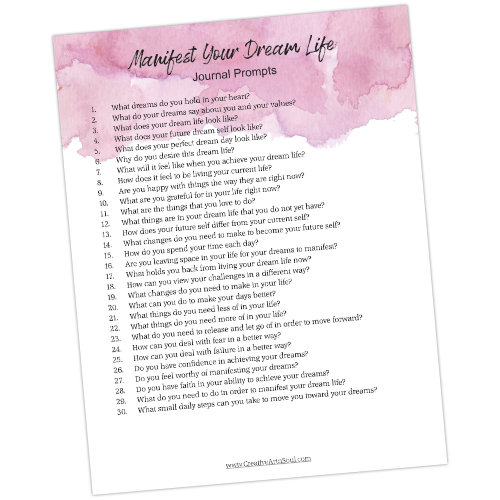 Download the free 30 day Manifest Your Dream Life Journaling Challenge Printable Prompts and use the daily journal prompts as a guide to help you gain clarity and discover the path to your dream life.
Use these 30 days to get into the habit of making changes in your life. Implementing small, simple daily actions can result in life-changing outcomes over the long term. After 30 days you can keep the habit going through self direction.
The biggest adventure you can take
is to live the life of your dreams
– Oprah Winfrey –
Getting Started
To ensure that you receive the printable journal prompts
please add our email address to your contact list or whitelist – hello[at]creativeartnsoul.com
Check Your Inbox
Check your inbox for the download link.
For Journaling
For writing and journaling use a blank journal or notebook, or purchase the specially designed Courage to Change printable journal or printable journal cards.
After signing up check your inbox for the first daily prompt.
When you sign up you will be added to our mailing list.
You can unsubscribe at any time.