30 Day Journaling Challenge
Intentional Living
Intentional living is living with purpose and making choices that make sense for you and your beliefs. It's about choosing the type of person you want to be and the type of life you want to live, and then designing a life that supports those choices.
The choices you make determine the direction of your life and are the first step toward creating the results you experience. You get to choose your actions each day in accordance with those objectives.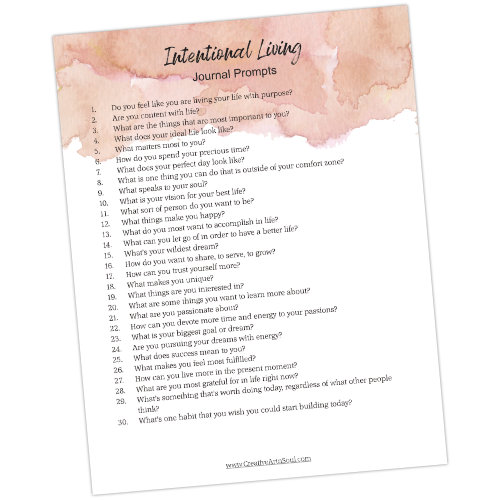 Download the free 30 day Intentional Living Journaling Challenge Printable Prompts and use the daily journal prompts as a guide to help you get clear on your direction toward living an intentional life.
Use these 30 days to get into the habit of making changes in your life. Implementing small, simple daily actions can result in life-changing outcomes over the long term. After 30 days you can keep the habit going through self direction.
It's not about "what can I accomplish?"
but "what do I want to accomplish?"
– Brené Brown –
Getting Started
To ensure that you receive the printable journal prompts
please add our email address to your contact list or whitelist – hello[at]creativeartnsoul.com
Check Your Inbox
Check your inbox for the download link.
For Journaling
For writing and journaling use a blank journal or notebook, or purchase the specially designed Courage to Change printable journal or printable journal cards.
After signing up check your inbox for the first daily prompt.
When you sign up you will be added to our mailing list.
You can unsubscribe at any time.